Stand up for facts and support PolitiFact.
Now is your chance to go on the record as supporting trusted, factual information by joining PolitiFact's Truth Squad. Contributions or gifts to PolitiFact, which is part of the 501(c)(3) nonprofit Poynter Institute, are tax deductible.
I would like to contribute
Each Georgia taxpayer would have to send $5,000 to the treasury to cover the state's debt.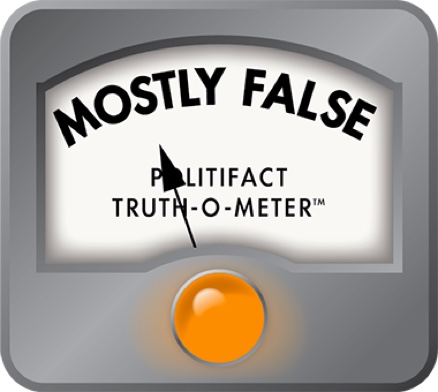 Georgia's finances not alarming as report suggests
Outside rankings of Georgia have fueled the fire of some of this year's political campaigns.
Republican Gov. Nathan Deal has boasted that both the little-known magazine Site Selection and media heavyweight CNBC have deemed Georgia the top place in the nation to do business.
Democratic challenger Jason Carter questioned the political mileage of the rankings, saying they mask other problems such as an unemployment rate that ranks 50th out of 50 states and the District of Columbia.
Now the nonpartisan think tank Truth in Accounting in Chicago has released a study blasting Georgia for carrying a nearly $16 billion debt burden, mostly from unfunded pension and retiree health care liabilities. It ranks Georgia's financial condition as the 28th worst among all states.
"In order to fill this financial hole, each Georgia taxpayer would have to send $5,000 to the state's treasury," according to a summary of the study.
Who has that kind of coin lying around? PolitiFact Georgia sure doesn't.
But how is it the state have both a balanced budget requirement and that kind of debt?
Sheila Weinberg, the certified public accountant who founded TIA, thinks the problem lies with Georgia (and other states) not including long-term pension and retiree health care compensation in the annual budget.
Georgia's audited financial report shows $2 billion in retirement benefits. But Weinberg claims by adding in those other compensations, the state has more than $14 billion of unfunded retirement programs over the next three decades.
Every state has that kind of long-term obligation. Now, those unfunded liabilities are in the footnotes of the financial statements filed yearly.
The Government Accounting Standards board, though, is changing those accounting rules. Pension liabilities will be on the balance sheets starting with the 2014 reports.
If Georgia followed those standards this year, the state Employees Retirement System, or ERS, would show a $4.8 billion unfunded liability.
But those rules affect only how those debts are reported. It doesn't change their totals or decide the policies on funding them.
In Georgia, pension funding is governed by state law, which requires an actuary to calculate the annual required minimum contribution to meet the long-term obligation.
As of 2013, Georgia also adds extra cash to that minimum, amortized over 25 years, to fill the gap.
The state sets aside that money first, before determining the rest of the budget.
It has never failed to do so. The ERS – which covers 60,000 active members and 45,000 retirees – was 71.4 percent funded in 2013.
That puts it just shy of the 72 percent average for the nation's largest pension funds and among those funds considered well-funded for the future, according to the Center for Retirement Research at Boston College.
"Our contributions come in like clockwork every year," said Jim Potvin, the ERS' executive director. "The support has come from multiple administrations literally spanning decades."
But if pension costs are obligated, retiree healthcare costs are optional. The TIA study projects the retiree health care liability at $7.4 billion.
It would require changes to state law – most likely to reduce benefits – to lower that cost.
Alan Essig, executive director of the left-leaning Georgia Budget and Policy Institute, said such changes are far more likely than the option of tax hikes in our fiscally conservative state.
"It's not as if we have to pay tomorrow," Essig said. "We have 30 years to plan budgetarily and change policy to meet our obligations."
In other words, Georgia has never missed its obligations on retiree health care or pension, and there is no reason to expect that will change anytime soon.
And, since no one expects Georgia taxpayers to march downtown and make a lump sum payment, the report's calculations strike some as a silly exercise.
There is value in discussing the obligations, said Alicia H. Munnell, the executive director of the Center for Retirement Research.
But a more useful exercise would be to have a separate discussion about ways to pay the debt long-term.
Georgia, Munnell said, has already had many of those discussions that resulted in the existing laws and policies that have it on the right financial track.
"The whole report has this alarmist tone, as if they've discovered something new," Munnell said. "Really, Georgia should be proud of itself for being fairly prudently managed to pay off its debts."
So, that $5,000 bill facing Georgia taxpayers? It's a great way to get us to pay attention to the promises we've made with public dollars.
The statement suggests that the state is being reckless, or that a one-time payment is coming soon.
That is not the case. Georgia has been thoughtful about its looming obligations and positioned itself to pay down those debts over time.
For that reason, we rate the claim Mostly False.
Truth in Accounting 2013 Financial State of the States
Truth in Accounting 2013 State Data Lab, Georgia
Washington Business Journal, "States With AAA bond ratings from all three major rating agencies," Feb. 27, 2013
State of Georgia Comprehensive Annual Financial Report 2013
The Center for Retirement Research at Boston College, "The funding of state and local pensions: 2013-2017," accessed Aug. 20, 2014
Governmental Accounting Standards Board, Financial Reporting for Pension Plans Statement No. 67
Governmental Accounting Standards Board, Financial Reporting for Pension Plans Statement No. 68
Georgia Code, O.C.G.A. 45-18-28 (2010)
Employee Retirement System of Georgia, Actuary Report 2013
Interview with Sheila Weinberg, CEO of Truth in Accounting, Aug. 20, 2014
Interview with Jim Povit, Executive Director of Georgia Employees Retirement System, Aug. 15, 2014
Interview with Teresa MacCartney, director of Georgia Office of Planning and Budget, Aug. 14, 2014
Interview with Alan Essig, Executive Director of Georgia Budget and Policy Institute, Aug. 19, 2014
Interview with Alicia H. Munnell, Director of Center for Retirement Research at Boston College, Aug. 19, 2014
Interview with John Pappas, spokesman for Governmental Accounting Standards Board, Aug. 19, 2014
Browse the Truth-O-Meter
More by April Hunt
Support independent fact-checking.
Become a member!
In a world of wild talk and fake news, help us stand up for the facts.