Get PolitiFact in your inbox.
Richmond is "the most vegan-friendly city."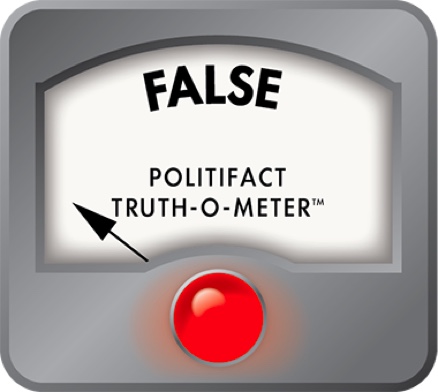 Mayor Jones says Richmond is rated "the most vegan-friendly city"
Editor's note: This is a rewrite of a Truth-O-Meter that was posted on Feb. 12, 2014. The new version provides greater context for Mayor Dwight Jones' statement, but does not change our original ruling of False.
Mayor Dwight Jones opened his annual State of the City Address quoting from the popular travel guide Frommer's, which touted Richmond's outdoor offerings and craft beer scene as reasons it recommends the capital as a top travel destination this year.
"What they're saying is something that we already know: That Richmond is a cool place to live, work and play," Jones said.
Later in the speech, Jones cited additional Richmond accolades, and one particularly caught our attention.
"We are the most vegan-friendly city," he said, drawing chuckles from the audience.
Has the old confederate capital become become the Mecca for people who abstain from all animal products? Lettuce take a look.
Tammy Hawley, the mayor's spokeswoman, pointed us to 2013 ratings by People for the Ethical Treatment of Animals, a group that promotes meat-free diets and opposes animal testing. PETA ranked U.S. cities based on "availability of vegan options" as well as the "influence of vegan culture," said Lindsay Rahat, the group's associate director of campaigns.
 Richmond won kudos for being "packed with meat-free restaurants" and hosting an annual vegetarian festival.
But those accolades did not result in Richmond winning the vegan-friendly crown. In fact, Richmond was ranked 10th.
The top spot went to Austin, Texas, in the heart of cattle country.
Also ranked ahead of Richmond were Portland, Ore.; Los Angeles; New York; Chicago; Seattle; Salt Lake City, Las Vegas and Boulder, Colo.
In trumpeting Richmond's other accolades, Jones accurately noted that various groups have included Virginia's capital in Top 10 lists of cities that are the best place to work and live, the most creative, the best place for jobs and have the best outdoors.
But in addition to botching Richmond's vegan standing, the mayor erred on two other ratings:
*He touted Richmond as the "happiest city for young professionals" based on a 2011 posting by Careerbliss, an online jobs site. Richmond was 15th on the list.
*He said Richmond is the "healthiest city for women," although it actually ranked 51st in a 2011 survey by Self Magazine.
Our ruling
Jones said Richmond is the "most vegan friendly city." The source he cited, however, rated Richmond 10th in providing animal-free food.
We don't doubt Jones' contention that Richmond is "cool." When it comes to vegans, Richmond may be hospitable, but it has not been rated the friendliest city for them. So we rate the mayor's claim False.
Mayor Dwight Jones, State of the City speech, Jan. 30, 2014. (Statement is 27 minutes into the video).
E-mail from Tammy Hawley, spokeswoman for Mayor Dwight Jones, Feb. 4, 2014.
People for the Ethical Treatment of Animals, "Top vegan friendly cities of 2013," June 2013.
PETA, "Paul McCartney honors PETA's most vegan-friendly city," June 6, 2013.
Interview with Lindsay Rajat, associate director for campaigns at the People for the Ethical Treatment of Animals, Feb. 5, 2014.
The Austin American-Statesman, "Austin declared most vegan-friendly city," June 16, 2013.
Austin Business Journal, "Paul McCartney gives shout out to techies, food trucks," May 24, 2013.
Richmond Vegetarian Festival website, accessed Feb. 7, 2014.
Frommer's, "Frommer's' top destinations for 2014," accessed Feb. 7, 2014.
Richmond City Government, "City accolades," accessed Feb. 11, 2014.
Browse the Truth-O-Meter
More by Sean Gorman
Support independent fact-checking.
Become a member!
In a world of wild talk and fake news, help us stand up for the facts.