Get PolitiFact in your inbox.
The average Georgia family makes $6,000 less than the average family did 10 years ago when inflation is factored in.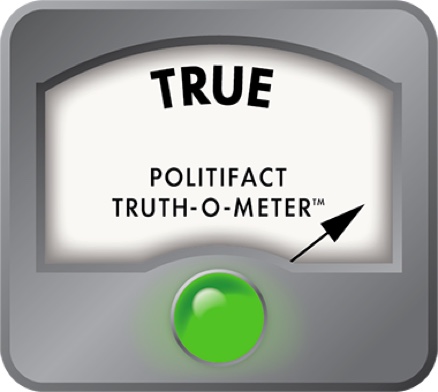 Carter on target on family income
Anyone listening to the Republican governor's State of the State address and the Democrats' response left with a head-full of statistics.
Gov. Nathan Deal's numbers were upbeat about the state economy under his watch. The ones from the Democratic minority, not so much. Jason Carter, a Democratic state senator from Atlanta running for governor, gave the Democratic response.
For a moment, it looked like the 2014 race for governor was in full swing.
Among the claims by Carter, the grandson of former governor and President Jimmy Carter, was that Georgians have taken a pay cut over the past decade.
"Adjusted for inflation, the average Georgia family in effect makes $6,000 less than the average family did 10 years ago," Carter said.
Have families really taken that kind of financial hit? PolitiFact Georgia wondered. We deemed that a factoid worth checking.
A Carter spokeswoman sent us a link to a U.S. Census Bureau report that she said was part of the basis for the senator's comments. We looked at that report and found some very bleak numbers for Georgia -- reflected accurately in Carter's comments.
He actually was conservative in saying what's happened to Georgia's median family income. He said it was down $6,000. The U.S. Census Bureau report said it was actually $6,682 less in 2012 than in 2002, when inflation is factored in.
In 2012 dollars, the median family income in that period fell from $54,803 to $48,121, the census report states. That brought Georgia down considerably in the state rankings for median family income, Carter pointed out.
Carter uses terms "average" and "median" interchangeably, though technically they are not the same. Average is the sum of all income divided by the number of households, and median is just midpoint of all household incomes. Jeffrey Humphreys, director of the Selig Center for Economic Growth at the University of Georgia, said the outcome would likely be about the same under either calculation.
"I doubt that the rankings (etc.) would be very different regardless of whether or not the median or the average family income is used," Humphreys said.
Experts generally believe -- and officials in the governor's office say -- that the fall in the median family income occurred because the epicenters of the last two recessions were industries that account for an above-average proportion of Georgia's economy. Specifically, the dot-com, or 9/11, recession hit Georgia's outsized information industry and air transportation industries.
Then, Georgia got hit harder than the nation by the Great Recession and underperformed during the first years of the recovery because of its heavy dependence on construction and real estate development, Humphreys said. The state took direct hits in those industries and indirect hits in the large building materials manufacturing and forestry industries, he said.
Humphreys prefers to look at per capita personal income data, instead of median family income, although, from each, essentially emerges a less-than-pretty picture.
The per capita income data shows that Georgia began losing ground relative to the nation in 1997, Humphreys said. "Since then, we've seen an almost continuous slide of per capita income in Georgia relative to the U.S.," he said.
Georgia dropped 15 places in the national rankings, from 25th highest per capita personal income in 1996 to 40th in 2012, Humphreys said.
In 2012, Florida, Tennessee and North Carolina fared better than Georgia, with their per capita personal income ranking of 27th, 34th and 38th respectively. Alabama and South Carolina trailed the state, ranking 42nd and 48th respectively.
Deal officials cite other numbers showing that the economy is improving. They point out that Georgia's unemployment rate — while 40th for the nation at 7.7 percent in November 2013 — is still the lowest it has been in five years.
Jobs are coming back in retail, financial services and construction. But they are still at pre-recession levels. And manufacturing and information-tech jobs are still down, latest figures show.
Our ruling
Carter said that an average Georgia family in effect makes $6,000 less than the average family did 10 years ago. PolitiFact Georgia's research shows Carter didn't exaggerate the problem with median household income. If anything, he underestimated it.
We rate his statement True.
Jeffrey M. Humphreys, director of the Selig Center for Economic Growth, Terry College of Business at the University of Georgia, in an email interview Jan. 15.
State Sen. Jason Carter's response to Gov. Nathan Deal's State of the State address on Jan. 15.
Brian Robinson, spokesman for Gov. Nathan Deal, via email on Jan. 16 and 17.
State rankings by the U.S. Bureau of Labor Statistics.
U.S. Census Bureau report.
Under historical data, 1984 to 2012, data set expressed in 2012, inflation-adjusted dollars.
Meg Robinson, spokeswoman for Sen. Jason Carter, in interviews by phone and email Jan. 20 and 21.
Liz Flowers, executive director of the Senate Democratic Caucus, by phone and email Jan. 15, 17, 20, 21.
Browse the Truth-O-Meter
More by Nancy Badertscher
Support independent fact-checking.
Become a member!
In a world of wild talk and fake news, help us stand up for the facts.