Stand up for the facts!
Our only agenda is to publish the truth so you can be an informed participant in democracy.
We need your help.
I would like to contribute
U.S. Senate candidate Jack Kingston voted for the "Cash for Clunkers" program.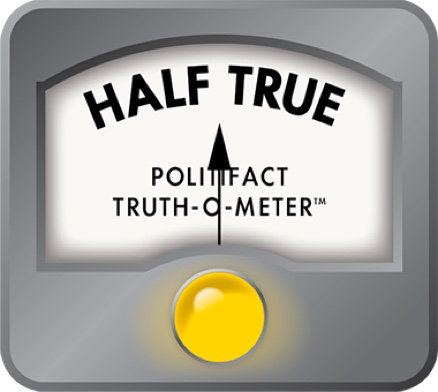 Perdue omits detail in Cash for Clunkers claim
Some Republican candidates are having to fend off criticism in this year's elections for backing one or more of President Barack Obama's more controversial initiatives.
That's true in Georgia's U.S. Senate race, where Jack Kingston, a 22-year veteran of the U.S. House, is vying in the July 22 primary runoff to be the Republican nominee to succeed retiring Republican U.S. Sen. Saxby Chambliss.
Kingston's runoff opponent, wealthy businessman David Perdue, has attacked Kingston on YouTube and in television ads for voting for Obama's "Cash for Clunkers" program.
Each man is billing himself as the "true conservative" in the race.
PolitiFact Georgia decided to find out whether Kingston voted for Cash for Clunkers and, if so, whether that makes him less of a fiscal conservative.
.The Car Allowance Rebate System, commonly referred to as Cash for Clunkers, was a federal voucher program that encouraged consumers to replace less-fuel-efficient vehicles with newer, more-fuel-efficient models. Officials said the goal was to boost auto sales and stimulate the economy while the program ran from July 1, 2009, to Aug. 24, 2009.
It makes sense that Perdue would criticize a vote for Cash for Clunkers. Though the program was touted as a means to bolster Detroit's carmakers, it unintentionally increased the market share for Japanese and Korean automakers, according to a Reuters report in 2009.
An October analysis by the Brookings Institute's Ted Gayer and Emily Parker found that the program provided a short-term boost in vehicle sales but was extremely inefficient in increasing jobs and decreasing total emissions.
Georgia residents requested $70 million in vouchers under the program, the 13th-highest participation rate in the nation, according to the Brookings Institute report.
Congress originally appropriated $1 billion to the program but added an additional $2 billion when it ran out of money within a month. And Cash for Clunkers became a good-intentioned but runaway government program that conservatives love to rail on.
But did Kingston vote for Cash for Clunkers?
It's more complicated than a straight yes or no answer. It's No. And yes.
Kingston did not vote to fund Cash for Clunkers initially, according to the legislative tracking service GovTrack. He cast "No" votes on bills on June 9 and June 16 that carried the framework of the program in 2009.
But he voted in favor of putting the extra $2 billion into the program a month later when it was clearly foundering.
We asked Greg Dolan, a spokesman for Kingston, for an explanation.
"Once the program was authorized, Rep. Kingston approved moving funds from the grant program that spawned Solyndra to the slightly-less-wasteful Cash-for-Clunkers," Dolan wrote in an email.
Solyndra was a solar energy company that drew public ire after going bankrupt despite taking a $535 million loan guarantee under the president's 2009 stimulus program for "commercially available technologies," according to FactCheck.org. The $2 billion increase in Cash for Clunkers came from the same pot of money that had previously funded Solyndra — the Title 17 Innovative Technology Loan Guarantee Program.
So from Kingston's perspective, he was voting to move money from one fiscal evil to a lesser evil.
Dolan added in another email that there was no House vote that would have allowed the money to return to the general fund or go to a more efficient program.
In summary: Kingston, a member of the House Appropriations Committee, did vote to provide $2 billion to Cash for Clunkers after it ran through $1 billion in its first month.
But Kingston did not vote for the program initially. His office says that the decision to further fund Cash for Clunker was made to cut funds from a more wasteful government program.
We rate Perdue's statement that Kingston voted for "Obama's Cash for Clunkers" as Half True.
Email interview with Greg Dolan, spokesman for U.S. Rep. Jack Kingston, on July 8, 2014
"No More," ad posted on David Perdue's campaign YouTube account on May 17
"Japanese, Koreans gain most from cash for clunkers," Reuters article published on Aug. 26, 2009
"Cash for Clunkers: An Evaluation of the Car Allowance Rebate System," Brookings Institute report by Ted Gayer and Emily Parker, posted on Oct. 30, 2013
H.R. 2751 (111th): FDA Food Safety Modernization Act, govtrack.us voting report published on June 9, 2009
H.R. 2346 (111th): Supplemental Appropriations Act, 2009, govtrack.us voting report published on June 16, 2009
H.R. 3435 (111th): Making supplemental appropriations for fiscal year 2009 for the…, govtrack.us voting report published on July 31, 2009
"Obama's Solyndra Problem," FactCheck.org article published on Oct. 7, 2011
H.R. 3435 document, published online at gpo.gov
Browse the Truth-O-Meter
More by Nancy Badertscher
Support independent fact-checking.
Become a member!
In a world of wild talk and fake news, help us stand up for the facts.