Stand up for the facts!
Our only agenda is to publish the truth so you can be an informed participant in democracy.
We need your help.
I would like to contribute
U.S. Senate candidate Jack Kingston "spent our tax dollars on thousands of wasteful earmarks."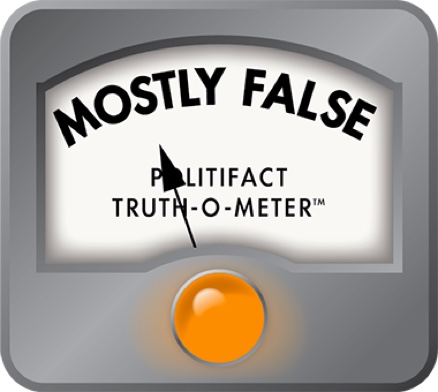 Perdue's earmark claim overstated
The accusations are flying fast and furious between U.S. Rep. Jack Kingston and businessman David Perdue as we edge closer to the Republican primary runoff for the U.S. Senate.
Both claim to be the conservative candidate in the close, and closely watched, contest that voters will decide on July 22.
And for the second time, Perdue is leveling accusations about earmarks, the money lawmakers pull from the federal budget for pet projects in their jurisdictions.
"Jack Kingston spent our tax dollars on thousands of wasteful earmarks," Perdue claims in the ad, "Spender."
PolitiFact Georgia already looked into Perdue's earlier claims that Kingston requested more earmarks than any other congressman from Georgia and more than all Georgia Republicans combined.
With between $211 million and $213 million in earmarks between fiscal years 2008 and 2010, we found that claim Mostly True.
But the database from the Center for Responsive Politics of OpenSecrets.org and a separate data set from Taxpayers for Common Sense showed only 145 and 146 earmarks, respectively, in that period.
So thousands?
"He has voted for thousands of earmarks, not just his own, wasting tax dollars," said Derrick Dickey, Perdue's chief of staff. "Take the 2005 transportation bill, which has 6,300 earmarks alone."
The Safe, Accountable, Flexible, Efficient Transportation Equity Act authorized spending $286 billion to be doled out over five years.
While the majority of the money was funneled to road construction and public transit projects, the bill also contained a record 6,371 earmarks from members of both parties.
Kingston was among those who voted in favor of that bill, despite a long-standing push to overhaul the earmark process.
Criticism over those projects, and the punch line "Bridge to Nowhere," helped prompt Congress to ban earmarks in 2010.
Shortly thereafter, Kingston began saying that lawmakers may have overreacted. In 2010, Kingston told the political website Politico that the definition of earmarks, if not the ban, needed review.
"Let's look at transportation," he said. "How do you handle that without earmarks, since that's a heavily earmarked bill?"
Earlier this month, Kingston  defended his earmarks to The Atlanta Journal-Constitution as support for military and defense projects in a state with eight military installations.
His spokesman, Chris Crawford, called the accusation that Kingston supported thousands of earmarks false on its face – given the hundreds specifically tied to Kingston's name. He also said it was a "blatant fabrication" trying to link Kingston to other lawmakers' projects.
In fact, Kingston may have a point, said Steve Ellis, the vice president of Taxpayers for Common Sense. The nonpartisan organization opposes earmarks because the system rewards political power over project merit.
But Ellis said Kingston, or any lawmaker of his tenure, would have voted for thousands of earmarks simply by voting to fund the government.
In some cases, lawmakers would chop spending, say for the Department of Defense, into dozens of earmarks. In other cases, earmarks were added to programs, driving up the overall cost.
But the final vote reflects support for an overall defense budget bill, not the pet projects inside.
Even the most die-hard opponent of pork would have cast votes that included money for state or local projects such as paving roads.
"It's not like he voted for these (earmarks) separately," Ellis said. "They were stuffed into bills."
So, did Kingston vote on thousands of earmarks? In a word, yes. But so does any other lawmaker who votes for major legislation such as transportation funding.
Perdue would have been on firmer ground if he had attributed to Kingston the specific earmarks for his district.
Were the earmarks wasteful as the statement claims? That's far trickier to prove.
Those votes were taken as part of a central function of Congress, to vote on the budget.  
There's a bit of truth in Perdue's claim, but just a bit.
We rate his statement Mostly False.
David Perdue ad, Spender
Center for Responsive Politics earmarks database
Taxpayers for Common Sense earmarks database
The Safe, Accountable, Flexible, Efficient Transportation Equity Act
The Washington Post, "Road Bill Reflects The Power of Pork," Aug. 11, 2005
Final vote results, Transportation Equity Act
Politico, "GOP Gets Queasy Over Earmark Ban," Dec. 9, 1010
Interview with Derrick Dickey, spokesman for David Perdue, July 10, 2014
Interview with Chris Crawford, spokesman for Jack Kingston July 9, 2014
Email interview with Steve Ellis, vice president, Taxpayers for Common Sense, July 10, 2014
Browse the Truth-O-Meter
More by April Hunt
Support independent fact-checking.
Become a member!
In a world of wild talk and fake news, help us stand up for the facts.