Get PolitiFact in your inbox.
Says Hillary Clinton "laid the groundwork" for getting chemical weapons out of Syria.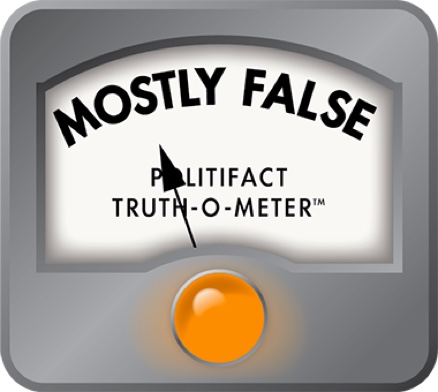 Claire McCaskill credits Hillary Clinton for 'groundwork' in Syria chemical weapons deal
Despite a rocky past with the Clintons, Sen. Claire McCaskill was one of the first Democrats to jump on the 2016 Hillary for President bandwagon. And she sits on the Senate Armed Services and Homeland Security committees. So when Fox News Sunday was looking for someone to defend Hillary Clinton's record as Secretary of State, who better than the Missouri Democrat?
Host Chris Wallace contended that Clinton has a less-than-impressive resume from her time at the State Department. Wallace said Clinton "defended Syria President Bashar al-Assad as a possible reformer at the start of that country's civil war." (Our partners at PunditFact rated that Half True.)
McCaskill later retorted that Clinton actually played a key role in the Syrian conflict.
"We're getting the chemical weapons out of Syria," McCaskill said. "She laid the groundwork for that."
The agreement the United States reached with Assad to turn over Syria's stockpile of chemical weapons came in September 2013 — seven months after Clinton stepped down as Secretary of State. As we suspected, McCaskill's claim is rather dubious.
Civil war
Antigovernment protests in Syria began in March 2011. At the time, Clinton was Secretary of State. In the early stages of the conflict, Clinton and the administration called for a peaceful transition to democracy, and in August 2011, Obama said Assad should step down.
But the Syrian conflict continued to escalate into an all-out civil war.
Throughout the crisis, the United States was concerned about the chemical weapons in Syria — not only Assad's use of them on his own people but protecting them from falling into the wrong hands if Assad should be overthrown.
In August 2012, President Barack Obama spoke to reporters in the White House and first used the term "red line" regarding Assad's chemical weapons.
"A red line for us is we start seeing a whole bunch of chemical weapons moving around or being utilized," he said, later adding there would be "enormous consequences."
McCaskill's office noted that Clinton met with Russian and United Nations officials in December 2012 about the conflict. Before the meeting, she spoke with reporters and said "we've made it very clear what our position is with respect to chemical weapons," reiterating Obama's red line.
McCaskill spokesman John LaBombard added that "the current efforts to remove chemical weapons benefited from her hard work."
That "may or may not be true," said Anthony Arend, cofounder of the Institute for International Law & Politics at Georgetown, "but, in any case, it's not the same as laying a foundation for the current agreement."
The December 2012 meeting with Clinton and Russia did not result in any accord with Syria, nor did her negotiations prevent Assad from using chemical weapons. She left two months later in February 2014, when Sen. John Kerry won confirmation for the position from the Senate.
And a lot happened after Clinton's departure that make it hard to link her to the eventual weapons deal, experts told us.
For starters, the administration's position on what the "red line" actually meant continued to change after Clinton left office. When he first said it, Obama did not explain what the "enormous consequences" would be.
In April 2013, the White House first told senators that the international community had evidence of chemical weapons use. By June, the Obama administration concluded Assad's regimes used chemical weapons and authorized the military to provide light arms and ammunition to Syrian rebels.
It wasn't until Aug. 31, 2013, that Obama, citing Assad's use of chemical weapons, called for congressional authority to take military action against Syria.
"If anything, this red line that the Obama administration proclaimed was very fluid. It kept moving," said Danny Postel, associate director of the Center for Middle East Studies at the University of Denver. "It wasn't until the critical weeks of the big chemical weapons attack that finally triggered the Obama administration to threaten actual military strikes on the Assad regime. Hillary Clinton was already gone by this point."
It was that policy shift and threat of military action that ultimately seemed to move Assad to take action.
The accidental agreement
Experts also noted how quickly and spontaneously the deal to remove Assad's chemical weapons was reached between the U.S., Syria and Russia.
In many ways, Kerry almost "stumbled" into the agreement, said Joshua Landis, director of the Center for Middle East Studies at Oklahoma University and author of the Syria Comment blog. During a visit to London, a reporter asked Kerry about Assad's interview with PBS' Charlie Rose, where the leader would not even admit to having chemical weapons.
"Is there anything at this point that his government could do or offer that would stop an attack?" the reporter asked.
Kerry responded: "Sure. He could turn over every single bit of his chemical weapons to the international community in the next week. Turn it over, all of it, without delay, and allow a full and total accounting for that. But he isn't about to do it, and it can't be done, obviously."
A State Department spokesman even said later that day that the offer was made "rhetorically."
But within hours of Kerry's remarks, Russia responded that Syria was receptive to such an agreement. On Sept. 10, Syria admitted to its chemical weapons stockpile and four days later joined the Chemical Weapons Convention and agreed to eliminate its weapons. About 90 percent of those weapons have been turned over since then.
We took this analysis to McCaskill for rebuttal but they didn't respond on the record. A State Department spokeswoman declined to comment, and Clinton's spokesman did not respond to repeated emails.
Our ruling
McCaskill said Clinton "laid the groundwork" to remove Syria's chemical weapons. The connection to the eventual deal seems to be Clinton's ongoing discussions with Russia, who eventually helped broker the agreement, and the administration's red line on chemical weapons, which eventually led to the threat of military action that forced Assad's hand.
Experts we spoke with said that was a pretty flimsy case. Obama's red line changed meaning from Clinton to Kerry. At first it was a rather ambiguous threat. Later, crossing it meant helping rebels obtain weapons and finally the announcement of military action.
Further, the eventual agreement itself came quickly and almost unintentionally after Kerry made a rhetorical offer that Russia and Assad accepted. Clinton had been out of the Secretary of State job for seven months at that point. Prior to Kerry's offer, an agreement seemed out of reach.
Given all of that, we rate McCaskill's statement Mostly False.
Fox News interview with Sen. Claire McCaskill, June 1, 2014
Email interview with John LaBombard, spokesman for McCaskill, June 2-4, 2014
U.S. Department of State, Remarks With Taoiseach Enda Kenny After Their Meeting, Dec. 6, 2012
U.S. Department of State, Eliminating Chemical Weapons in Syria, accessed June 3, 2014
U.S. Department of State, FACT SHEET: U.S. Contributions to the International Effort to Eliminate Syria's Chemical Weapons Program, Nov. 5, 2013
Organization for the Prohibition of Chemical Weapons, "OPCW Executive Council Adopts Historic Decision on Destruction of Syria Chemical Weapons," Sept. 27, 2013
BBC, "Kerry meets Arab leaders to seek Syria strike support," Sept. 8, 2013
Reuters, "Kerry: Syrian surrender of chemical arms could stop U.S. attack," Sept. 9, 2013
New York Times, "Obama Calls Russia Offer on Syria Possible 'Breakthrough'," Sept. 9, 2013
New York Times, "Off-the-Cuff Obama Line Put U.S. in Bind on Syria," March 4, 2013
Washington Post, Timeline: Unrest in Syria, Jan. 20, 2014
Associated Press via Huffington Post, White House Letter On Syria Chemical Weapons To Senators: Read The Full Text, April 25, 2013
Office of Sen. Carl Levin, "Bipartisan Group of Senators Asks President if Assad Regime Has Used Chemical Weapons," April 24, 2013
Los Angeles Times, "Removal of Syrian chemical weapons almost 90% complete, monitor says," April 22, 2014
U.S. Department of State, Daily press briefing, Sept. 9, 2013
CQ Transcript, Secretary of State Kerry Delivers Remarks with United Kingdom Foreign Secretary Hague in London, as Released by the State Department, Sept. 9, 2013 (video)
PBS, Interview with Bashar al-Assad, Sept. 9, 2013
Email interview with Anthony Arend, cofounder of the Institute for International Law & Politics at Georgetown, June 3, 2014
Phone interview with Danny Postel, associate director of the Center for Middle East Studies at the University of Denver, June 3, 2014
Phone interview with, Joshua Landis, director of Center for Middle East Studies at Oklahoma University, June 3, 2014
Browse the Truth-O-Meter
More by Steve Contorno
Support independent fact-checking.
Become a member!
In a world of wild talk and fake news, help us stand up for the facts.