Stand up for the facts!
Our only agenda is to publish the truth so you can be an informed participant in democracy.
We need your help.
I would like to contribute
"Charlie Crist allowed college tuition to increase up to 15 percent every year."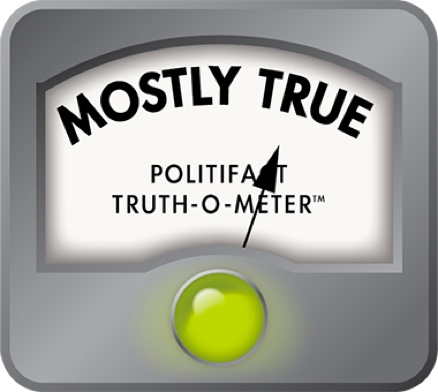 Rick Scott says Charlie Crist let college tuition increase up to 15 percent every year
Education spending is a weapon of choice for both sides of the battle lines in this year's Florida gubernatorial election. This time around, Gov. Rick Scott is again lobbing an incendiary charge at his presumptive Democratic challenger.
"Charlie Crist allowed college tuition to increase up to 15 percent every year," Scott's political committee Let's Get to Work said in a statewide campaign ad, which launched June 2, 2014. It then goes on to say Scott repealed the increase.
This attack is worded a bit differently from a claim we checked a couple months ago and found Mostly False. Let's check the report card on this one again.
Calculating costs
Scott for Florida told us the commercial refers to the 2009 plan to set tuition rates for Florida universities.
Before Crist took office in 2007, the state Legislature set undergraduate rates with no cap on how much the price could go up. The university system's Board of Governors set graduate and out-of-state rates, capped at 15 percent. That system changed later that year, when the Legislature let the largest state research universities raise rates up 15 percent per year.
Crist opposed raising tuition in 2007, and vetoed a 5 percent increase set by lawmakers. He reversed himself later that year, and the 5 percent hike took effect.
The Legislature's increase was 6 percent in 2008, with the state's five largest universities getting additional tuition bumps. Crist signed that year's budget without challenging the changes.
But in 2009, the Legislature approved a new plan that allowed the Board of Governors to raise undergraduate tuition rates past whatever the Legislature approved. As long as the total increase didn't exceed 15 percent per year, they were allowed to do this until tuition reached the national average, which was $8,893 in 2012-13. Crist advocated for this plan, and signed off on it when the Legislature approved it. That's the basis of the ad's attack.
At the time, universities argued the system needed to raise tuition to pay for scholarships, keep top professors and compete with other states. (Florida was 45th in tuition costs in 2011, and 43rd by 2013.) The need only increased after the Legislature starting slashing post-secondary education funding following the Great Recession, some university officials argued.
How did the process work? Stick with us here. It's a little complicated, because under tuition differential rules, both the Legislature and the Board of Governors had a role in raising tuition.
The Legislature set its base tuition increase each year (it would go up by the rate of inflation if no budget action was taken). Then individual universities would ask the Board of Governors for another increase, called tuition differential. Those two numbers, the base increase and the differential, couldn't add up to more than 15 percent. It can be less, but has been 15 percent a few times -- notably when both Crist and Scott were governor.
The governor could veto the Legislature's increase, but not the Board of Governors increase. He appoints the Board's members, but has no official say in their decisions.
Here's how the tuition increases played out under both Crist and Scott:
Year
(Governor in office)

Legislative increase

Board of Governors increase

Total

2007 (Crist)

5 percent

N/A

5 percent

2008 (Crist)

6 percent

N/A

6 percent

2009 (Crist)*

8 percent

7 percent

15 percent

2010 (Crist)

8 percent

7 percent

15 percent

2011 (Scott)

8 percent

7 percent

15 percent

2012 (Scott)

0 percent

Varied by university

Varied by university

2013 (Scott)

3 percent (vetoed)

0 percent

1.7 percent (indexed to inflation)
* Tuition differential law takes effect
Scott definitely used his veto power to stop the Legislature in 2013, but it was his influence on the Board of Governors that kept last year's hike so low. The governor may not be able to veto the board, but he certainly can express an opinion to its members, which he did.
Now that we've gone through all this for purposes of fact-checking the ad, you can forget about it for future tuition increases: The entire tuition differential process was scrapped by the Legislature during the 2014 session as part of a bill allowing children of illegal immigrants to qualify for in-state tuition. Now automatic tuition increases are gone, even for inflation; the Legislature can vote for one, and only the University of Florida and Florida State can lobby the Board for a differential increase, up to a maximum of 6 percent.
Our ruling
Scott for Florida's new ad about education costs said, "Charlie Crist allowed college tuition to increase up to 15 percent every year."
Tuition did go up 15 percent in 2009 and 2010. But the ad downplays the fact that tuition increased 5 and 6 percent the two years prior to that. (It also neglects to mention it went up 15 percent under Gov. Scott one year, as well.)
We should also note that Crist wasn't the only actor here. The Legislature approved increases, as did the state Board of Governors.
Still, tuition did go up each year, and as high as 15 percent for two years. We rate the statement Mostly True.
Scott for Florida, "Tuition Increase," June 2, 2014
Lakeland Ledger, "Crist Endorses 5% Boost In Tuition," Oct. 27, 2007
Orlando Sentinel, "Florida Gov. Charlie Crist changes tune, backs higher tuition," Nov. 21, 2008
Tampa Bay Times, "University leaders expect Gov. Rick Scott to veto tuition increase," May 9, 2013
Sarasota Herald-Tribune, "Will Scott veto Florida tuition increases?," May 10, 2013
PolitiFact Florida, "Rick Scott 'increased tuition at our state colleges and universities by double digits,' Florida Democratic Party says," Aug. 2, 2013
PolitiFact Florida, "Charlie Crist signed 'an automatic 15 percent annual tuition increase,' Rick Scott's campaign says," April 3, 2014
Naples Daily News, "In-state tuition for students here illegally set to pass after Senate approval," May 1, 2014
Tampa Bay Times, "Florida Legislature adjourns 2014 session, approving medical marijuana strain and immigrant tuition," May 2, 2014
Miami Herald, "Florida lawmakers push changes for higher education, with mixed results," May 15, 2014
Florida House of Representatives, Analysis of HB 851, accessed June 3, 2014
Interview with Greg Blair, Scott for Florida spokesman, June 3, 2014
Interview with Brittany Davis, Board of Governors spokeswoman, June 3-4, 2014
Tampa Bay Times, With tuition rising slightly, Gov. Rick Scott asks board to be tough on fees, June 19, 2013
Browse the Truth-O-Meter
More by Joshua Gillin
Support independent fact-checking.
Become a member!
In a world of wild talk and fake news, help us stand up for the facts.