Stand up for the facts!
Our only agenda is to publish the truth so you can be an informed participant in democracy.
We need your help.
I would like to contribute
"In states where beer is unregulated, the per capita production is significantly higher."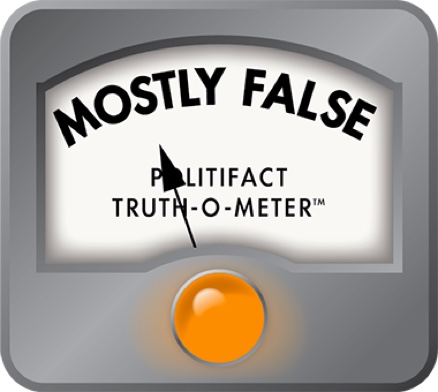 'In states where beer is unregulated, the per capita production is significantly higher,' Sen. Kelli Stargel says
State Sen. Kelli Stargel thinks Florida's beer regulations are too lax, and that means trouble's brewing.
Florida craft beer makers are hopping mad about SB 1714, a bill that would require craft brewers at a certain sales level to use distributors to sell their wares, changing the current rules where they can sell directly to consumers. Lakeland Republican Stargel attempted to quench the mounting criticism by writing an editorial April 28 in the Tallahassee Democrat, lamenting that "a small but vocal faction of the beer industry that has clouded this issue by promulgating misinformation."
Measures like her bill are necessary, she argued, because unfettered beer production is a looming evil.
"In states where beer is unregulated, the per capita production is significantly higher," she wrote. "Higher beer production and higher consumption go hand-in-hand. As a social conservative, this is why I believe we need to keep regulations on alcoholic beverages in place and not have unregulated beer widely available in the marketplace. Social issues greatly impact economic issues, and we must seek a balance on both."
We'll deal with whether higher beer production increases consumption in another factcheck, but first we wanted to see if a lack of state regulations leads to higher beer production. We're going to tap the industry experts on this one.
The three tiers
The version of SB 1714 that passed Tuesday requires microbreweries selling more than 2,000 kegs that exceed 20 percent of their sales in take-home consumption to sell their product to distributors. (An amendment added on April 28 allows larger craft brewers to self-distribute up to 20 percent of their product through bottles and cans.) Brewers would then have to buy it back at the distributors' marked-up prices.
Stargel argues that this practice is simply following the rules of the three-tier system that brewers have used since the repeal of Prohibition in 1933. This system, which is regulated to varying degrees by the states, breaks up the alcohol-making business (beer, wine and liquor) into three categories:  
The supplier: The brewer who makes the beer;
The wholesaler: The distributor who sells the beer to a bar, restaurant or other business;
The retailer: The business that buys the beer from the wholesaler.
Craft brewers in Florida complain the system will force them to cut jobs to account for the added cost. Some have even implied they may have to close up forever. Joey Redner, founder of Tampa's Cigar City Brewing, has said he may move his 100,000 keg per year business out of state if the measure becomes law.
Critics also complain the bill is the result of "crony capitalism," with many legislators who support the bill getting campaign contributions from distributors. The Tampa Bay Times reported Stargel collected at least $6,000 from beer distributors since late 2013 for her 2016 Senate re-election race -- about 12 percent of her total. They gave her $500 in 2012, when she wasn't sponsoring a bill regulating alcohol distribution.
Regulation vs. production
Stargel's office said her comments came from Redner's take on the bill. Redner wrote that an analysis by the Brewers Association, a trade group comprised of mostly small brewers and associated workers, including wholesalers, "shows a very strong link between less regulation of access to market for breweries and the total number of breweries and barrels of beer produced by those breweries."
Bart Watson, the staff economist with the group that wrote the analysis, says there's no such thing as a state where beer is unregulated. He suggested Stargel may have meant states where regulations are more favorable for large or small brewers. Even then, beer is highly regulated.
Watson said it appeared states with favorable regulation of small breweries did lead to more production from those breweries. But the opposite could be true, as well -- higher brewery production could just as easily drive favorable regulation, he said. Either way, craft brewing (especially in Florida) doesn't have a big enough impact to really affect total production.
Another way to consider the issue is whether states with high levels of production from large brewery plants are hampered by strict regulations. He singled out Georgia and Florida as examples of highly regulated states, but still being among the top beer producers thanks to large brewing operations. Florida was third in total beer shipments in 2012; Georgia was 10th.
"General business environment and location relative to the U.S. population are probably better indicators of overall production levels in a state than regulations on small breweries," Watson said.
State laws allow all manner of exceptions to the three-tier system; ,ost states let small breweries self-distribute in some capacity.
The Beer Industry of Florida, a trade association "dedicated to promoting the responsible consumption of alcohol and the preservation of the three-tier system of alcohol distribution and regulation," did not offer any comment on Stargel's view.
The group did send out a press release on April 25 saying they didn't support the proposed legislation because it hadn't allowed for 64-ounce growlers (essentially large bottles favored by consumers), a provision Stargel added three days later. The bill is currently awaiting discussion in the House.
Our ruling
Stargell said in her editorial that "in states where beer is unregulated, the per capita production is significantly higher."
Her office credited Redner, an opponent of the bill, as the source of the line. Redner was referring to an analysis by an economist for a brewers trade group who said favorable regulation led to higher production from craft breweries.
The statement is inaccurate in that beer is regulated in every state, although to varying degrees. It also doesn't specify craft brewing. In fact, the analysis found there didn't seem to be much of a link between state regulation and total production from both large and small breweries.
We rate the statement Mostly False.
Tallahassee Democrat, "Kelli Stargel: Beer bill is all about keeping protections," April 28, 2014
Journal of Public Health Policy, "Public Action and Awareness to Reduce Alcohol-Related Problems: A Plan of Action," Spring 1988
Fox News, "Which states drink the most (and least) beer?," Aug. 27, 2013
SeriousEats.com, "Beer Issues: What's Up With the Three-Tier System?," Jan. 8, 2014
Miami Herald, "Growler bill pits Florida microbreweries against big-money beer interests," April 22, 2014
Brewers Association, "Dr. Statelaws: Or How I Learned to Stop Worrying and Love Self-Distribution," April 22, 2014
Cigar City Brewing, "Our Founder/CEO Joey Redner on Senate Bill 1714," April 24, 2014
Tampa Bay Times, "Cigar City founder Joey Redner considers leaving Florida if bill passes," April 24, 2014
BeerPulse.com, "Beer Industry of Florida releases statement on proposed Florida beer legislation," April 25, 2014
Miami Herald, "Intent on wrecking Florida's beer industry," April 26, 2014
St. Augustine Record, "Jacksonville's craft brewers growling about legislation that favors beer distributors," April 28, 2014
Context Florida, "Sen. Kelli Stargel: Amendment designed to find common ground in beer battle," April 28, 2014
Daytona Beach News-Journal, "Beer bill remains tough to swallow," April 28, 2014
Tampa Bay Buzz blog, "Senate growler bill likely to fall flat in House, says Rep. Dana Young," April 29, 2014
Creative Loafing, "Joey Redner isn't celebrating the demise of Kelli Stargell's craft beer bill just yet," April 30, 2014
Florida Senate, "CS/CS/SB 1714: Malt Beverages," accessed April 28-May 1, 2014
Brewers Association, "Self-Distribution Laws," accessed April 29, 2014
Brewers Association, "Growler Laws," accessed April 29, 2014
Beer Institute, "Shipments of Malt Beverages and Per Capita Consumption by State 2012," accessed April 29, 2014
Florida Beer Wholesalers Association, "Three-Tier System: Florida's Regulatory System Benefits Everyone," accessed April 29, 2014
Interview with Bart Watson, Brewers Association staff economist, April 29-May 1, 2014
Interview with Chris Thorne, Beer Institute vice president of communications, April 29-May 1, 2014
Interview with Rachel Barnes, spokesperson for Sen. Kelli Stargel, April 30-May 1, 2014
Interview with Meredith Gould, Beer Industry of Florida director of meetings and membership, April 30-May 1, 2014
Browse the Truth-O-Meter
More by Joshua Gillin
Support independent fact-checking.
Become a member!
In a world of wild talk and fake news, help us stand up for the facts.