Stand up for the facts!
Our only agenda is to publish the truth so you can be an informed participant in democracy.
We need your help.
I would like to contribute
After the 2012 redistricting, Wisconsin has competitive congressional districts.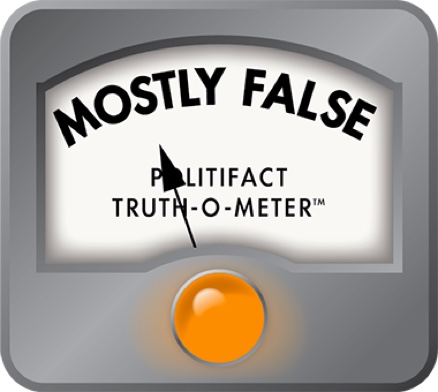 Paul Ryan says congressional districts in Wisconsin are competitive after redistricting
When Republicans took over state government in 2010, they scored a golden opportunity to redraw the lines for state and congressional districts in their favor.
For the first time since the 1950s, the same party had control of both houses of the Wisconsin Legislature and the governor's mansion at a time when the required population-based rebalancing of districts took place.
At the congressional level, the drawing of the new borders was led by U.S. Rep. Paul Ryan (R-Janesville) and resulted in significant changes to the district represented by U.S. Rep. Sean Duffy (R-Ashland), and smaller but important tweaks to the districts represented by U.S. Rep. Ron Kind (D-La Crosse) and Ryan himself.
In a Sept. 2, 2014 appearance before the Rotary Club of Milwaukee and the Milwaukee Press Club, Ryan said the state lawmakers had not engaged in the gerrymandering seen in other states, where districts are redrawn in dramatic fashion to favor the party in power.
He also credited Wisconsin incumbents with being good at winning reelection.
"I come from one of the battleground districts in the country," Ryan said, during a question and answer session after his speech.
"Wisconsin's like that. We have competitive districts."
When we asked for evidence to support his claim that even after the redistricting the seats are competitive, Ryan spokesman Kevin Siefert cited the Cook Political Report, a nonpartisan organization that follows federal elections.
The Cook Report creates a partisan voter index, or PVI, for each congressional district in the country, a gauge that allows you to compare voting for president in a single district with the national results.
"Congressman Duffy's district is an R+2 and Congressman Kind's is a D+5, both falling in the 'swing seats' range as determined by the Cook Political Report," Siefert said.  "Congressman Ryan stated that both seats were very competitive, and the Cook Report's substantiates that with its Partisan Voter Index."
The index means that Duffy's district voted two percentage points more Republican in the last presidential election than the nation as a whole. Meanwhile, Kind's district voted five points more Democratic.
At the speech, Ryan described the Milwaukee-area seats held by Democrat Gwen Moore and Republican F. James Sensenbrenner as "very much" favoring the incumbent's party. He spent spent little -- or no -- time on three seats, those held by Democrat Mark Pocan, and Republicans Reid Ribble and Tom Petri.
He focused primarily on his own district, and those represented by Kind and Duffy.
But the Cook Report's expert on the House of Representatives said redistricting made the Duffy and Kind districts -- and Ryan's -- less competitive.
"If Paul Ryan claims that these seats are competitive, he's living in the past," said David Wasserman, who analyzes house districts and races for the Cook Report. "That's preposterous. There are virtually no competitive seats in Wisconsin."
Let's take a closer look.
Changes to the districts
At the event, Ryan pointed out that in recent decades the seats that he and Duffy now hold have swung from party to party.
The 7th District, in northwest Wisconsin, "went from Dave Obey to Sean Duffy," Ryan said, adding his own district, in southeastern Wisconsin, "went from Les Aspin to Peter Barca to Mark Neumann and Paul Ryan."
But Ryan compares apples and oranges.
Thanks to redistricting  the districts have different voters in them now than when those seats were held by Obey and Aspin.
Obey stepped down in 2010, before the latest changes, and was replaced by Duffy. Aspin left in 1993 to join the Clinton administration. And Barca, the most recent Democrat in the seat, last held it in 1995 before losing to Neumann, a Republican.
Swapping voting blocks
In the 2012 redistricting, significant changes were made to Duffy's district that gave it more of a Republican base.
"The Republicans' biggest goal was to shore up Sean Duffy in the 7th and they did so by removing Stevens Point and Wood County from the 7th and replacing them with the Twin Cities exurbs of St. Croix County," Wasserman said.
That made the district three points more Republican. At the same time, Kind's district became even more more Democratic, moving from a D+4 in 2010 to a D+5, according to the Cook scale.
Ryan aide Seifert notes that this puts the districts in the Cook Report's "swing" category -- which the report defines as those between Republican +5 and Democratic +5.
That is a technical, by-the-numbers definition. The Cook Report separately rates each election based on additional factors, such as incumbency, challengers and the likelihood to change hands in the next election.
"Sean Duffy hasn't had a competitive race in 2012 or 2014 because of the makeup of the district," Wasserman said.
Similarly, Ryan's district became more Republican after the latest redistricting, by swapping some Democratic-leaning areas for Republican-leaning parts of Waukesha County.
"Now he's ultra safe" from losing the seat, Wasserman said of Ryan. "You have a R (plus) 3 district and that's still safe for Paul Ryan."
Here is a look at the state's eight congressional districts, according to the Cook Political Report's Partisan Voter Index. The redistricting change came between the 2010 and 2012 elections.
| | | | |
| --- | --- | --- | --- |
|   | 2010 | 2012 | 2014 |
| District 1 (Ryan) | R+2 | R+3 | R+3 |
| District 2 (Pocan) | D+15 | D+16 | D+17 |
| District 3 (Kind) | D+4 | D+6 | D+5 |
| District 4 (Moore) | D+22 | D+21 | D+23 |
| District 5 (Sensenbrenner) | R+12 | R+12 | R+13 |
| District 6 (Petri) | R+4 | R+5 | R+5 |
| District 7 (Duffy) | D+3 | Even | R+2 |
| District 8 (Ribble) | R+2 | R+2 | R+2 |
A 2012 Journal Sentinel analysis of the new districts contained this conclusion: "The new map also reduces partisan competition overall. While some of the changes were small, every U.S. House seat in Wisconsin that wasn't safe already became safer for the party that now occupies it."
Good candidates
Ryan said that both Duffy and Kind have won reelection because they're good politicians.
"These guys are good at getting reelected … and these are very competitive districts," he said.
Records show that incumbency brings massive fund-raising advantages.
As of July 23, 2014, Ryan received $5.9 million in contributions and had $3.9 million in cash on hand, the Federal Election Commission reports. That compares with $502,635 raised and $107,901 in available cash for Democratic challenger Rob Zerban.
Similar fund-raising advantages are held by Kind ($1.3 million in cash) compared with challenger Tony Kurtz ($35,666) and Duffy ($1 million) vs challenger Kelly Westlund ($119,000).
"But let's just say one of those guys hangs it up," Ryan said. "That would be a very competitive race."
Wasserman said he tended to agree with the what-if scenario for an open seat.
"If this was an open seat it would be more competitive, sure," he said, referring to Duffy's district in particular.
But when the Cook Report rated the eight districts by likely outcomes in the upcoming November 2014 election, seven of the eight were listed as "solid" Republican or Democrat.
The remaining district -- the seat being being vacated by Petri, who is retiring -- is listed as "likely Republican."
Our rating
Ryan says that Wisconsin's congressional districts are competitive. He raised several points to buttress his argument, and each has elements of truth to it.
But, overall, the impact of redistricting on the seats cited by Ryan -- including his own -- is clear. Seats now held by Republicans Duffy, Kind and Ryan were redrawn in favor of the incumbent in the 2012 redistricting.
We rate Ryan's claim Mostly False.
Milwaukee Journal Sentinel, "The People's House: more unpopular and politically safer than ever," July 19, 2014
Milwaukee Journal Sentinel, "GOP resistricting leaves its stamp on 2012 elections," Dec. 10, 2012
Milwaukee Journal Sentinel, "Redistricting pushes boundaries to help a Republican congressman," June 18, 2011
Milwaukee Journal Sentinel, "Ryan's 2012 reelection not a given in tense climate," July 24, 2011
Rep. Paul Ryan speech Sept. 3, 2014
Email, Kevin Siefert, spokesman, Rep. Paul Ryan, Sept. 8, 2014
Telephone interview, David Wasserman, Cook Political Report, Sept. 16, 2014
Browse the Truth-O-Meter
More by James B. Nelson
Support independent fact-checking.
Become a member!
In a world of wild talk and fake news, help us stand up for the facts.