Stand up for the facts!
Our only agenda is to publish the truth so you can be an informed participant in democracy.
We need your help.
I would like to contribute
David Perdue "opposes laws that provide equal pay protections for women."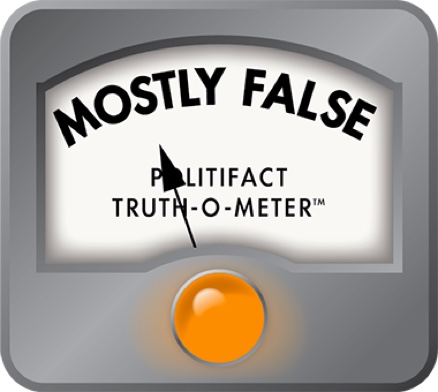 Nunn camp swings wide on gender pay attack ad
In a direct appeal to female voters, a new television ad for Michelle Nunn takes a shot at opponent David Perdue on the issue of equal pay.
"David Perdue opposes laws that provide equal-pay protections for women," declares the ad from Georgians Together, a super PAC created to support the Democrat's campaign for U.S. Senate.
The Senate race between Nunn and Republican Perdue is being closely watched here and nationally. A Nunn win would allow Democrats to reclaim a top statewide office. The outcome also could determine majority control in the U.S. Senate, now narrowly held by Democrats.
Both candidates need the support of women, who make up about 56 percent of the state's 5 million likeliest voters.
Nunn has already tried to make political hay of the fact that Dollar General was hit with a gender discrimination lawsuit during Perdue's tenure as its CEO. (The suit was settled for $18.75 million several years after Perdue left the company, with no admission of wrongdoing).
The new ad from Georgians Together brings up the Dollar General lawsuit. It also accuses Perdue of opposing laws that "provide equal-pay protections for women," a claim that PolitiFact Georgia decided warranted further investigation.
The super PAC's ad claim is a reference to Perdue's opposition to the Paycheck Fairness Act, a bill supported by President Barack Obama and most Capitol Hill Democrats and opposed by congressional Republicans.  
Supporters say the bill – and it is a bill, and not a law, as the Georgians Together ad states  -- contains practical steps for promoting fair pay for women that the Equal Pay Act of 1963 has not been able to achieve. They say the act would enhance the remedies available to victims of gender-based discrimination and require employers to show that pay differences are job-related, not sex-based, and are governed not by bias, but by business necessity.
Employers would be barred from retaliating against workers who inquire about their employers' wage practices or disclose their own wages, the bill's champions say.
Obama has already signed an executive order prohibiting federal contractors from retaliating against employees who choose to discuss their compensation, and he continues to urge Congress to pass the bill.
Opponents say the legislation misdiagnoses the problem. They question the data cited by its supporters, and they say passage of the bill could lead to more lawsuits and even jobs going overseas.
The bill passed the House in January 2009 but stalled in the Senate. Opponents claim it has been brought back up this year as an election-year tactic by Democrats who want to paint Republicans as unsympathetic to women in the workforce.
Derrick Dickey, Perdue's campaign spokesman, told us that Perdue doesn't support the bill because he believes the Equal Pay Act of 1963 makes clear that women and men are to be paid equal wages for equal work.
"They (the Nunn campaign) know David supports equal pay for equal work, which has been the law for over 50 years," Dickey said. "This ad is just another example of Michelle Nunn trying to perpetuate a fraud on the people of Georgia on behalf of (Senate Majority Leader) Harry Reid and Barack Obama."
Nunn is on record as supporting the bill, which Diana Furchtgott-Roth, a former chief economist with the U.S. Department of Labor in the George W. Bush administration, told us appears at this point to be "just a talking point."
"If it didn't pass in 2010 (when Democrats were in control), it's not going to pass now," she said.
Furchtgott-Roth, now director of Economics21 at the Manhattan Institute for Policy Research, a New York-based, free-market think tank, said there have been concerns that the bill is "really a full-employment act for trial lawyers."
She cited, for example, a provision of the bill that would allow an employer found guilty of "so-called discrimination" to be liable for punitive damages, instead of just back pay.
Furchtgott-Roth said three current laws address the issue --  the Equal Pay Act of 1963, the Civil Rights Act and the Lilly Ledbetter Fair Pay Act of 2009.
Democrats from Obama on down have emphasized the "gender wage gap" all this year.
There's always a debate over just how wide that gap is, though most people quote a 2011 U.S. Census Bureau report showing women's total wages were about 23 percent lower than the total amount of men's wages. But that large discrepancy was due, in part, to the fact that men generally work more hours. The study did not attempt to look at equal pay for the same work or the same number of hours worked.
Some rigorous economic studies have shown that women make about the same as men — 95 cents on a man's dollar when job, experience and hours of work are all comparable.
Our Ruling
The ad statement implies sweeping opposition by Perdue to laws giving women the right to collect equal pay for equal work. There's no evidence of that.
In fact, Perdue says he supports equal pay for equal work.
The only thing the super PAC can point to is he's against a single proposed law that supporters say would give women more power to fight back against discrimination.
We rate the statement as Mostly False.
"Women supporters of Nunn, Perdue raise questions about opponents' treatment of workers," Savannahnow.com, September 23rd, 2014
"Fight for female voters intensifies in Georgia Senate campaign," Political Insider, The Atlanta Journal-Constitution, September 22nd, 2014
Paycheck Fairness Act, 1113th Congress (2013-2014)
Congressional control 2009-2010
Email with Keith Mason, treasurer, Georgians Together super PAC
Interview with Derrick Dickey, campaign spokesman for David Perdue
"Should the Senate Pass the Paycheck Fairness Act?", U.S. News & World Report
Text of the Paycheck Fairness Act
Interview with Diana Furchtgott-Roth, former chief economist of the U.S. Department of Labor and director of Economics21 at the Manhattan Institute for Policy Research.
Browse the Truth-O-Meter
More by Nancy Badertscher
Support independent fact-checking.
Become a member!
In a world of wild talk and fake news, help us stand up for the facts.