Stand up for the facts!
Our only agenda is to publish the truth so you can be an informed participant in democracy.
We need your help.
I would like to contribute
Judithanne McLauchlan "was part of a group that supports imposing a state income tax on Floridians."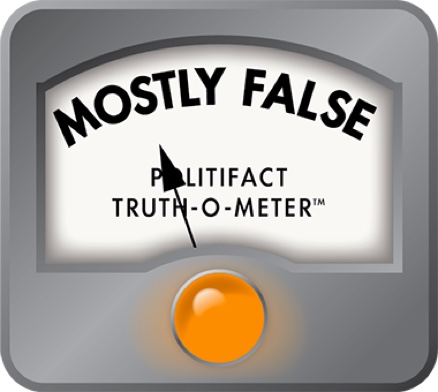 State GOP tries to equate Judithanne McLauchlan with a state income tax
While Republican state Sen. Jeff Brandes ran virtually unopposed for the redrawn 22nd district stretching across Tampa Bay in 2012, he's facing a scrappy challenger in Democrat Judithanne McLauchlan this year.
The Republican Party of Florida, acting on Brandes' behalf, is attacking McLauchlan, a University of South Florida-St. Petersburg political science professor, on an issue where constituents are liable to pay most attention -- their wallets.
In a TV commercial that began running in the Tampa Bay market on Sept. 22, 2014, Brandes implied that McLauchlan wants to break with Florida orthodoxy by supporting a state income tax. A similar claim has been made by fliers being mailed to voters' homes.
The ad -- which features actors pretending to be students being quizzed by a teacher -- says, "McLauchlan was part of a group that supports imposing a state income tax on Floridians." It goes on to say, "McLauchlan: Personal bankruptcy and a new state income tax."
Accusing an opponent of wanting to raise taxes is Political Campaigning 101, but did McLauchlan really associate with people who wanted to tax Floridians at a state level?
Regressive facts
McLauchlan responded to the commercial the day after it appeared, issuing a press release that called it a "repulsive attack" that used "unsubstantiated falsehoods."
"I oppose, will always oppose, and have always opposed a state income tax," she declared.
The ad also mentions her personal bankruptcy, which McLauchlan has blamed on paying for high health insurance premiums and a surgery while she was a graduate student in the 1990s. She said the debt was too much, even after she became employed, so she filed for bankruptcy 16 years ago. She says she has since repaired her credit and is debt-free.
So where did Brandes and the state GOP get the notion about a state income tax? If you look at the fine print, it reads that McLauchlan "served on Board of Directors of League of Women Voters." The ad uses her campaign site as the source.
The League of Women Voters bills itself as a nonpartisan political organization focused on developing informed policy positions and voter participation. It does not endorse candidates, and members from any political party may join. 
McLauchlan's spokesman clarified that she is currently a member and was on the board of the St. Petersburg chapter from 2009-11, mostly working on voter registration initiatives. She also moderated candidate forums between 2011 and 2013.
The Florida chapter of the group stated where it stood on the issue in its most recent guide to public policy positions: "The LWVF supports the adoption of a state personal income tax as one part of a balanced and equitable tax structure." The booklet notes that the position was revisited most recently in 1991, although as far back as a 1966-67 study it argued that a statewide funding source that "would both be equitable and produce sufficient revenue was a personal income tax."
There also is a reference in the guide that says League representatives in 2007 spoke at seven statewide Taxation and Budget Reform Commission public hearings in favor of "an equitable tax system based upon ability to pay, which suggests a state income tax."
Saying the group "supports imposing" the tax isn't accurate, however, because while the League researched the issue and found an income tax a sound alternative, it doesn't lobby for the change or push it as part of a legislative agenda. They give opinions on policy issues, but don't propose processes to change laws.
We asked the Brandes campaign to clarify their argument. They pointed to a couple member requirements on the St. Pete chapter's website: First, that members of a local chapter are also part of the state and national organizations, and that the group is "open to anyone who subscribes to the mission, principles, and policies of the League of Women Voters."
Second, the site says that members can't contradict the group. "Once League (local, state or national) takes a position on an issue, members may not identify themselves as League members in publicly expressing an opinion that is in opposition to a League position," the site reads.
League of Women Voters of Florida President Deirdre Macnab said that doesn't mean members can't disagree, just that they can't contradict the League's positions as a spokesperson for the organization, such as while serving as a board member. If a board member of any chapter decides to run for political office, that person must resign from the board, although they may stay in the League.
"There is no requirement that members must subscribe to every position the League takes," Macnab said, suggesting the Brandes campaign is misreading the guidelines they cited. "We do have local League presidents who speak on behalf of the League, but we encourage our members to think what they want to think."
Macnab said the tax hasn't been studied since the 1990s. She said she felt most economists would agree a statewide income tax is much more fair than the policies the state has now, relying disproportionately on sales taxes, which are regressive, and property taxes. (One-time gubernatorial hopeful Nan Rich claimed earlier this year that Florida had the third-most regressive tax structure in the country, a claim we rated Mostly True.)
The issue isn't on the table either way, Macnab said, because the state Constitution has provisions preventing the institution of an income tax.
Doris Weatherford, an author, women's historian and League member who met McLauchlan through her campaign, says the group doesn't actively support a state income tax. The League has only taken an informed stance on a policy position, as it does with countless other issues.
"In the case of the income tax, the position is that this is the fairest way, but we haven't worked to make it happen," Weatherford said. "It's been 25 years since that was part of the platform, but even then, it didn't say we would work for it, and still doesn't."  
Our ruling
The state GOP said McLauchlan "was part of a group that supports imposing a state income tax on Floridians."
That's a stretch. The group was the League of Women Voters of Florida, which concluded -- about a quarter century ago -- that a state income tax would be a fairer way to collect revenue for state programs. The group hasn't lobbied for that goal (or even revisited its stance in years) and McLauchlan, as a member of the group, isn't forced to espouse a position on that issue. She denies that she supports it.
The statement contains an element of truth, but ignores critical facts that would give a different impression. We rate it Mostly False.
Jeff Brandes campaign commercial, "Teacher," Sept. 22, 2014
Tampa Bay Buzz blog, "Brandes is 'ideologically extreme' McLauchlan tells Dems," Nov. 15, 2013
PolitiFact Florida, "Nan Rich says Florida has 3rd most-regressive tax structure," July 22, 2014
Tampa Tribune, "McLauchlan challenges Brandes to 'debate,' but they disagree on what that means," Sept. 17, 2014
Creative Loafing, "Judithanne McLauchlan calls RPOF ad claiming she wants a state income tax 'repulsive'," Sept. 23, 2014
Tampa Tribune, "Senate District 22 race heats up," Sept. 25, 2014
Creative Loafing, "Judithanne McLauchlan explains why she filed for bankruptcy in the late 1990's," Sept. 26, 2014
Judithanne McLauchlan campaign website, Candidate profile, accessed Oct. 1, 2014
League of Women Voters of Florida, "Study and Action: Guide to Public Policy Positions 2013-2015," accessed Oct. 1, 2014
League of Women Voters of the St. Petersburg Area, Membership page, accessed, Oct. 1, 2014
League of Women Voters of the St. Petersburg Area, Bylaws, accessed Oct. 1, 2014
League of Women Voters of the St. Petersburg Area, Nonpartisan policy, accessed Oct. 1, 2014
Democracy for America, Judithanne McLauchlan profile, accessed Oct. 1, 2014
Interview with Anders Croy, Florida Democratic Party communications coordinator, Oct. 1, 2014
Interview with Andriy Bilyk, Judithanne McLauchlan spokesperson, Oct. 1-2, 2014
Interview with Chris Spencer, Jeff Brandes spokesperson, Oct. 2, 2014
Interview with Deirdre Macnab, League of Women Voters of Florida president, Oct. 2, 2014
Interview with Doris Weatherford, author and women's historian, Oct. 2, 2014
Browse the Truth-O-Meter
More by Joshua Gillin
Support independent fact-checking.
Become a member!
In a world of wild talk and fake news, help us stand up for the facts.