Stand up for the facts!
Our only agenda is to publish the truth so you can be an informed participant in democracy.
We need your help.
I would like to contribute
Says Gina Raimondo's "venture capital firm secured a secret no-bid contract funded by taxpayers."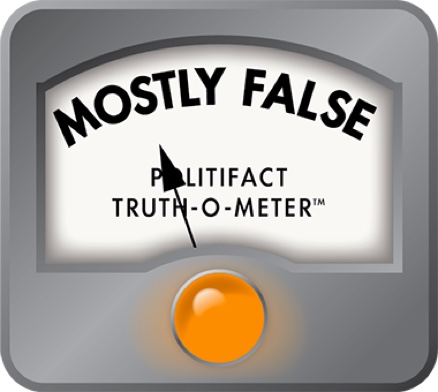 Taxpayers paid for a secret no-bid contract that benefited Gina Raimondo's firm, Angel Taveras says
A TV commercial that ran before the Sept. 9 primary showed two well-dressed men carrying briefcases, approaching each other. They meet in the shadows of a stairwell to shake hands. The implication: they don't want anyone to see what they're doing. The word "SECRET" appears in large green letters, followed by the words "No-bid Contract."
A narrator talks about General Treasurer Gina Raimondo, then one of four Democrats running in a primary for governor, a race she ultimately won.
"Her venture capital firm secured a secret no-bid contract funded by taxpayers," the narrator says
The commercial was for Providence Mayor Angel Taveras, one of Raimondo's opponents. It didn't say what the contract was about, but it sure sounded shady.
Even though the primary is over, we decided to examine the commercial's claim because the issues it raises may well come up again as Raimondo runs against Cranston Mayor Allan Fung, who won the Republican gubernatorial primary.
The commercial cites a March 1, 2014 story in The Providence Journal that explored the terms of a 2006 investment that Providence made in a venture capital investment firm, Point Judith Capital. Raimondo co-founded the company.
In March 2006, four years before Raimondo would enter politics, a board chaired by then-Mayor David Cicilline voted to invest $1 million in retirement money with Point Judith. The investment would last 10 years; the city initially invested $100,000.
Under the terms of the deal, if the investment made money by 2016, Point Judith would get 20 percent of the profit and it would refund the management fees Providence would be paying to Point Judith -- as much as $200,000 during the duration of the deal.
By Dec. 31, 2013, the city had invested $907,211 and Point Judith had deducted $159,690 in fees, but the value of the investment had grown to $1.466 million.
What makes this a "secret" deal?
Venture capital firms, which provide early financing for innovative companies in hopes of getting big payoffs down the road, are tight-lipped about how they invest their money and demand secrecy from those who invest in them.
The Journal spent months trying to get details about the city's Point Judith investment, which included debate between Point Judith and the city over what to release. In April, more than a month after The Journal reported on the general terms of the deal and eight years after it was approved, Providence released a copy of its agreement with Point Judith to the newspaper, with several portions -- including dollar amounts, investment periods, interest rates and other key elements -- redacted.
So key elements Providence's contract with Point Judith remain secret.
But when it comes to other aspects of the deal, the image of two shadowy businessmen cutting an illicit deal in a stairwell is ridiculously wrong.
The vote to invest money with Point Judith was approved unanimously on March 23, 2006, during a regular meeting of the city's Board of Investment Commissioners.
The public session was in a third floor conference room in City Hall. A transcript of the meeting, during which Raimondo made a presentation and members weighed the pros and cons of the deal, is available online. The investment was recommended by the fund's investment counselor.
One reason the city went with Point Judith: at the time, the company was the only venture capital firm based in Rhode Island.
"We did not say the contract was entered into secretly," said Dawn Bergantino, spokeswoman for Taveras' gubernatorial campaign. "We are saying the contract itself is secret. We were talking specifically about the non-disclosure aspect of the contract. When the agreement was signed, the position of Point Judith was that the information is not for public disclosure. The Mayor has fought Point Judith to subsequently make the contract public."
"If the specifics of the contract are hidden from public view, and if on being asked to release the contract the requests are refused – the contract is secret," she said.
And was this a no-bid contract?
The short answer: yes. But that's not unusual on the state or local level. Investments are often done without bidding because they are based on the recommendation of a fund's investment adviser.
"For the most part, most do not go out for bid" unless an investment board doesn't have a financial consultant, said Howard Pohl of The Bogdahn Group. He is a well-known consultant to many public pension plans.
Spokespeople for Taveras insisted that most investments were done through requests for proposals. We asked to see copies of past RFPs. Providence's consultant, Wainwright Investment Counsel, said it didn't have any available.
We also asked three of the four people who voted on the Point Judith investment about whether bidding was standard practice.
Cicilline, now a U.S. Congressman, said through spokesman Andrew Gernt that individual investments did not go out for bid.
Myrth York, who was a member of the investment commission at the time and is supporting Raimondo's bid for governor, said the same thing. "Someone would come in and say they had something, and we would either be interested in it or not, and part of it would depend on how it fit in with the overall portfolio. It's wasn't like you opened three bids and picked one," she said.
Stephen T. Napolitano, also a former commission member, said: "We relied on our consultant to make recommendations and provide us with people in the field to come in and do interviews. Based on that, we made a decision to hire them. . . . In terms of putting it out to bid, I don't think it was ever done back then. I don't think that's the normal procedure."
Our ruling
Angel Taveras said Gina Raimondo's "venture capital firm secured a secret no-bid contract funded by taxpayers," citing a newspaper story that deals with the terms of Point Judith's deal with Providence.
Some elements of the deal remain secret.
But the ad's clear implication that the contract was approved in secret is wrong. It wasn't. It was voted on in an open session.
To call it a no-bid contract is technically correct, but that phrase suggests something improper. The reality is that many such investment decisions never go out for bid because the investments have been vetted by a financial consultant.
Because the statement in Taveras' commercial contained some element of truth but ignored critical facts that would give a different impression, we rate it Mostly False.
(If you have a claim you'd like PolitiFact Rhode Island to check, email us at [email protected]. And follow us on Twitter: @politifactri.)
YouTube.com, "Neither," Angel Taveras channel, Aug. 19, 2014, accessed Aug. 26, 2014
ProvidenceJournal.com, "Providence wrangles with pension fund secrecy," March 2, 2014
Providenceri.iqm2.com, "Department of City Clerk; City Hall; March 23, 2006," transcript, Board of Investment Commissioners meeting, City of Providence Open Meeting Portal, accessed Aug. 27, 2014
Emails, Dawn Bergantino, spokeswoman, Angel Taveras for Governor campaign, and Eric Hyers, spokesman, Gina Raimondo for Governor, both Aug. 27, 2014; and Frank Caprio, former Rhode Island State Treasurer; Jeff Fabrizio, Wainwright Investment Counsel, LLC, via David Ortiz, spokesman, Angel Taveras; Andrew Gernt, spokesman Cong. David Cicilline, all Sept. 3, 2014; and Kathryn M. Sabatini, Public Records Unit, city of Providence, April 21, 2014
Interviews, Howard Pohl, senior consultant, The Bogdahn Group, Sept. 3, 2014; and Myrth York and Stephen T. Napolitano, former members, Providence Investment Commission, Aug. 29 and Sept. 3, 2014, respectively
Browse the Truth-O-Meter
More by C. Eugene Emery Jr.
Support independent fact-checking.
Become a member!
In a world of wild talk and fake news, help us stand up for the facts.