Stand up for the facts!
Our only agenda is to publish the truth so you can be an informed participant in democracy.
We need your help.
I would like to contribute
Says "56 percent of (the U.S.-Mexico) border is not under our control."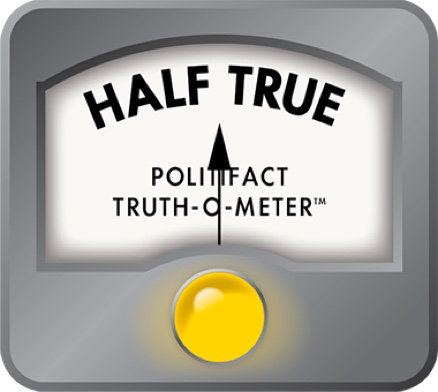 Ben Carson: Most of the border is 'not under our control'
Republican presidential candidate Ben Carson suggested drones could really help the country's overstressed border patrol.
Carson told CNN's Jim Acosta on State of the Union on Aug. 23, 2015, that the drones could be used for more than just surveillance along the Mexican border, potentially taking out caves that smugglers and cartels use to cross into the United States.
"We're not getting support from the federal government to deal with these people," he said. "They're being outgunned. Fifty-six percent of that border is not under our control."
There was a bit of overlap between Acosta and Carson (this transcript quotes Carson saying 66 percent), but we heard 56 percent. We wondered if Carson was correct that more than half of our southern border was "not under our control."
We didn't hear back from Carson's campaign when we tried to contact them for the source of the retired neurosurgeon's figure. But we have an idea where he may have gotten it.
A 2011 Government Accountability Office report said U.S. Customs and Border Protection considered 873 miles of the almost 2,000-mile U.S. border with Mexico under "operational control" in fiscal year 2010. Those are areas they classified "as those in which it has the ability to detect, respond, and interdict illegal activity at the border or after entry into the United States."
Operational control was broken down into two definitions: "Controlled" areas had enough agents to either deter or detect and apprehend illegal entries immediately at the border. We must note this still doesn't mean a 100 percent apprehension rate, but controlled status accounted for 129 miles, or about 15 percent of those 873 miles under operational control. The other 85 percent were considered "managed" areas, where agents could still identify and apprehend most entries from as far as 100 miles away.
The other 1,120 miles of border — the 56 percent of the total border to which Carson is likely referring  — fell under two other definitions. The report said nearly two-thirds was considered "monitored," meaning illegal entries were likely to be detected, but resources or accessibility could make responses difficult. The other third was labeled "low-level monitored," defined as regions where detection and interdiction were constrained by few resources or poor infrastructure.
"Border Patrol reported that these two levels of control were not acceptable for border security," the GAO report said.
So does that mean they aren't under control, as Carson said? Experts have told us before that there's no set definition for a secure border, and it's not fair to set the standard as a 100 percent border-crosser apprehension rate because then no part of the border would qualify.
Border Patrol agents are charged with many duties beyond stopping illegal immigration. They are supposed to catch drug smugglers, weapons traffickers, potential terrorists, money launderers and more. Apprehensions only tell part of the story. Because no one knows how many crossing attempts there truly are each year, by any group targeted by the border patrol, there's no way to really set a universal metric for security.
The 2011 GAO report said the Department of Homeland Security was replacing its border security measures, and it expected data reported to Congress to wane as programs were updated through 2012.
A January 2015 report by now retired Sen. Tom Coburn, R-Okla., said that as of 2014, more than 700 miles of the southern border "were not secure." The report blamed "little to no deployment density or aviation surveillance coverage." The oversight report blamed the problems in part to a lack of overall border security plan by the Department of Homeland Security.
But Coburn's report also said that "it is impossible to judge whether the border is secure" based on available data. There's no way to tell just how many crossings went undetected, the report said, and changes in apprehensions and economic and social factors in immigration made extrapolating overall security very difficult.
As far as reported statistics, we know that illegal migration through the border has decreased in recent years. The Bipartisan Policy Center said that in 2007, there were 1.6 million instances of people apprehended, turned back at the border or evidence of people making it across, known as "gotaways." The center said that number had dropped to 741,881 in 2013.
There also is evidence the number of native Mexicans living in the U.S. is leveling, experts have said, and eight of the nine sectors the border is broken into by the Border Patrol had higher effectiveness ratings in 2013 than they did in 2006.
Christopher Wilson, deputy director of the Mexico Institute at the Woodrow Wilson International Center for Scholars, gives Carson credit for using the term "control," since that's the word the border patrol used in part to measure its own effectiveness.
But as a practical matter, it's impossible to stop everyone from crossing the border, he said. That makes it difficult to settle on how much enforcement would be required for everyone to consider it "enough." Wilson added things have indeed improved, no matter which source you cite.
"All the different measures point to an overall improvement in border security over at least the last 10 years," Wilson said. "We don't know what a secure border is, because we've never defined it as a society."
Our ruling
Carson said that "56 percent of that (U.S.-Mexico) border is not under our control."
U.S. Customs and Border Protection said in a 2011 report that 873 miles of the U.S. Mexico border was under "operational control." The other 1,120 miles, or about 56 percent, fell under two classifications "not acceptable for border security." That doesn't mean there is an utter lack of control, but that the agency's ability to detect or respond (or both) to crossings was hampered by a lack of resources or infrastructure.
Carson did not specify what he meant by control, and experts have told us security is a subjective metric. It doesn't appear he pulled the number out of thin air, but available data does show that illegal crossings along the border have overall been on the decline.
We rate Carson's statement Half True.
CNN, State of the Union, Aug. 23, 2015
Mediaite, "'Read My Lips': Carson Gets Testy on CNN over Drones at Border Comments," Aug. 23, 2015
Real Clear Politics, "Ben Carson Chews Out CNN's Jim Acosta Over 'Drone Strikes' Question: 'How Ridiculous... That Is A Total Lie'," Aug. 23, 2015
Government Accountability Office, "Preliminary Observations on Border Control Measures for the Southwest Border," Feb. 11, 2011
DocumentCloud, "A Review of the Department of Homeland Security's Missions and Performance," January 2015
National Review, "The Disturbing Coburn Report," Jan. 7, 2015
Bipartisan Policy Center, "Measuring the Metrics: Grading the Government on Immigration Enforcement," Feb. 19, 2015
PolitiFact, "Marco Rubio: At least three sectors of the border are 'completely insecure'," March 5, 2015
Interview with Christopher Wilson, deputy director of the Mexico Institute at the Woodrow Wilson International Center for Scholars, Aug. 23, 2015
Browse the Truth-O-Meter
More by Joshua Gillin
Support independent fact-checking.
Become a member!
In a world of wild talk and fake news, help us stand up for the facts.