Stand up for the facts!
Our only agenda is to publish the truth so you can be an informed participant in democracy.
We need your help.
I would like to contribute
ISIS is "now the predominant Islamist group in Benghazi."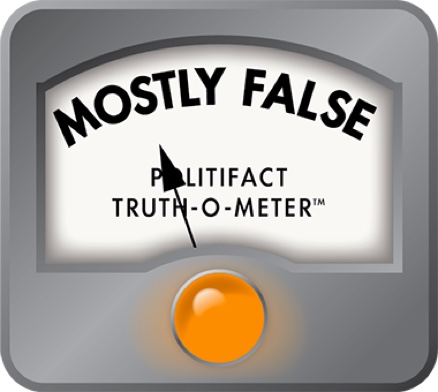 Rubio falsely claims that ISIS is the 'predominant' group in Benghazi
Sen. Marco Rubio hasn't declared himself a presidential candidate yet, but that didn't stop him from visiting Iowa a little early.
Rubio, R-Fla., fashioned himself as a foreign policy wonk during a Feb. 13, 2015, radio appearance, discussing at length the extremist group Islamic State's goals and strength across Africa and Asia. He then invoked the name of a city many Americans likely would remember.
"ISIS has now set up a very significant hub in Libya," Rubio said. "They are now the predominant Islamist group in Benghazi."
Two days after Rubio's remarks, ISIS released a video showing black-clad extremists beheading 21 Coptic Christians from Egypt on a Libyan beach. Egypt responded to the executions by bombing the coastal city of Derna, considered an ISIS stronghold.
Rubio's comments highlighted the state of disarray in Libya, but we wondered if he was right in saying Islamic State militants were the major force in Benghazi, the country's second-largest city. First, we need a brief lesson in recent history.
The Libyan crisis
Libya has largely been in chaos since revolutionaries -- with NATO help -- deposed and killed dictator Moammar Gaddafi in 2011. An interim, Islamist-filled government was elected to help Libya make the transition to a democracy, but refused to give up power after its term was up.
Gen. Khalifa Haftar (at right), who served in the army during the Gaddafi regime and fought against the dictator during the 2011 coup, was instrumental in replacing the interim government so a new parliament could be elected in 2014. Control of the country is now split between an Islamist government based in Tripoli in the west and an internationally recognized government led by Prime Minister Abdullah al-Thani in Tobruk in the east.
Haftar now commands forces fighting Islamist extremists to support the Tobruk government. The country is dotted with militias, clans and terror groups, many of whom fight among each other for territory and almost indiscernible goals. ISIS became one of these groups in 2014, taking control of the eastern city of Derna with fighters from Syria and Iraq and uniting other militant Islamic factions under their banner. The port of Benghazi is to the west of Derna (shown on the map below as Darnah) along the Mediterranean Sea.
So who is in charge in Benghazi?
As for Rubio's specific claim, ISIS isn't the predominate "Islamist group in Benghazi," experts told us. That distinction would go to a terror group known as Ansar al-Sharia, or the Partisans of Islamic Law. Most Americans would know them as the group considered responsible for the Sept. 12, 2012, attack on the U.S. consulate in Benghazi that killed two diplomats and two former Navy SEALs working as security personnel (a charge they have denied in the past).
Relatively small factions across the the region, in places like Tunisia and Yemen, all use the name Ansar al-Sharia, although their aims and origins may differ. Ansar al-Sharia Libya has a significant presence in Derna, as well, although that group is not exactly the same as the one in Benghazi, where the picture gets a little murkier.
Several reports (including one from the United Nations) have said Ansar al-Sharia Derna pledged allegiance to ISIS in October 2014, but it seems Ansar al-Sharia Benghazi leadership has not endorsed ISIS leader Abu Bakr al-Baghdadi. Anonymous jihadists groups are the Libyans who have pledged loyalty to ISIS.
Aaron Zelin, a fellow at the Washington Institute and creator of Jihadology.net, told PolitiFact Florida that Ansar al-Sharia members have defected to ISIS, but they are not allies. It's Ansar al-Sharia that is most visible in Benghazi and not ISIS, Zelin said. Other experts we talked to agreed, though they noted Ansar al-Sharia may be in decline in the city.
UCLA history professor James Gelvin said Ansar al-Sharia do share a goal with ISIS -- imposing Sharia law where it is possible. Rubio may have been trying to use Benghazi as a buzzword people would recognize, but he is not correct to say ISIS is "the predominant Islamist group" there. While ISIS has a presence in many cities, they only truly have a foothold in Derna, Gelvin said.
"I think what Rubio is doing is conflating Ansar al-Sharia with Islamic State," Gelvin said. "They (Ansar al-Sharia) have not been absorbed. … They still maintain their integrity as a group." We reached out to Rubio's office but didn't hear back.
For the record, it wouldn't be accurate to say that either Ansar al-Sharia or ISIS is in charge in Benghazi; Haftar's forces have been retaking large portions of the city, including the airport and a military installation. As of this writing, the city is still contested, but analysts see Ansar al-Sharia's clout diminishing.
So if neither government, Haftar's army or any militant group run Benghazi, who controls the city?
"No one does," Gelvin said.
Our ruling
Rubio said ISIS is "now the predominant Islamist group in Benghazi."
While there are myriad militias, radical militants, armed groups and even multiple governments in Libya, Islamic State's footprint is still relatively small. Besides some activity in pockets across the country, the group holds sway in Derna, but not so much in Benghazi, experts say.
There, the Islamist group Ansar al-Sharia has been most visible among radicalized factions. Some reports say the group has formed an alliance with ISIS, but researchers dispute that, though some Ansar al-Sharia members almost certainly have defected.
Experts also say the situation is fluid, which provides Rubio some additional, albeit small, amount of cover. His statement contains an element of truth but ignores critical facts that would give a different impression. We rate it Mostly False.
https://www.sharethefacts.co/share/0fde4734-30cf-47be-b99a-d5e7b551db6f
WHO NewsRadio 1040, Marco Rubio interview, Feb. 13, 2015
Washington Post, "Radical Islamists unite under fresh name," Sept. 27, 2012
BBC News, "Profile: Libya's Ansar al-Sharia," June 13, 2014
Deutsche Welle, "Libya: Who's fighting whom?," Sept. 2, 2014
International Business Times, "Where To Find ISIS Supporters: A Map Of Militant Groups Aligned With The Islamic State Group," Oct. 9, 2014
Daily Mail, "Libyan navy ship sinking after clashes between army and ISIS in Benghazi port," Nov. 3, 2014
Daily Beast, "Murder Vids Help ISIS Lure More Monsters," Nov. 16, 2014
United Nations, "Security Council Committee pursuant to resolutions 1267 (1999) and 1989 (2011) concerning Al-Qaida and associated individuals and entities: QE.A.145.14. Ansar al Charia Derna," Nov. 19, 2014
Foreign Affairs, "ISIS Enters Egypt," Dec. 4, 2014
BBC News, "How strong is Islamic State in Libya?," Feb. 4, 2015
Reuters, "Libyan army says has retaken main camp in Benghazi," Feb. 9, 2015
The Washington Institute, "The Islamic State's Expansion in Libya," Feb. 11, 2015
International Business Times, "Libya: More Egyptians 'kidnapped by IS or Ansar al-Sharia' after Egypt airstrikes," Feb. 16, 2015
CNN, "ISIS comes to Libya," Feb. 16, 2015
CNN, "Egyptian warplanes bomb ISIS targets in Libya after killings of Christians," Feb. 16, 2015
The Independent, "Isis beheading of Coptic Christians on Libyan beach brings Islamists to the doorstep of Europe," Feb. 16, 2015
The Atlantic, "What ISIS Really Wants," March 2015
Interview with James Gelvin, UCLA history professor, Feb. 16, 2015
Interview with Daniel Byman, Rand Corporation Center for Middle East Public Policy research director, Feb. 16, 2015
Interview with Aaron Zelin, Washington Institute fellow and Jihadology.net founder, Feb. 17, 2015
Interview with Francesco Strazzari, Norwegian Institute for International Affairs researcher, Feb. 17-18, 2015
Browse the Truth-O-Meter
More by Joshua Gillin
Support independent fact-checking.
Become a member!
In a world of wild talk and fake news, help us stand up for the facts.