Get PolitiFact in your inbox.
Israel has seen a "90 percent reduction in terrorist attacks" that it attributes to building a 500-mile fence.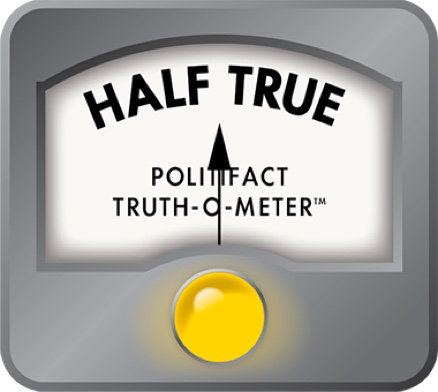 Scott Walker: Israel says its wall led to 90 percent reduction in terrorist attacks
With Gov. Scott Walker out of the GOP presidential race, there's likely to be little talk about the idea of a wall with Canada. But some of the remaining candidates are calling for a wall with Mexico aimed at securing that border from illegal immigrants.
And several of them have cited an example from Israel to bolster their stance -- including Walker, when he was a candidate. He pointed to one statistic we wanted to check.
During an Aug. 17, 2015 appearance on Glenn Beck's radio show, Walker recalled his trip to the Middle East where he saw the barrier that had been constructed between Israel and the West Bank.
"They've seen something like over a 90 percent reduction in terrorist acts in that country that they attribute to having an effective fence," Walker said. "If Israel can do it effectively, there's no reason why America can't."
That's a significant decrease. Is it accurate?
A little background
Israelis and Palestinians have a long history of conflict over rights to land in the Middle East.
Our quick history will start in 1947, when the United Nations set out to create a Jewish and an Arab state, but only the Jewish state came into being.
The state of Israel was founded on May 14, 1948. Almost immediately, Arab armies invaded the new Jewish state.
The conflict ended with armistice agreements made between Israel and its neighboring Arab states, after hundreds of thousands of Palestinians fled the region. Those who stayed became Israeli citizens. The rest became refugees and remain stateless.
Periodic bouts of conflict between Israelis and Palestinians continued, with arguments centered on control of land and borders. Violence and terrorist attacks ebbed and flowed along with the political tensions in the region.
A major Palestinian uprising against Israel started in 2000 after failed peace talks and became known as the Second Intifada. The first Intifada took place in the late 1980s and early 90s.
In 2003, Israel began construction on a barrier to separate Israelis and Palestinians and prevent terrorists from entering Israel.
Behind the numbers
When asked for backup, Walker's team sent a report compiled by the Jewish Virtual Library and last updated in April 2015. It says, "since construction of the fence began, the number of attacks has declined by more than 90%."
The Jewish Virtual Library is a project of the American-Israeli Cooperative Enterprise, a nonprofit group with the goal of strengthening U.S. relations with Israel. Mitchell Bard, author of the report and executive director of the American-Israeli Cooperative Enterprise, said the numbers for the report came from the Israeli Foreign Ministry.
Here's how the numbers shake out:
| | |
| --- | --- |
| Year | Number of attacks |
| 2002 | 135 |
| 2003 | 67 |
| 2004 | 45 |
| 2005 | 28 |
| 2006 | 48 |
| 2007 | 10 |
| 2008 | 30 |
| 2009 | 14 |
| 2010 | 7 |
| 2011 | 11 |
| 2012 | 9 |
The report used 2002, a year before construction began, as a baseline for comparison.
But 2002 was at the height of a streak of violence in the region, the Second Intifada, so that helps shade the picture from the beginning.
The data shows a wave of terrorist attacks in the region between 2001 and 2006. In 2001, there were 118 attacks, while in 2000 just 29 occurred, according to the Israeli Foreign Ministry.
"The year itself is an anomaly," said James Gelvin, professor at University of California-Los Angeles and author of "Israel Palestine Conflict: One Hundred Years of War."
"It was an extraordinarily bloody affair and that was when the wall was under construction," Gelvin said. "Of course, after it ended attacks would go down anyway."
There is another issue: The data is outdated, only going through 2012.
The following year, 2013, there were 11 incidents. Bard noted that when data from 2013 is added it still amounts to a 90 percent drop.
But in 2014 the number of attacks jumped to 62. By that measure, it is more like a 50 percent drop. So, the use of outdated numbers skews the end result.
In addition, the wall was not built in isolation.
Even Bard, the author of the Jewish Virtual Library analysis, said "the main thing" contributing to the decrease was not the wall itself, but the activity of Israeli security forces along the barrier.
He said the dramatic decrease in attacks was "in part because of the fence," but also cited checkpoints and cooperation between military and security forces as important factors.
In short, attributing this short-term downward trend in attacks to the barrier is taking a very narrow approach to a more complicated issue.
Finally, the way Walker constructed the statement gives it an extra twist. He noted Israeli leaders attribute the drop in terrorist attacks to the wall. By implication, he seems to agree with them.
We found many references to the success of the "anti-terrorist fence" on Israel's Ministry of Foreign Affairs website. Most notably on a Frequently Asked Questions page about the conflict, the ministry says, "data reveals a clear correlation between the construction of the fence and a drop in the number of terrorist attacks."
Our rating
Walker said Israel has seen a "90 percent reduction in terrorist attacks" that it attributes to building a 500-mile fence.
A report from the Jewish Virtual Library showed a 90 percent reduction in terrorism, and the Israeli government does cite the fence as the reason for the drop. But the data used is outdated and once more recent years are added, the drop since 2002 is more like 50 percent. What's more experts say the barrier is but one reason for the decline.
Walker's claim is partially accurate but leaves out important details or takes things out of context.
That's our definition of Half True.
Email exchange, Stacy Day, Press, Scott Walker.
Jewish Virtual Library, West Bank Security Fence: Background and Overview, April 2015.
Israel Ministry of Foreign Affairs, Suicide and other bombing attacks in Israel since the Declaration of Principles, 2013.
Israel Ministry of Foreign Affairs, Israel, the conflict and peace: Answers to frequently asked questions, Nov. 1, 2007.
Glenn Beck radio show, Scott Walker unveils plans to replace Obamacare, Aug. 17, 2015.
Phone interview, Mitchell Bard, executive director, Jewish Virtual Library, Sept. 10, 2015.
Israeli Security Agency, Terrorism data and trends, August 2015.
Congressional Research Service, Israel: Background and U.S. relations, June 1, 2015.
Congressional Research Service, CRS Insights: Recent Israeli-Palestinian tensions and violence, Nov. 20, 2014.
Congressional Research Service, The Palestinians: Background and U.S. relations, Jan. 21, 2014.
Phone interview with Jennifer Loewenstein, associate director, Middle East Studies Program, University of Wisconsin-Madison, Sept. 12, 2015.
Phone interview with James Gelvin, professor, University of California-Los Angeles, Sept. 21, 2015.
Council on Foreign Relations, Crisis Guide: The Israeli-Palestinian conflict.
Browse the Truth-O-Meter
More by Sarah Hauer
Support independent fact-checking.
Become a member!
In a world of wild talk and fake news, help us stand up for the facts.