Get PolitiFact in your inbox.
The average student debt "coming out of the University of Wisconsin-Madison is something like 28,000 dollars."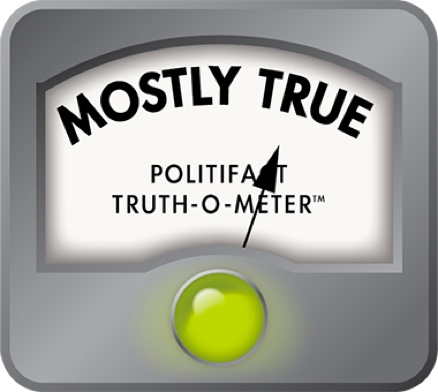 Russ Feingold says average UW-Madison student graduates with $28,000 in student debt
During the first day of the Wisconsin Democratic Convention, Russ Feingold told delegates about what he experienced during his trip across Wisconsin -- an effort marked by campaign stops in all 72 counties in his bid to unseat Republican U.S. Sen. Ron Johnson.
After saying Wisconsinites talked about hot topics such as income inequality, paid family leave and Social Security, Feingold turned his attention to Johnson and college students.
"Finally, I didn't hear a single student in this state agree with Sen. Johnson's comment that students like to take out student loans because they think it's free money," said Feingold, a Democrat who lost to Johnson in 2010. "Students don't like that. It's actually scary.
"The average debt coming out of the University of Wisconsin-Madison is something like $28,000."
With in-state tuition ringing up at just over $5,000 a semester, we wondered if Feingold was right.
Behind the numbers
We checked a similar claim about student debt from Democratic U.S. Sen. Tammy Baldwin in 2014. She claimed that "this generation, on average, is starting their careers, if they've been to a four-year college, with just under $30,000 in debt."
We rated her claim Half True, as she didn't mention the data's limitations and some cases suggest the level may be lower.
For backup to Feingold's, his team sent us links to a few news articles that cited the average debt incurred by students at UW-Madison. We reached out to the officials to confirm the numbers, which come from UW's Office of Student Financial Aid.
The most recent year for which statistics are available is 2014-15 and the average debt for students at the time of graduation that year was $28,769. That's slightly higher than the figure Feingold used.
Loans taken out by students through the university are tracked by the office through its Student Information System. Loans not borrowed at UW-Madison are fed into the system through the National Student Loan Data System, a student aid database from the U.S. Department of Education. Loans taken out by parents on behalf of students are not included.
But the number is a little over reaching.
When UW's Office of Student Financial Aid calculates the average debt of students, it only counts those who take out loans.
So, how many students are included?
According to the office, just about half of students at UW-Madison graduate with debt -- 3,374 of the 6,798 students who graduated in 2015.
If we spread out the loans among all students, average debt would hover around $14,000.
We think the best way to measure the amount of debt incurred is to examine only students who take out loans. And that tracks more closely with what Feingold said.
Another qualifier: The numbers doesn't take into account other ways students could be in debt -- credit cards, car loans, for instance. But that is impossible to track.
Meanwhile, in the entire UW System, 73.5 percent of students borrow money, with the average debt at graduation for those students reaching $30,651.
Our rating
Feingold said the average student debt "coming out of the University of Wisconsin-Madison is something like 28,000 dollars."
His number was on target, but he failed to mention the average only included about half of all students -- those who borrowed money for their educational expenses. The other half left with no debt at all.
Feingold's statement is accurate, but needs additional information.
That's our definition of Mostly True.
Email exchange with Meredith McGlone, director of news and media relations, University of Wisconsin-Madison, June 2016.
WisconsinEye, Democratic party of Wisconsin State Convention - Day 1, June 3, 2016.
PolitiFact Wisconsin, Tammy Baldwin claims college students graduate with $30,000 in student loan debt, June 4, 2014.
Email exchange with Michael Tyler, communications, Russ Feingold, June 2016.
The Badger Herald, The cost of knowledge: Average UW student graduates with nearly $30,000 in loan debt, March 15, 2016.
The Capital Times, Student loan debt at UW-Madison rises; still below national average, Jan. 15, 2015.
University of Wisconsin-Madison, News release, UW-Madison students take less debt than national average, Jan. 13, 2015.
University of Wisconsin System, Accountability dashboard, Cost and efficiency, accessed June 10, 2016.
Browse the Truth-O-Meter
More by Sarah Hauer
Support independent fact-checking.
Become a member!
In a world of wild talk and fake news, help us stand up for the facts.