Stand up for the facts!
Our only agenda is to publish the truth so you can be an informed participant in democracy.
We need your help.
I would like to contribute
"Half of all NC legislative candidates are unopposed because of gerrymandering."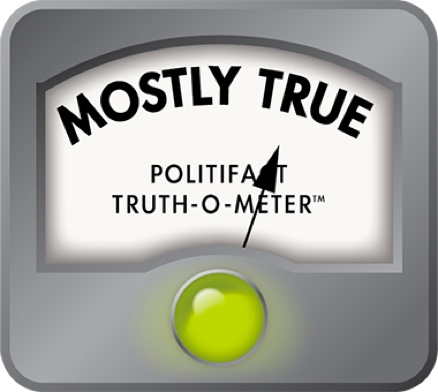 Common Cause video says half of all NC legislative races are uncontested due to gerrymandering
Gerrymandering: It's something most people learned about in grade school but didn't think much about until recently, when a deluge of court cases challenged the extent to which politicians can pick their constituents instead of the other way around.
And now Common Cause, an advocacy group that opposes gerrymandering, says the process is robbing voters of power by creating districts so inclined toward one party or the other that politicians will never face a real challenge.
"What if an election was decided before a single vote is cast?" an online Common Cause ad asks, over ominous music. "It's happening in North Carolina right now. Half of all NC legislative candidates are unopposed because of gerrymandering. Gerrymandering deprives voters of a voice and a choice in our elections. Help us end gerrymandering now."
That seemed pretty stunning to us. North Carolina is a swing state in presidential elections, with Barack Obama barely winning here in 2008 and then barely losing in 2012. So are we really supposed to believe that half of all the candidates for the North Carolina General Assembly are running unopposed?
We wanted to check not only if that was true, but also if gerrymandering is to blame – or if there's some other culprit.
What is gerrymandering?
The practice is named after Elbridge Gerry, a 19th century Massachusetts governor who signed a law redrawing political districts for political gain. A local newspaper said one district looked like a twisting salamander, and ever since then 'gerrymander' has stuck.
North Carolina has long been literally a textbook example of gerrymandering. The Washington Post analyzed all 435 U.S. House of Representatives districts in 2014 and said North Carolina tied Maryland for the title of most gerrymandered state in the country.
"Overall, the North Carolina GOP's efforts paid off handsomely," the Washington Post analysis said. "Based on their statewide vote share you'd expect North Carolina Democrats to hold about seven seats. But they won only four."
A federal court recently forced North Carolina to redraw its U.S. House districts since two were too reliant on race. But it's not just at the federal level in North Carolina that election districts have been overturned. Even local county and school boards have had their redrawn district lines thrown out.
Gerrymandering is a bipartisan issue. The districts overturned recently were drawn by Republicans, but North Carolina Democrats also used gerrymandering when they held power.
Uncontested races
But while courts have ruled on districts at the local and federal levels, the district lines for the N.C. House and N.C. Senate are intact so far. And it's those districts that the Common Cause video is focused on.
Since the districts are all roughly the same size in terms of population, the group is basically saying that half of North Carolinians don't have a choice whether a Republican or Democrat will represent them in the state legislature.
So we crunched the numbers. In the N.C. House, 55 of the 120 seats will be uncontested in November. That's not half, but it's very close. In the N.C. Senate, though, the number is lower. Of the 50 Senate races, only 15 have just one candidate. That's about 30 percent.
In total, of the 170 state legislative seats, 70 of them (or 41 percent) were decided in the primaries or even before: Of the Senate's 15 uncontested candidates, 13 also had no primary opponent. Of the 55 uncontested House candidates, 40 had no primary opponent.
Bob Phillips, the executive director of Common Cause's North Carolina chapter, acknowledged the number was slightly under half. He said there are also a number of races that are contested by candidates who lose by double digits. But we'll recognize those quixotic efforts and give the candidates credit – they did, after all, at least run a campaign.
So while Common Cause missed the mark on the number of uncontested races, it wasn't too far off. But what about the second part of the claim, that gerrymandering is to blame?
A mix of issues
There's no way we could interview the people who decided not to run against these 70 uncontested candidates because, well, we don't know who they are. But from talking to some political experts and reading academic and legal papers, we found agreement that gerrymandering is to blame for some uncompetitive races.
It's not the only reason. Name recognition or a strong fundraising operation could be why some people aren't challenged, said UNC-Charlotte political science professor Martha Kropf, a past president of the North Carolina Political Science Association. She said that's especially true "if you're looking at someone who's been in office for a while."
That's arguably the case for people like N.C. House Speaker Tim Moore and N.C. Senate leader Phil Berger – the two most powerful legislators in the state – who both faced no opponent in either the primary or general elections, despite the sometimes controversial nature of legislation they've backed.
And even someone with ties to Common Cause, Ted Arrington, said it's not accurate to blame every single vacancy on gerrymandering – although it can certainly have an effect. Arrington is an expert witness on voting rights who has testified in several dozen court cases in the U.S. and Canada.
"If all the districts were 50-50 chance of winning by party (registration), there would still be cases where the party failed to find a candidate or the incumbent is just so well-liked no one is going to run against him," said Arrington, a retired political science professor.
Arrington is also a former vice chairman of the Mecklenburg County GOP, in which role he helped Republicans win power in the Charlotte area. He said both parties sometimes don't run candidates for races they think they'll lose no matter what, since doing so could encourage the other side to turn out in greater numbers – which could affect more competitive races elsewhere in the county or the state.
But that strategy alone can't explain why half the General Assembly races have only one candidate. Arrington said in a "perfect" system he wouldn't be surprised if one in every five races was uncontested, "but it shouldn't be half. Not in a presidential election year."
Our ruling
Common Cause claimed that half of all races for the state legislature will be uncontested this year because of gerrymandering.
It's actually a bit less than half, but not too far off. And experts agree that while gerrymandering isn't wholly to blame, it does contribute significantly to the high number of uncontested races.
We rate this claim Mostly True. The premise is accurate, although it's slightly exaggerated.
https://www.sharethefacts.co/share/61ac38d9-04a2-42ec-b98d-2e3aae4b8f4a
Phone interview with Bob Phillips, Common Cause NC executive director
Phone interview with Ted Arrington, expert witness on voting rights and retired political science professor
Email interview with Martha Kropf, UNC-Charlotte political science professor
The News & Observer, Feb. 5, 2016, "Federal court invalidates maps of two NC congressional districts"
The News & Observer, Aug. 9, 2016, "Judge says Wake must use old school board, county commissioner election maps"
Common Cause tweet containing video ad, July 19, 2016
Common Cause federal court complaint regarding gerrymandering of U.S. House districts in North Carolina
Princeton University post on gerrymandering: "In the extreme, fewer than 50% of voters can elect more than 50% of the Representatives." http://election.princeton.edu/2013/01/02/gerrymanders-part-2-how-many-voters-were-disenfranchised/
University of Delaware professor's paper on the history and effects of gerrymandering
Book about Gerrymandering, University of Akron, "Gerrymander Analysis and Remedy The Case for Removing Discretion from Districting" Key sentence: "Another consequence of a fully nested system would be a strengthening of political parties and fewer uncontested, or weakly contested, seats."
The Washington Post, May 15, 2014, "America's most gerrymandered Congressional districts"
Browse the Truth-O-Meter
More by Will Doran
Support independent fact-checking.
Become a member!
In a world of wild talk and fake news, help us stand up for the facts.