Get PolitiFact in your inbox.
Donald Trump is "against marriage equality. He wants to go back."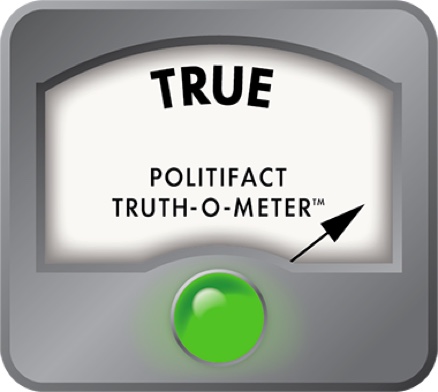 Donald Trump is against same-sex marriage
U.S. Rep. Sean Maloney, D-N.Y., called out Donald Trump during a speech to the Democratic National Convention in Philadelphia for the Republican nominee's position on same-sex marriage. 
Maloney, who is openly gay and married, said Trump has opposed same-sex marriage and wants the Supreme Court to reverse its 2015 decision that legalized same-sex marriage throughout the United States.
"It matters who's leading the country, and it matters if they care," said Maloney, whose Hudson Valley congressional district includes all of Putnam and Orange counties, part of northern Westchester County and the southwest section of Dutchess County. "America, we have a choice. Donald Trump doesn't care about some families. He's against marriage equality. He wants to go back."
Trump has been criticized for flip-flopping on social issues. Is Maloney right about the Republican candidate's stance on same-sex marriage?
Trump through the years
The earliest reference from Trump on the issue that we could track down is an interview in The Advocate in 2000. At the time Trump was rumored to be considering a run for president.
"I think the institution of marriage should be between a man and a woman," Trump said during the interview.
He said he would favor a domestic partnership law that afforded same-sex couples the same benefits as married couples.
Fast-forward to 2011 when Trump was again considering a run for the White House. He sat down for an interview with Bill O'Reilly on Fox News and talked about his position on same-sex marriage.
"I just don't feel good about it," Trump said. "I don't feel right about it. I'm against it, and I take a lot of heat because I come from New York. You know, for New York it's like, how can you be against gay marriage? But I'm opposed to gay marriage."
And, last year Trump said in an interview on CNN that he supported 'traditional marriage.'
'He wants to go back'
Maloney's claim was made in the context of the Supreme Court's 2015 decision on same-sex marriage. Trump does not agree with the decision. He has said efforts to overrule the court through an amendment to the U.S Constitution are not realistic.
He has said in interviews that he would have preferred the court leave the decision on same-sex marriage at the state level. Trump also suggested in at least one interview that he would consider appointing Supreme Court justices who would support reversing the ruling.
Our ruling
Speaking at the Democratic National Convention, Maloney said Trump is "against marriage equality" and "wants to go back" on the Supreme Court's same-sex marriage decision.
Trump has consistently opposed same-sex marriage in interviews since 2000. He also said he would consider appointing justices to the Supreme Court who would favor reversing the decision and leave the issue of same-sex marriage to the states.
We rate this claim as True.
Browse the Truth-O-Meter
More by Dan Clark
Support independent fact-checking.
Become a member!
In a world of wild talk and fake news, help us stand up for the facts.