Stand up for facts and support PolitiFact.
Now is your chance to go on the record as supporting trusted, factual information by joining PolitiFact's Truth Squad. Contributions or gifts to PolitiFact, which is part of the 501(c)(3) nonprofit Poynter Institute, are tax deductible.
I would like to contribute
"We admit about 100,000 permanent immigrants from the Middle East every year."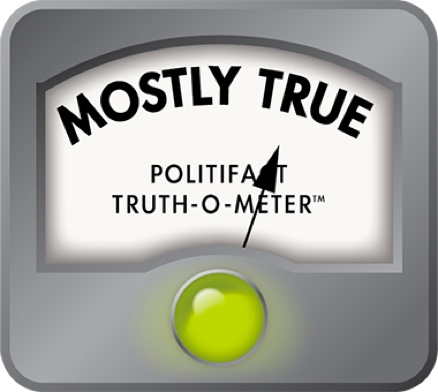 Trump says U.S. admits 100,000 "permanent immigrants" annually from Middle East
Republican presidential nominee Donald Trump promises his administration would be tough on immigration.
He would temporarily suspend immigration from regions with a "history of exporting terrorism" and call for "extreme vetting" of people who want to come to the United States, Trump said Aug. 15 in Youngstown, Ohio.
He raised concerns over the amount of people already coming in.
"The size of current immigration flows are too large to perform adequate screening," Trump said. "We admit about 100,000 permanent immigrants from the Middle East every year."
Trump's comment about the adequacy of the vetting system is an opinion. But we wanted to look at his concerns and separately fact-check whether the country is taking 100,000 "permanent immigrants" a year from the Middle East. 
Trump's campaign did not get back to us about his comment. But his prepared speech cites a November 2015 post from the House Homeland Security Committee. It lists comments about refugees from war-torn Syria said by national security officials, including directors of the FBI, CIA and National Counterterrorism Center.
The quotes share similar themes: Officials don't have all the intelligence they'd like to have on Syrians, there's concern that terrorist organizations may try to sneak people in as refugees, and rigorous screening must be applied to those who want to come in.
But the officials' comments, which Trump's campaign references in the speech footnotes, are specifically about Syrian refugees, a small fraction of immigrants. Trump's comment on "the size of current immigration flow" is broad and followed by a reference to Middle East "permanent" immigrants.
President Barack Obama's administration plans to accept at least 10,000 Syrian refugees over the course of this fiscal year (Oct 1., 2015 to Sept. 30, 2016). So far, at least 8,000 have been admitted.
FBI Director James Comey has been misinterpreted by some political candidates as saying we cannot vet refugees at all. Comey has also said that while it is harder to check Syrians compared to Iraqis, the vetting process has "improved dramatically."
Refugees are admitted into the country after a process that usually takes one to two years. It includes interviews, medical checks and screening by agencies such as the FBI, National Counterterrorism Center and State Department. Syrians and other refugees from the Middle East are also subjected to iris scans.
Immigration officials have defended the process and resources available. Hundreds of applicants, including Syrians, have been denied admission to the United States as a result of information found on databases, Leon Rodriguez, U.S. Citizenship and Immigration Services director, said Aug. 5.
Trump's estimate for Middle Eastern immigrants is more broad than just Syria.
Footnotes in Trump's speech cite a Breitbart article (a conservative site whose leader Stephen Bannon recently stepped down, temporarily, to become Trump's campaign CEO) that says "from 2001 to 2013 the U.S. admitted more than 1.5 million lawful permanent residents from majority-Muslims nations."
The article doesn't specify which countries of origin were considered. Many countries in the Middle East-North Africa region are "heavily Muslim," but the region "is home to only about 20 percent of the world's Muslims," according to Pew Research Center.
The Department of Homeland Security publishes an annual Yearbook of Immigration Statistics, which includes how many people during a fiscal year get lawful permanent residence. That number reflects newcomers as well people already in the country.
In fiscal 2014, a total of 1,016,518 people were granted lawful permanent residency. About 47 percent were new arrivals, and 53 percent became permanent residents as an adjustment of status.
By tallying numbers from 21 countries in the Middle East region and with importance to United States' Middle East policy (such as Libya in north Africa), nearly 105,000 people were granted permanent residency in fiscal 2014.
Between 2005 and 2014 (years provided in the 2014 yearbook), the annual average was 88,088.
By stricter definitions of the Middle East region (leaving out places such as Turkey and Pakistan) in fiscal 2014, about 70,000 got lawful permanent residence. And an average of 61,477 between 2005 and 2014.
So Trump's estimate is a bit too high.
Still, the current vetting process of immigrants "can certainly be criticized as inadequate and overwhelmed," said Steven Camarota, director of research at Center for Immigration Studies, which favors stricter immigration. He gave two examples of vetting failures.
There's the case of Pakistani woman Tashfeen Malik, who along with her husband killed 14 people in San Bernardino, Calif. last year. Rep. Bob Goodlatte , R-Va., has said immigration officials did not sufficiently vet Malik's fiancee visa application.
Also, Waad Ramadan Alwan, an Iraqi citizen living in Kentucky sentenced in 2013 to serve in federal prison for terrorist activities. Alwan migrated through a refugee program, exposing "an alarming gap in the screening process," national security experts told NPR.
Stephen W. Yale-Loehr, professor of immigration law practice at Cornell Law School, said it's always possible a national security threat could get through, but it is less likely now than before 2001. For the procedures to work, he said, the United States needs adequate personnel.
Our ruling
In a speech in Ohio, Trump said, "We admit about 100,000 permanent immigrants from the Middle East every year."
By a broad measure of which countries are part of the Middle East, Trump is close to the number of new green card holders during fiscal 2014, though the average from 2005 to 2014 was 88,088. By stricter regional parameters, about 70,000 got green cards in fiscal year 2014.
We rate Trump's statement Mostly True.
https://www.sharethefacts.co/share/a8d776cd-2b0c-4353-bcc2-9b3c0baf6d8e
CQ, Republican presidential nominee Donald Trump delivers remarks in Youngstown, Ohio, Aug. 15, 2016
Donald Trump campaign website, Understanding the threat: Radical Islam and The Age Of Terror
Homeland Security Committee, Nation's top security officials' concerns on refugee vetting, Nov. 19, 2015
PolitiFact, FBI director admitted 'we cannot properly vet' Middle Easterners, Carlos Beruff says, Aug. 12, 2016
PolitiFact, Donald Trump correct that U.S. gives 100,000 green cards a year to migrants from Middle East, June 13, 2016
PolitiFact, Ben Carson: 'There is currently no ability to vet' Syrian refugees, Nov. 19, 2015
PolitiFact, Wrong: Donald Trump says there's 'no system to vet' refugees, June 13, 2016
NPR, Terrorism case exposes gaps in refugee screening, June 8, 2011
CNN, CIA chief wants to strengthen refugee screening, Nov. 18, 2015
The Washington Post, Senior Obama officials have warned of challenges in screening refugees from Syria, Nov. 17, 2015
The Washington Post, Tashfeen Malik's visa 'sloppily approved,' according to congressman who reviewed immigration application, Dec. 19, 2015
The New York Times, Obama increases number of Syrian refugees for U.S. resettlement to 10,000, Sept. 10, 2015
Breitbart, Since 9/11 U.S. has accepted over 2 Million migrants from majority Muslim nations, Nov. 16, 2015
White House, Infographic: The screening process for refugee entry into the United States, Nov. 20, 2015
Department of Homeland Security, Transcript of USCIS-DOS-HHS press call on Syrian refugee processing, released Aug. 9, 2015
Department of Homeland Security, U.S. Lawful Permanent Residents: 2014, April 2016
Department of Homeland Security, Yearbook of Immigration Statistics: 2014 Lawful Permanent Residents
Department of Justice, Former Iraqi terrorists living in Kentucky sentenced for terrorist activities, Jan. 29, 2013
Email interview, Steven Camarota, director of research at Center for Immigration Studies, Aug. 16 2016
Email interview, Stephen W. Yale-Loehr, professor of immigration law practice at Cornell Law School, Aug. 16 2016
Email interview, Kevin Johnson, Dean of University of California, Davis, School of Law, Aug. 16 2016
Email interview, Michelle Mittelstadt, director of communications and public affairs at Migration Policy Institute, Aug. 16, 2016
Browse the Truth-O-Meter
More by Miriam Valverde
Support independent fact-checking.
Become a member!
In a world of wild talk and fake news, help us stand up for the facts.