FBI director admitted 'we cannot properly vet' Middle Easterners, Carlos Beruff says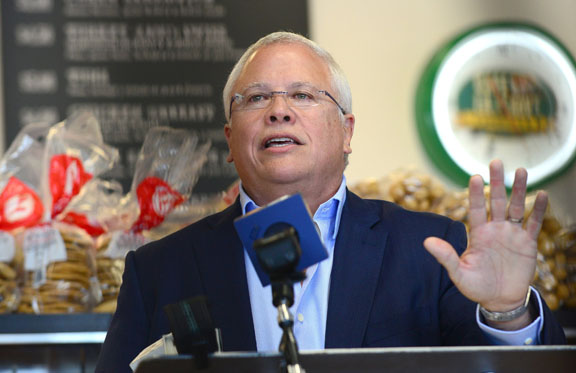 Bradenton developer Carlos Beruff wants voters to know that he plans to be tough on national security and immigration, because right now the FBI has no way to guarantee America's safety as refugees flood the United States.
"Thousands of Syrian refugees are pouring into our country, thanks to President Obama," Beruff said in an Aug. 8 Facebook post. "This is an open invitation to acts of terror. Even the director of the FBI said that we cannot properly vet people coming from the Middle East."
Immigration has been a major focus of this election cycle, with Republicans routinely calling for more restrictions to ensure security in the United States. But did James Comey actually say the FBI "cannot properly vet" people coming from the Middle East?
No, he didn't. Beruff is distorting a point Comey was making about a flaw in the vetting process, but he was reiterating the system in place was actually much better than it had been in years past.
No guarantees
When we asked Beruff's campaign what Comey said and when, his spokesman sent us a YouTube clip of Comey speaking before the House Homeland Security Committee on Oct. 21, 2015. A topic at the meeting was the thoroughness of background checks for refugees — specifically some 10,000 Syrian refugees slated to come to the United States.
The Syrian refugee focus was much more specific than "people coming from the Middle East," as Beruff said.
Let's be clear: The United States can vet refugees through a process that involves the FBI, plus the State Department, the Department of Homeland Security, the Department of Defense and other agencies.
The vetting process can take two or even three years, in which refugees undergo several rounds of security clearance checks. Because of the overt concern about terrorism, Syrian refugees actually have to go through extra hurdles. Experts have told us repeatedly that refugee background checks are the most extensive security screening the country has for any type of visitor.
At the committee meeting, U.S. Rep. Bennie Thompson, D-Miss., asked Comey if there was concern that the FBI could miss a potential terrorist infiltrator because intelligence databases may not contain complete information on every refugee.
Comey agreed, saying the procedure isn't perfect, because it relies on checking for criminal records or other nefarious activity.
"We can only query against that which we have collected," Comey said. "If someone has never made a ripple in the pond in Syria in a way that would get their identity or their interest reflected in our database, we can query our database until the cows come home but we are not going to — there will be nothing show up because we have no record on that person."
So while the process is very thorough, Comey was saying he couldn't guarantee there would never be a problem and no terrorist could ever slip through the cracks. That's just the way it is.
Comey noted that when the United States performed background checks on Iraqi refugees, they had a much larger database because of the American presence there over the last decade. Not having the same intelligence infrastructure in Syria has resulted in much less information with which to cross-reference an applicant.
As Secretary of Homeland Security, Jeh Johnson said during the same hearing that a refugee may have a criminal past that's unknown, or may suddenly commit a terrorist act after entering the United States.
But even with the pitfalls of admitting refugees from war-torn regions, Comey said, the process works and has been improving over the years.
"The good news is we are much better doing it than eight years ago," Comey told U.S. Rep Jeff Duncan, R-S.C., later in the hearing. "The bad news is, there is no risk-free process."
Comey was echoing concerns he voiced to the Senate Homeland Security and Governmental Affairs Committee on Oct. 8.
"There is risk associated with bringing anybody in from the outside, but especially from a conflict zone like that," he told the Senate committee. "From the intelligence community's perspective, as I said, I think we've developed an effective way to touch all of our databases and resources to figure out what we know about individuals. … I don't think that's a cumbersome process. My concern there is that there are certain gaps."
He repeated that sentiment to the House Judiciary Committee on Oct. 22.
"We have gotten much better as an intelligence community at joining our efforts and checking our databases in a way that gives us high confidence. If we have a record on somebody, it will surface. That's the good news," Comey said. "The challenge we face with Syria is that we don't have that rich set of data. So even though we've gotten better at querying what we have, we certainly will have less overall. And so as I said to a question earlier, someone only alerts as a result of our searches if we have some record on them. That's the challenge we face with Syria."
Our ruling
Beruff said, "The director of the FBI said that we cannot properly vet people coming from the Middle East."
Comey, while talking specifically about Syrian refugees and not all of the Middle East, has repeatedly said that admitting refugees has its challenges and that information gaps do exist. But he also has expressed confidence in the admission procedure and says it continues to improve. That makes it hard to argue Comey feels like the government's process "cannot properly vet people."
We rate Beruff's statement Mostly False.
https://www.sharethefacts.co/share/06427368-59bc-40f9-bcfb-686d9e33d2ab