Get PolitiFact in your inbox.
The Hollywood celebrities endorsing Hillary Clinton are "in many cases celebrities that aren't very hot anymore."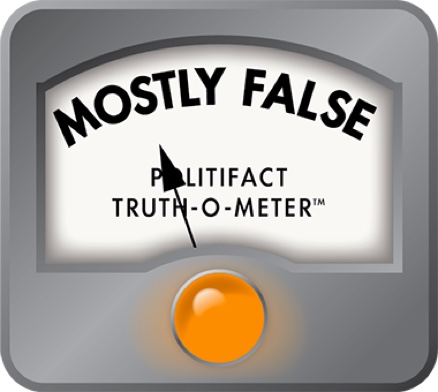 Donald Trump: Clinton's celebrity backers 'aren't very hot anymore'
Donald Trump mocked the size of Hillary Clinton's crowds and the depth of her support at a packed rally in Tampa. Then he turned on Clinton's celebrity supporters.
"The only people enthusiastic about her campaign are Hollywood celebrities, in many cases celebrities that aren't very hot anymore," he said.
We were interested in his line that Clinton's celebrity backers are "in many cases celebrities that aren't very hot anymore."
Believe it or not, there actually is data that addresses this question.
Ever the dutiful fact-checkers, we dug in. (For the record, the Trump campaign did not respond to our requests for evidence, and though the Clinton campaign did respond, it did not address our particular question.)
Clinton celebs still sizzling
Clinton has received endorsements from at least 900 celebrities. With that volume, some "aren't very hot anymore" (consider Laguna Beach's Lo Bosworth and MC Hammer).
But Hollywood royalty is largely on Clinton's side.
Trump specified "Hollywood celebrities," so we won't count Clinton supporters like radio host Howard Stern or President Barack Obama. And because Trump focused on "enthusiastic" supporters, we'll also limit our investigation to Hollywood celebrities who have campaigned or raised money for Clinton.
With those parameters, we identified about 100 hardcore Tinseltown Clinton fans. The roster includes singers Beyoncé, Justin Timberlake, Lady Gaga, Alicia Keys, Katy Perry and Demi Lovato (the last three of whom performed at the Democratic National Convention); and Oscar winners Meryl Streep, Matt Damon, Ben Affleck and Leonardo DiCaprio, plus George Clooney (who once defended a fundraiser he held for Clinton with this Half True claim) and Bradley Cooper (whose appearance at the DNC upset some American Sniper fans).
Other celebrity supporters include Kanye West and wife Kim Kardashian (who got her selfie with Clinton in 2015), Heidi Klum, Magic Johnson and Elton John (who headlined a New York City concert for the Hillary Victory Fund and isn't too keen on Tiny Dancer being played at Trump rallies).
And as we said, you can actually gauge how hot these celebrities are.    
We consulted E-Poll Market Research, which collects data on almost 9,000 celebrities and measures whether people know and like them. The marketing firm had an E-Score for all but one person on the list (Orange is the New Black's Dascha Polanco).
Altogether, the 100 most enthusiastic Clinton celebrities averaged an E-Score of 86 out of 100. Two-thirds of the list scored above 90, with seven netting a perfect 100. (Because E-Score reflects both awareness and likeability, Kanye West scored a low 15 due to low appeal.)
Katy Perry, a Clinton donor and campaign trail performer, tops Forbes' list of celebrities with the most Twitter followers (92.1 million). A dozen other Clinton supporters also are on the list. Forbes also counts Perry and six other Clinton backers among the highest-paid celebrities of 2016.
Ten Clinton celebs made it onto Vulture's Most Valuable Movie Stars of 2015. And finally, half of People's Top 25 Celebrity Hot List, as of Aug. 25, 2016, is backing Clinton.
For a more qualitative take on Trump's claim, we turned to Hollywood blogger Perez Hilton.
"He's dead wrong!" Hilton told PolitiFact. "Katy Perry is one of the biggest and highest-earning pop stars on the planet. Justin Timberlake just hosted a fundraiser for (Clinton). Meryl Streep and Barbra Streisand are legends. Trump himself is the one with D- and Z-list celeb support!" (Full disclosure: Hilton supports Clinton and has been photographed wearing a Hillary Clinton onesie.)
Not many of the 100 total celebrity Trump endorsers have also appeared with him on the campaign trail (notable exceptions include former Indiana University basketball coach Bob Knight and several NASCAR drivers). Just one, Beth Chapman of A&E's Dog the Bounty Hunter, gave to his campaign, according to our search.
E-Poll Market Research did not have an E-Score on file for 13 of about 60 of Trump's most prominent defenders. Randy Parker, a spokesman for the company, told us the Republican nominee's list includes "some more obscure folk."
"The fact that so many of (Trump's) people aren't even in our database shows that his people are really the ones who are not hot," Parker said.
The Trump celebrities with E-Scores averaged a 64, with Walker, Texas Ranger star Chuck Norris leading the pack with a score of 99.
Other high-scoring Trump celebrities include actors Lou Ferrigno (97), Randy Quaid (96), and Paul Sorvino (94). Of the Republican National Convention speakers, Scott Baio of Happy Days clocked a 91, while Duck Dynasty star Willie Robertson scored a 78 and soap star and underwear model Antonio Sabato Jr. came in at 71.
No enthusiastic Trump Hollywood celebrity appeared on the lists from People, Forbes or Vulture, though Trump supporter Caitlyn Jenner was named Just Jared's Most Popular celebrity of 2015.
Our ruling
Trump said the Hollywood celebrities endorsing Hillary Clinton are "in many cases celebrities that aren't very hot anymore."
Trump has a point that out of hundreds of celebrities endorsing Clinton, some have faded.
But the data doesn't lie. Many prolific Clinton-backing stars remain popular according to several metrics: social media influence, earning potential, and popularity on celebrity news blogs and websites. Supporters like Katy Perry, Justin Timberlake, Meryl Streep and George Clooney are arguably the most visible and enthusiastic.
Trump's statement contains some element of truth but ignores critical facts that would give a different impression. We rate it Mostly False.
https://www.sharethefacts.co/share/57cb5021-de28-46f5-840e-64751fb508fe
Time, "Meet the Celebrities Going to the Democratic National Convention," July 20, 2016
Los Angeles Times, "Celebrity endorsement tracked," May 13, 2016
Hollywood Reporter, "Hollywood Helps Hillary Clinton Raise Mega Money for Campaign," July 15, 2015
Daily Mail, "Justin Timberlake gets the A-list to open wallets for Hillary as he and Jessica Biel host multi-million dollar fundraiser with Jennifer Aniston and Jamie Foxx," Aug. 23. 2016
Bloomberg, "Matt Damon, Tom Hanks Donate to Hillary Clinton in Q3," Oct. 15, 2015
Variety, Kim Kardashian, Kanye West Attend Hillary Clinton Fundraiser in L.A., Aug. 6, 2015
Business Insider, "Here are Hollywood's biggest donors in the 2016 election and how much they're spending," March 4, 2016
NBC, Celebrity donors, April 2016
People, "Top 25 Celebrity Hot List," accessed Aug. 25, 2016
Vulture, "VULTURE'S MOST VALUABLE STARS OF 2015," Nov. 16, 2015
Forbes, "Full List: The World's Highest-Paid Celebrities Of 2016," July 13, 2016
Forbes, "The Social 100: Twitter's Most Followed Celebrities," June 29, 2015
Email interview with Josh Schwerin, Clinton campaign spokesman, Aug. 25, 2016
Email interview with Perez Hilton, blogger, Aug. 24, 2016
Email and phone interview with Randy Parker, spokesman for E-Poll Market Research, Aug. 25, 2016
Browse the Truth-O-Meter
More by Linda Qiu
Support independent fact-checking.
Become a member!
In a world of wild talk and fake news, help us stand up for the facts.