Stand up for the facts!
Our only agenda is to publish the truth so you can be an informed participant in democracy.
We need your help.
I would like to contribute
Canadian-born Ted Cruz "has had a double passport."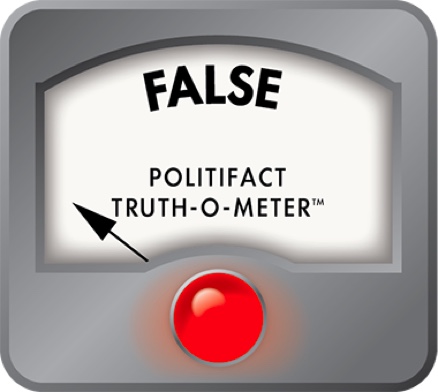 Donald Trump incorrectly says Ted Cruz has had a 'double passport'
New Yorker Donald Trump told The Washington Post that uncertainty over whether Ted Cruz of Texas satisfies the citizenship requirement to be president puts Republicans in a precarious position.
Hold on. Legal scholars concur that the Canadian-born but mostly Texas-reared Cruz, battling Trump and others for the Republican presidential nomination, likely fulfills the constitutional imperative that the president be a "natural-born citizen." But there's a note of uncertainty because the Supreme Court has never directly ruled on the citizenship provision for presidential office holders.
The question circulates because Cruz was born in Calgary, Alberta, on Dec. 22, 1970, to his Delaware-born mother Eleanor Darragh and Cuban-born father. If Darragh was an American, then under American law, Cruz was an American at birth.
We were curious about Trump's claim in a Jan. 5, 2016, interview with the Post -- offered by the candidate without documentary evidence -- that Cruz has had more than one passport, implying the Houston lawyer spent some time trying to pass as a citizen of either Canada or the U.S.
Prior to a Trump rally in Lowell, Mass., the Post asked Trump about Cruz's Canadian roots.
Trump replied: "Republicans are going to have to ask themselves the question: 'Do we want a candidate who could be tied up in court for two years?' That'd be a big problem. It'd be a very precarious one for Republicans because he'd be running and the courts may take a long time to make a decision. You don't want to be running and have that kind of thing over your head."
Trump went on: "I'd hate to see something like that get in his way. But a lot of people are talking about it, and I know that even some states are looking at it very strongly, the fact that he was born in Canada and he has had a double passport."
There's no such thing, far as we could tell, as a "double passport." We suspect Trump was suggesting Cruz had obtained both one U.S. and a Canadian one--though our requests for factual backup drew no replies from Trump representatives.
Meantime, when we asked Cruz spokesman Rick Tyler about Cruz ever having a "double passport," Tyler replied that Cruz had "never" had a Canadian passport or, he said by email, applied for one.
Whether he knew it or not, Cruz for much of his life had dual citizenship, meaning citizenship in Canada and the United States. A Canadian government website says: "You do not apply for dual citizenship and there is no related certificate. Canadians are allowed to take foreign citizenship while keeping their Canadian citizenship."
In August 2013, when the Dallas Morning News reported Cruz's dual status, Cruz said that it came as a surprise to him and his parents. "Nothing against Canada," Cruz said, "but I'm an American by birth and as a U.S. senator, I believe I should be only an American."
That News' story said that unless Cruz "formally renounces that citizenship, he will remain a citizen of both countries, legal experts say. That means he could assert the right to vote in Canada or even run for Parliament. On a lunch break from the U.S. Senate, he could head to the nearby embassy — the one flying a bright red maple leaf flag — pull out his Calgary, Alberta, birth certificate and obtain a passport." (We checked a Canadian government web page; it says an adult in the United States seeking a new Canadian passport must apply by mail.)
In 2013, Cruz reacted to the News' story by vowing to shed his Canadian citizenship, which he successfully renounced as of May 14, 2014, the News reported in June 2014.
Our ruling
Trump said Cruz "has had a double passport."
Trump didn't provide and we didn't find evidence that Cruz, who relinquished his dual citizenship in 2014, ever carried passports for the U.S. and Canada--nor, Cruz's camp advises, did he ever apply for a Canada passport.
We rate the claim False.
---
FALSE – The statement is not accurate.
Click here for more on the six PolitiFact ratings and how we select facts to check.
News story, "Trump says Cruz's Canadian birth could be 'very precarious' for GOP," The Washington Post, Jan. 5, 2016
Story, "Is Ted Cruz, born in Canada, eligible to run for president? (Updated)," PolitiFact, March 26, 2015
Truth-O-Meter article, "Grayson wrongly says Cruz not an American," PolitiFact, Dec. 8, 2015
News blog post, "No, Canada: Sen. Ted Cruz has formally shed his dual citizenship," Trailblazers blog, Dallas Morning News, June 10, 2014
Web pages, Government of Canada, "What is dual citizenship?," last updated Aug. 24, 2014; "Apply for a passport -- adults in the United States," last updated Dec. 30, 2015 (accessed Jan. 6, 2015)
News story, "Dual citizenship may pose problem if Ted Cruz seeks presidency," Dallas Morning News, Aug. 18, 2013
Emails, Rick Tyler, national spokesperson, Cruz for President, Jan. 6, 2016
Browse the Truth-O-Meter
More by W. Gardner Selby
Support independent fact-checking.
Become a member!
In a world of wild talk and fake news, help us stand up for the facts.