Get PolitiFact in your inbox.
Says Sen. Ted Cruz used to be "in favor of birthright citizenship" but is now against it.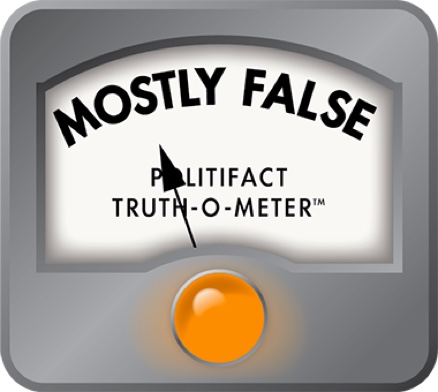 Rubio mischaracterizes Cruz's statement on birthright citizenship
Florida Sen. Marco Rubio and Texas Sen. Ted Cruz picked up their immigration battle at another presidential debate, with Rubio accusing his rival of flip-flopping on a laundry list of positions, including birthright citizenship.
"You used to say that you were in favor of birthright citizenship. Now you say that you are against it," Rubio said as Cruz vigorously shook his head.
The question takes on special significance in this case, since Cruz, born in Canada to an American mother and Cuban father, has had his own American citizenship questioned by frontrunner Donald Trump.
We decided to check if Cruz has changed his political position on whether the children of immigrants should be American citizens if they are born in the United States.
We found Cruz has shifted his talk about birthright citizenship, but it's not in the way Rubio described on national television.
Campaign comments
When we asked Rubio's campaign about the accusation, they sent us a list of attacks about Cruz allegedly switching positions on a host of issues. But the claim boils down to a 2011 radio interview on The Duke Machado Show during Cruz's Senate campaign.
The show's host asked Cruz whether the issue of birthright citizenship in the 14th Amendment should be changed. The amendment states, "All persons born or naturalized in the United States, and subject to the jurisdiction thereof, are citizens of the United States and of the state wherein they reside."
Now, Cruz didn't offer outright support for birthright citizenship. Cruz, a former prosecutor, said it would be difficult to revisit the provision.
"The 14th Amendment provides for birthright citizenship. I've looked at the legal arguments against it, and I will tell you as a Supreme Court litigator, those arguments are not very good," he said. "As much as someone may dislike the policy of birthright citizenship, it's in the U.S. Constitution. And I don't like it when federal judges set aside the Constitution because their policy preferences are different.
"And so in my view I think it is a mistake for conservatives to be focusing on trying to fight what the Constitution says on birthright citizenship. I think we are far better off focusing on securing the border, because birthright citizenship wouldn't be an issue if we didn't have people coming in illegally."
The full interview isn't available, so we can't say what else Cruz may have said on the subject during the 2011 broadcast. Pressed to clarify his view during the current presidential campaign, Cruz gave a series of interviews in August 2015 to show he opposed the practice.
"We should end granting automatic birthright citizenship to the children of those who are here illegally," Cruz said in an Aug. 19 radio interview on "The Michael Medved Show."
Medved asked if Cruz would change the Constitution if he could: "I think that it is possible, but any constitutional amendment, by its nature, is difficult to achieve. Look, I would note, that has been my position from the very first day of my running for the Senate."
Cruz repeated his position Aug. 23 on Face the Nation, saying while he is against giving the kids of undocumented immigrants citizenship, the real problem is a matter of preventing illegal immigration with better border security.
"I think birthright citizenship as a policy matter doesn't make sense," Cruz said. "We have right now upwards of 12 million people living here illegally. It doesn't make any sense that our law automatically grants citizenship to their children because what it does is it incentivizes additional illegal immigration."
Two days later, he told Fox News' Megyn Kelly that birthright citizenship is an incentive for undocumented immigrants to come to America and that "we ought to change that policy" but that "there is a legal dispute about the best means to do it."
"There are serious scholars who argue that Congress could do it through statute defining what it means to be subject to the jurisdiction, the language of the 14th Amendment," he said. "There are other serious constitutional scholars who argue the only way to change it is through a constitutional amendment. My view is, we should pursue either or both, whichever is effective; What matters is that we should change the policy so we are not rewarding and incentivizing and encouraging more illegal immigration."
Is it a flip-flop?
Some conservative media outlets, and Rubio, have said this amounts to a "flip-flop" for Cruz.
But it's not that straight-forward.
At most, Cruz said in 2011 he didn't think changing the 14th Amendment was feasible from a legal standpoint, and conservatives would be better off focusing on securing the borders.
We couldn't find any statements by Cruz that showed anything resembling support for birthright citizenship, and we don't read his resistance to fighting a constitutional amendment as support for the concept in the way his critics do.
That said, there has been a shift on one thing: Cruz now says he supports pursuing a change, either with an amendment or legislation.
Cruz's campaign did not respond to a request for comment by deadline.
Our ruling
Rubio said Cruz used to be "in favor of birthright citizenship" but is now against it.
He was referring to a 2011 radio interview in which Cruz said birthright citizenship was guaranteed by the 14th Amendment, and it was better for conservatives to focus on border security instead of trying to change the Constitution. He has since insisted he opposed birthright citizenship then and opposes it now. We can't find evidence that contradicts him.
Cruz apparently changed his mind on at least one thing: He has said he now supports Congress pursuing a way to change the policy. While that raises questions on some details about Cruz's position, it's different than what Rubio claimed.
We rate Rubio's statement Mostly False.
Ted Cruz, remarks in the Republican presidential debate in North Charleston, S.C., Jan. 14, 2016
The Duke Machado Show, "GOPisForMe Spotlight: Ted Cruz on 14th Amendment," Oct. 5, 2011
PolitiFact, "Is Ted Cruz, born in Canada, eligible to run for president? (Updated)," March 26, 2015
The Michael Medved Show, Ted Cruz interview, Aug. 19, 2015
Huffington Post, "Ted Cruz Once Said It Was A 'Mistake' To Try To End Birthright Citizenship," Aug. 20, 2015
Houston Chronicle, "Ted Cruz: Border security before birthright revocation," Aug. 20, 2015
Face the Nation, "Ted Cruz: Birthright citizenship 'doesn't make sense'," Aug. 23, 2015
The Kelly File, "Shrink player Ted Cruz on changing the policy of birthright citizenship," Aug. 25, 2015
PolitiFact Texas, "Ted Cruz says it's always been that babies born to U.S. citizens abroad are citizens from birth," Sept. 4, 2015
Washington Examiner, "Ted Cruz: More flexible than you think," Nov. 19, 2015
Bloomberg, "Cruz's 'Natural-Born Citizen' Status Tested in Birther Suit," Jan. 14, 2016
Sen. Marco Rubio, "The Facts on Cruz's Record of Flip-Flops," Jan. 14, 2016
Interview with Joe Pounder, Rubio spokesman, Jan. 14, 2016
Browse the Truth-O-Meter
More by Joshua Gillin
Support independent fact-checking.
Become a member!
In a world of wild talk and fake news, help us stand up for the facts.