Stand up for the facts!
Our only agenda is to publish the truth so you can be an informed participant in democracy.
We need your help.
I would like to contribute
"A lot of student loans are already refinanced by the federal government."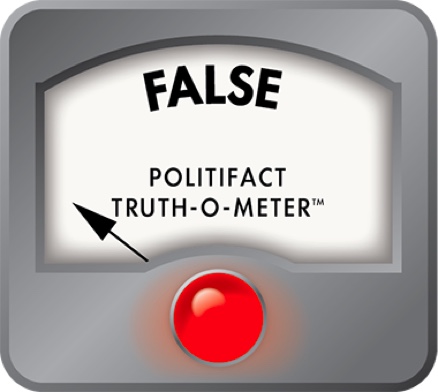 GOP Wisconsin lawmaker says the federal government refinances student loans, but it doesn't
On Jan. 20, 2016, two lawmakers appeared on Wisconsin Public Radio's "Joy Cardin Show" to discuss the State of the State speech given the previous night by Republican Gov. Scott Walker.
One of the first topics to emerge was college affordability.
State Senate Minority Leader Jennifer Shilling, D-La Crosse, called for state legislation to enable student loan borrowers to refinance their student loans.
Refinancing, of course, allows you to get a lower interest rate on an existing loan when interest rates drop.
State Rep. Dale Kooyenga, a Republican from the Milwaukee suburb of Brookfield, countered by saying it's important to find ways to reduce the amount of loans students are amassing. And Kooyenga, an accountant, said he is open to discussing refinancing at the state level.
Then, however, Kooyenga stated:
"A lot of student loans are already refinanced by the federal government."
If they are, then why has there been so much debate -- at both the state and federal levels -- about legislation to allow refinancing?
Past fact checks
We've examined claims about college student loans before.
Half True was the rating we gave U.S. Sen. Tammy Baldwin, D-Wis., when she said in 2014 that four-year college students, on average, are graduating with $30,000 in student loan debt. The best data available was mixed on whether the figure was accurate.
Mostly False was the rating earned a couple of months later by Wisconsin's other U.S. senator, Republican Ron Johnson. He had said the affluent are taking advantage of student loans at the expense of middle-class families. In some cases, affluent people get a subsidized loan and, based on repayment programs, some small portion hits the federal government's general fund. But that's picked up by all taxpayers, not simply middle-class taxpayers with no ties to college.
In that item we described in a nutshell how federal student loans work:
The Department of Education budget draws on funds from the U.S. Treasury to shoulder the costs of subsidized loans, grants and the repayment of some loans. When loan payments are collected, those funds are then returned to the Treasury. Student loans generate tens of billions of dollars in revenue annually for the federal government.  
Private banks also provide student loans.
Now to Kooyenga's claim.
Repayment options
Private banks, of course, are free to refinance student loans. The decision is based on a number of factors, including whether the borrower has substantial income. After all, a student loan isn't like a car loan, where there is a car to serve as collateral.
But Kooyenga's claim is that Uncle Sam refinances a lot of student loans.
The federal government does offer consolidation for most student loans. That gives you one monthly payment on one loan, rather than multiple monthly payments on multiple student loans. But you might lose benefits such as principal rebates and end up with a longer payment period, racking up more in principal and interest payments in the process.
Student borrowers can also take advantage of different payment plans. For example, lower monthly payments in the first few years after college and higher payments over time.
But when it comes refinancing, the federal government doesn't do it.
As PolitiFact Texas found in a 2014 fact check, federal law simply makes no provision for the government to offer such refinancing.
The non-profit group American Student Assistance states it flatly: "There is no federal refinancing … you cannot refinance federal or private student loans into a federal loan."
Indeed, that's why Democrats have been pushing legislation to allow federal refinancing. Backers include Baldwin and Wisconsin Democrat Russ Feingold, who is seeking to win back his U.S. Senate seat from Johnson in 2016, as well as 2016 presidential contenders Hillary Clinton, Bernie Sanders and Martin O'Malley.
In January 2016, Minnesota announced its own refinancing program and U.S. Sen. Al Franken, D-Minn., announced new legislation that would do the same at the federal level.
As for Kooyenga, he told us his "comments were not meant that an individual with student loan debt could approach the federal government and refinance. I was speaking to the fact that beginning in 2008 the federal government began purchasing the loans made by private lenders."
So, he was using the term refinancing in a more technical way, even though the context of the discussion was about students refinancing their loans through the government.
Our rating
Kooyenga said: "A lot of student loans are already refinanced by the federal government."
Borrowers can refinance student loans through private banks, though it isn't necessarily easy and comes with down sides.
Democrats have pushed legislation to allow the federal government to offer refinancing, so that student borrowers can get lower interest rates. But that legislation has not been adopted, and the federal government does not do refinancing.
Which means Kooyenga's claim is False.
Wisconsin Public Radio, "Joy Cardin Show (quote at 15:40)," Jan. 20, 2016
Email exchange, One Wisconsin Now executive director Scot Ross, Jan. 22, 2016
U.S. Department of Education, "Loan consolidation," accessed Jan. 22, 2016
Forbes, "Student loan refinancing: A new option for borrowers?," May 7, 2014
PolitiFact Texas, "Average student loan debt in Texas close to price of a pickup truck, though privately taken student loans can be refinanced," June 9, 2014
PolitiFact National, "Did Barack Obama sign a bill to forgive all outstanding student debt? No," June 9, 2014
U.S. News & World Report, "4 things to think about when refinancing student loans," April 29, 2015
Browse the Truth-O-Meter
More by Tom Kertscher
Support independent fact-checking.
Become a member!
In a world of wild talk and fake news, help us stand up for the facts.