Get PolitiFact in your inbox.
Says Donald Trump's position is "to roll back all" of the financial regulations passed after the financial crisis.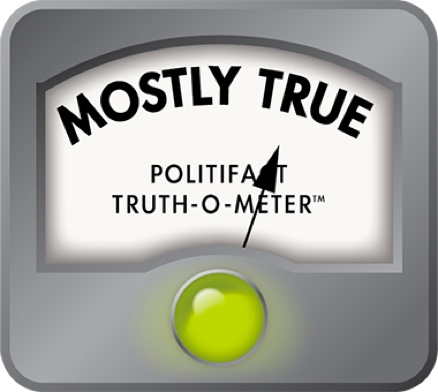 As Warren says, Trump is no fan of post-crisis Wall Street regulations
Sen. Elizabeth Warren did not leave her signature issue behind when she became presumptive Republican nominee Donald Trump's most pugnacious critic.
"Donald Trump has already offered his big wet kiss to Wall Street. He has said, 'Hey guys, if I get in, I'm going to roll back all of those regulations, because it makes it too hard for banks to cheat people,' " Warren said in a June 28 interview on The View.                          
Trump never said he wanted to make it easier for banks to cheat people, but he has said he wants to roll back regulations on Wall Street.
In the context of the interview, Warren is likely referring to the Dodd-Frank Wall Street Reform and Consumer Protect Act, the premier piece of legislation regulating the banking industry after the crash. Warren has been a consistent crusader for stricter regulation of the financial industry.
Early in the campaign, Trump distinguished himself from his rivals for the Republican nomination with some tough language directed toward Wall Street. "The hedge fund guys didn't build this country. These are guys that shift paper around and they get lucky," Trump said in a CBS interview in August. At other points, he extended a similar critique to "Wall Street Guys" in general.
Trump said that hedge fund managers "get away with murder," but he's been unclear about what he'd do to change that. One concrete Trump proposal on Wall Street was changes to the tax code that would change tax provisions benefitting hedge fund managers, but because of separate tax cuts for partnerships, his tax plan actually had the effect of substantially improving their position.
On Dodd-Frank, Trump has gone on the record again and again saying that the law is bad news for the economy and the banking industry. He's called it a "disaster," and a "very negative force." Well before he launched his current presidential run, Trump attacked increased regulation after the financial crisis, which he said prevented loans to all but the very wealthy.
And while it's not the same thing as a "big wet kiss to Wall Street," Trump has said he expects bankers to appreciate his position. "I think things have to be done with (Dodd-Frank), and I think Wall Street would like to hear that," Trump told Fox Business host Maria Bartiromo.
The only bit of wiggle room here is that Trump has been inconsistent about how much of Dodd-Frank would be left when he finished with it. He has said he would "get rid of it," "repeal it" or, almost word-for-word from Warren's statement, "roll that back." He has also said, however, that "there are some aspects you could leave," and that could be "changed greatly" instead of being eliminated.
In Trump's most recent statement about Dodd-Frank, in a mid May interview with Reuters, he said he would release a plan within two weeks that would be "close to a dismantling of Dodd-Frank."
A month after his Reuters interview, the plan, which would presumably settle this question, has not been released. The Trump campaign did not respond to a request for comment for this story.
Our ruling
Warren said Trump wants to "roll back all of those regulations" on Wall Street banks.
While we don't know what Trump's plan would look like exactly, he certainly wants to scrap a lot of the law. It might not be right to say "all" of those regulations, but Trump himself has been unclear on that point.
We rate this Mostly True.
The View, Interview With Sen. Elizabeth Warren, June 28, 2016.
CNN, "Donald Trump vs. the hedge funders," Oct. 6, 2015.
CBS, Face the Nation interview with Donald Trump, Aug. 23, 2015
PolitiFact, "Hillary Clinton accurately says Donald Trump's plan is good for hedge funders," July 1, 2016.
Piers Morgan Tonight, "Transcript: Piers Morgan Interview With Donald Trump," Oct. 27, 2011.
Washington Examiner, "Seven times Trump has pledged to repeal Dodd-Frank," May 19, 2016.
Fox News, "Republican Presidential Candidate Donald Trump Interviewed on Fox News," Jan. 26, 2016.
CNBC "Donald Trump: This is why I'm for low interest rates," May 5, 2016.
Fox Business News, "Trump: Don't break up big banks, get rid of Dodd-Frank," October 20, 2015.
The Hill, "Trump: Economic bubble about to burst," Oct. 14, 2015.
Fox Business News, "Donald Trump: Vladimir Putin Can Be Dealt With," Aug. 20, 2015.
Fox Business News, "Trump: America's not doing well and the stock market is catching up," Jan. 10, 2016.
Reuters, "Trump preparing plan to dismantle Obama's Wall Street reform law," May 18, 2016.
Browse the Truth-O-Meter
More by Adam Thorp
Support independent fact-checking.
Become a member!
In a world of wild talk and fake news, help us stand up for the facts.