Stand up for the facts!
Our only agenda is to publish the truth so you can be an informed participant in democracy.
We need your help.
I would like to contribute
Says Hillary Clinton "took 13 hours to send help to Americans under fire" during the terrorist attack in Benghazi.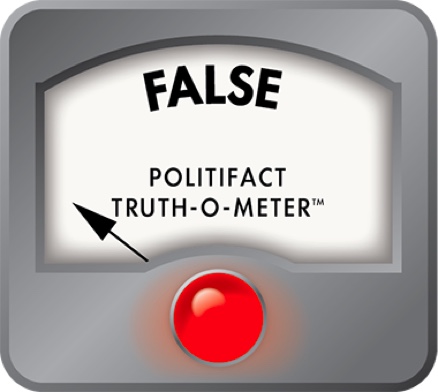 Pence falsely says Clinton didn't 'send help' during Benghazi attack
Vice presidential nominees are often expected to act as attack dogs on a campaign ticket. Maybe Indiana Gov. Mike Pence was warming up for the role at a rally for Donald Trump in Indiana on July 12.
Pence rattled off a series of reasons Hillary Clinton was not fit for the presidency. One of them caught our attention, a claim about Benghazi, the Libyan city where a 2012 terrorist attack left four Americans dead.
"We don't need a president that took 13 hours to send help to Americans under fire and after four brave Americans fell said 'what difference, at this point, does it make.' Anyone who did that, anyone who said that, should be disqualified from ever being commander in chief of the armed forces," Pence said.
President Barack Obama's administration has been subject to a great deal of scrutiny during, before and after that attack, and much of that has been directed at Clinton.
Several investigations have found, however, that no action by Clinton -- or anybody in the administration -- could have moved additional forces to Benghazi before the last American deaths.
And if it were possible, Clinton was not responsible for sending help. That fell to military officials.
The Benghazi timeline
The attack on the diplomatic mission in Benghazi began at 9:40 p.m., Benghazi time. It took until after 10 a.m. the next morning for the last plane evacuating Americans to leave Benghazi — the time from the initial attack to the final evacuation is Pence's "13 hours." (For a more detailed timeline, see this document issued by the House's select committee on Benghazi or our fact-check of a claim about delays in the military's response.)
At an 11 p.m. meeting (5 p.m. Washington time), President Barack Obama directed military officials to "do everything possible" to save lives in Benghazi. Defense Secretary Leon Panetta testified that he then ordered forces around the Mediterranean to move toward Libya. Clinton's department was ultimately responsible for the security setup at the Benghazi mission, but at this point it was the military, under the Defense Department and, ultimately, the president, that was moving forces toward Libya.
None of the forces ordered to prepare to deploy to Benghazi ever reached the city in the aftermath of the attack. Eventually, it was decided that the Americans in Benghazi would evacuate to Tripoli, Libya's capital, and forces that would have gone to Benghazi were directed there, Libya's capital, where they were being evacuated to. The CIA station chief in Tripoli — as opposed to anyone in Washington — dispatched a team to work with local militia groups to extract the Americans in Benghazi.
Clinton was active throughout the 13-hour period. She testified that she called Libya's president to see if friendly forces could be dispatched to help the Americans in Benghazi. She also spoke with the embassy in Tripoli and then-CIA director David Petraeus.
There have been eight congressional investigations of Benghazi so far, most of which were run by Republicans. Several of their reports criticized Clinton and her State Department for the security setup in Benghazi, for their part in the administration messaging after the attack, and for not holding themselves accountable afterward.
But they generally criticized the Defense Department or other parts of the administration, not Clinton or the State Department, for delays in deploying military assets the night of the attack. When Congressman Mike Pompeo asked Clinton, "Why was heaven and earth not moved at the initial sound of guns," in terms of sending help, Clinton told him to ask the Defense Department.
The House select committee on Benghazi concluded: "The decisions made earlier in the year by senior State Department officials to maintain a presence in Benghazi without adequate security forces and an inadequately fortified Mission compound contributed to what amounted to a worst case scenario of circumstances that would test the military's preparedness and ability to respond.
"Nevertheless, the Defense Department did not pass the test."
The committee went on to question why it took so long for orders from Obama and Panetta to translate into action on the ground.
The committee's final report leaves open the possibility that the State Department might have further impeded the speed of reaction to Benghazi.
"Whether this failure is shouldered by (the Defense Department) alone, or rests in part on decisions made by the State Department in Washington D.C. or with the White House... is one of the lingering questions about Benghazi," the report reads. This brings up the possibility that the State Department delayed help, but that wasn't Pence's claim.
And, based on the generally accepted timeline of the attack, its appears likely the delay ended up being immaterial.  Different Republican-led congressional investigations have concluded that additional forces could not have reached Benghazi in time to matter. Even if Clinton was responsible for the response to the attack, it's not clear what she could have done to overcome what military officials called "the tyranny of time and distance."
Our ruling
Pence claimed that Clinton "took 13 hours to send help to Americans under fire."
In fact, it wasn't Clinton's responsibility to send troops to the scene — the military chain of command took that responsibility. The Defense Department attempted to send help to the scene, but was unable to reach Benghazi before the deaths occurred.
Pence implied that Clinton dawdled before sending help to Americans in danger. That is not accurate. We rate this claim False.
https://www.sharethefacts.co/share/16053b1b-0a59-4f24-ac3f-dcb041744f65
House Committee on Oversight and Government Reform, "Benghazi Attacks: Investigative Update, Interim Report on the Accountability Review Board," Sept. 16, 2013
U.S. Senate Committee on Homeland Security and Governmental Affairs, "Senators Lieberman, Collins Release Report on Benghazi Security Considerations," Dec. 31, 2012
U.S. Senate Committee on Homeland Security and Governmental Affairs, "Flashing Red: A Special Report On The Terrorist Attack At Benghazi," Dec. 30, 2012
U.S. Senate Select Committee on Intelligence, "Senate Intelligence Committee Releases Declassified Bipartisan Report on Benghazi Terrorist Attacks," Jan. 15, 2014
House Committee on Foreign Affairs, "Benghazi: Where is the State Department Accountability?" February 2014
House Select Committee on Intelligence, "Investigative Report on the Terrorist Attacks on U.S. Facilities in Benghazi," Nov. 21, 2014
House Select Committee on Benghazi, "Select Committee on Benghazi Releases Proposed Report," June 28, 2016
PolitiFact, "Clinton: 7 Benghazi probes so far," Oct. 12, 2015.
PolitiFact, "Donald Trump says Hillary Clinton 'slept' through Benghazi attack," June 23, 2016.
PolitiFact, "Hannity misleads about stand-down order, clothing change in Benghazi attack," June 30, 2016.
<a href="https://www.sharethefacts.co/share/ba2d3d30-f143-4ec4-a11f-46b73811c2ac">https://www.sharethefacts.co/share/ba2d3d30-f143-4ec4-a11f-46b73811c2ac</a>
Browse the Truth-O-Meter
More by Adam Thorp
Support independent fact-checking.
Become a member!
In a world of wild talk and fake news, help us stand up for the facts.