Stand up for the facts!
Our only agenda is to publish the truth so you can be an informed participant in democracy.
We need your help.
I would like to contribute
"There have been multiple media reports about (Donald Trump's) business dealings with the mob, with the mafia."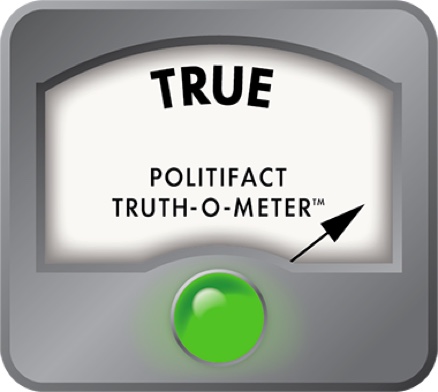 Yes, Donald Trump has been linked to the mob
Donald Trump "seems terrified to release his taxes" because they may reveal his true net worth, his donations to liberal causes, or something even seedier, Sen. Ted Cruz suggested on Meet the Press.
"There have been multiple media reports about Donald's business dealings with the mob, with the mafia," Cruz said Feb. 28. "Maybe his taxes show those business dealings are a lot more extensive than has been reported."
Pressed by host Chuck Todd to back up his claim, Cruz cited reports by ABC and CNN. A Cruz spokesman forwarded us several other media reports detailing the real estate developer's alleged ties to organized crime. The Trump campaign did not get back to us.
Is Cruz right that the Donald has worked with a few Dons in his career?
HELP US RAISE $15,000 TO HIRE AN EXTRA FACT-CHECKER
It's important to note that Trump hasn't been charged with any illegal activity, and it's reasonable to argue that he was unaware or even a victim in some cases. But Cruz has a point that the mogul has been linked to the mob for decades.
Mob control a 'fact of life'
Before we detail Trump's alleged ties, none of this proves that Trump was happy doing business with the mafia or even in cahoots with them at all.
La Cosa Nostra had a virtual monopoly on concrete in New York at the time Trump was adding his name to its skyline in the 1980s. And the mafia's control over building supplies and labor unions meant that the crime families had a hand in most construction projects in Manhattan.
Trump and other major developers "had to adapt to that situation" or build elsewhere, said James B. Jacobs, a mafia expert who was part of a state task force on organized crime.
"That was the fact of life, that was the way it was," he told PolitiFact. "The contractors and developers weren't pure victims. You could bribe the mob-controlled union leaders and get relief from the more arduous conflicts. But we had no information that Trump was any different."  
That being said, Trump's business dealings with the mob or mob-related characters are widely documented. Let's run through them.
Mafia concrete for Trump Plaza
Trump was first tied to the mafia in the 1980s, when a $7.8 million subcontract for Trump Plaza was awarded to S&A Concrete, according to Fortune. The company, as Cruz correctly says, was partially owned by Anthony "Fat Tony" Salerno, the boss of the Genovese crime family.
Trump himself acknowledged as much in a December 2015 interview with the Wall Street Journal, admitting that S&A Concrete was "supposedly associated with the mob."
"Virtually every building that was built was built with these companies," he said, adding, "These guys were excellent contractors. They were phenomenal. They could do three floors a week in concrete. Nobody else in the world could do three floors a week. I mean they were unbelievable. Trump Tower, other buildings."
When Salerno was indicted in 1986, the charges specifically mentioned Trump Plaza. Salerno's 1992 obituary ends with a nod to the luxury highrise and 15 other Manhattan buildings.
Trump World Tower, supported by the Quadrozzi Concrete Company, is also tangentially related to La Cosa Nostra. The head of the company, John Quadrozzi Sr., was tied to the Lucchese crime family and indicted for making illegal payoffs to the mob in 1992.
TIME and Daily Beast have speculated that Trump Tower was also built with mafia influence, though the evidence is less concrete.
Atlantic City partnerships
Trump's alleged mob dealings were not confined to New York. According to reports from the Huffington Post  and Philadelphia Inquirer, Trump made a deal in Atlantic City with Kenneth Shapiro, an associate of mob boss Nicky Scarfo, and mob-connected labor boss Daniel Sullivan.
Trump seemed aware of this, calling Shapiro "a third-rate, local real estate mafia" and Sullivan "the guy who killed Jimmy Hoffa."
Nonetheless, in 1981, Trump leased a portion of the land for Trump Plaza and Casino from a company the two men controlled, according a report by New Jersey gaming regulators. The company refused to cooperate with the authorities, and Trump eventually ended the partnership and bought out their shares.
Later Trump brought on Sullivan as a labor negotiator at the Grand Hyatt Hotel and introduced the man to his own banker, according to the Los Angeles Times.
Through intermediaries Trump bought the property for the casino from the "crown prince" of the Philadelphia mob, Salvatore Testa, for $1.1 million in 1982. Multiple media reports and an unauthorized biography about Trump allege this was more than twice its market value. (Testa purchased the property in 1977 for $195,000.)
According to The Federalist, two construction companies controlled by Nicky Scarfo ended up building Trump Plaza and Casino.
"You had contractors that were supposedly mob-oriented all over Atlantic City," Trump said when the Wall Street Journal asked him about it, adding that "every single casino company used the same companies, just I hope you will say that."
A few years later, Trump's organized crime connections extended overseas. In 1992, a Senate subcommittee named Danny Leung, who was then the vice president for foreign marketing at Trump Taj Mahal, as an associate of the Hong Kong-based organized crime group 14K Triad.
"Leung has also given complimentary tickets for hotel rooms and Asian shows to numerous members and associates of Asian organized crime," reads the report, which also identified three other triad-connected business associates or former employees of Trump's gambling empire.
According to gaming regulators, Leung "flew in 16 Italian organized crime figures from Canada who stole more than $1 million from the casino in a credit scam," reported the New York Daily News in 1995. "The incident was never reported because Trump never filed charges."
Leung, who had a separate contract to bring gamblers from Toronto to the casino, denied the affiliation to organized crime, and his casino and junket licenses were renewed. (The Trump Taj Mahal declared bankruptcy in 1991, and his other Atlantic City properties folded a decade later.)
Mob-linked business adviser
And there's Felix Sater, "a twice-convicted Russian émigré who served prison time and had documented mafia connections" and the subject of the ABC story Cruz referenced.
Sater pleaded guilty to a charge of money laundering in 1998 and was indicted again in 2000 for taking part in a $40 million stock scheme involving four Mafia families, according to the New York Times report.
From 2003 to 2007, Sater traveled the country promoting projects for Trump, and his company was a partner in the Trump SoHo hotel. Trump told the Times he "never knew that."
Three years later, Sater returned to the Trump Organization and had business cards that described him as Trump's "senior advisor," the AP reported. Trump told the AP that he's "not familiar" with Sater.
Our ruling
Cruz said, "There have been multiple media reports about Donald's business dealings with the mob, with the mafia."
While it's important to note that these connections were not atypical in the real estate and casino businesses in the 1980s, Cruz's statement is accurate. Media reports have linked Trump to mafia bosses and mob-connected business associates for decades.
We rate the claim True.
NBC, Meet the Press, Feb. 28, 2016
Email interview with Brian Phillips, spokesperson for Ted Cruz, Feb. 29, 2016
ABC, "Memory Lapse? Trump Seeks Distance From 'Advisor' With Past Ties to Mafia," Dec. 10, 2015
CNN, "Donald Trump and the mob," July 31, 2015
Washington Post, "Trump swam in mob-infested waters in early years as an NYC developer," Oct. 16, 2015
Washington Examiner, "Will Donald Trump's ties to a criminal hurt his campaign?" Aug. 4. 2015
New York Daily News, "Donald Trump acted confused in video deposition when asked about former senior advisor, a convicted felon with Mafia ties," Dec. 10, 2015
James B. Jacobs, Gotham Unbound: How New York City Was Liberated from the Grip of Organized Crime, April 1, 2001
FBI, Ready-Mix Concrete Industry, accessed Feb. 29, 2016
New York Times, "MOB ROLE IN NEW YORK CONSTRUCTION DEPICTED," April 30, 1988
Interview with James B. Jacobs, law professor at New York University, March 1, 2016
Fortune, "THE MAFIA'S BITE OF THE BIG APPLE," June 6, 1988
Wall Street Journal, "Trump and the Goodfellas," Dec. 11, 2015
Philadelphia Inquirer, "Book Alleges Trump Did Business With Mob," Jan. 7, 1992
The Daily Beast, "The Klansmen and Mobsters in Donald Trump's Closet," Feb. 29, 2016
New York Times, "REPUTED MOB LEADER AMONG 15 INDICTED ON RACKETEERING COUNTS," March 22, 1986
New York Times, "Anthony (Fat Tony) Salerno, 80, A Top Crime Boss, Dies in Prison," July 29, 1992
New York Times, "Big Concrete Supplier Faces U.S. Inquiry Into Possible Mob Tie," March 5, 1990
New York Times, "Businessman Is Accused Of Mob Ties," July 12, 1992
Time, "Special Report: Organized Crime," June 24, 2001
Huffington Post, "Rolling Snake Eyes: Trump's First Casino Partners Had Alleged Mob Ties," June 28, 2011
Philadelphia Inquirer, "Site Of Complex Compromise Shipping And Retailing Interests Cut A Deal Involving Riverfront Land," March 14, 1993
Timothy L. O'Brien, TrumpNation: The Art of Being the Donald, Oct. 20, 2015
New Jersey Division of Gaming Enforcement, "Report of the Division of Gaming Enforcement to the Casino Control Commission," Dec. 1, 1992
Los Angeles Times, "Towering Presence in New York : Donald Trump Stirs Controversy With Grandiose Structures," April 7, 1985
Atlantic County Clerk Official Records, Testa deed, July 15, 1977
The Federalist, "How Close was Donald Trump to the Mob?" July 28, 2015
Senate Permanent Subcommittee on Investigations, "Asian Organized Crime: The New International Criminal," June 18 and Aug. 4, 1992
New York Daily News, "TRUMP SUPPORTS CASINO SUSPECT," Sept. 25, 1995
Philadelphia Inquirer, "Casino Panel Blocks The Ventnor Merlinos But The Agency Granted A License To A Man A Senate Report Called An Associate Of An Asian Crime Group," March 6, 1997
New York Times, "Real Estate Executive With Hand in Trump Projects Rose From Tangled Past," Dc. 17, 2007
Associated Press, "Trump picked stock fraud felon as senior adviser," Dec. 4, 2015
New Yorker, "Concrete Jungle: Giant wrecking balls, Mob contracts, and the cement that holds the city together," Nov.10, 2003
National Memo, "21 Questions For Donald Trump," July 10, 2015
The Smoking Gun, FBI memorandum, Sept. 22, 1981
CaseText, UNITED STATES V. SALERNO, April 2, 1986
CaseText, UNITED STATES V. SALERNO, May 29, 1986
CQ search
Nexis search
Browse the Truth-O-Meter
More by Linda Qiu
Support independent fact-checking.
Become a member!
In a world of wild talk and fake news, help us stand up for the facts.