Get PolitiFact in your inbox.
Says Deborah Ross "supports the Iran nuclear deal and the ransom it paid for hostages."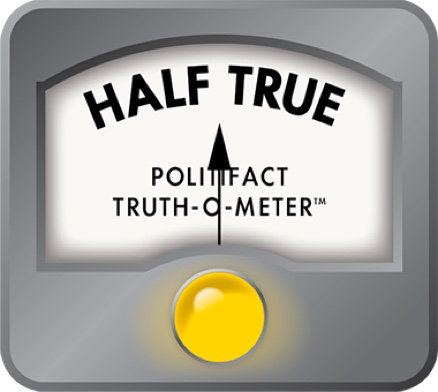 Attack ad gets Deborah Ross' stance on the Iran nuclear deal half right, half wrong
North Carolina's incumbent senator, Republican Richard Burr, is facing a closer-than-expected re-election campaign against Democratic challenger Deborah Ross.
Now a national conservative group is coming to Burr's aid, with a $1 million ad campaign that criticizes Ross' views on foreign policy and national security.
"Now she supports the Iran nuclear deal and the ransom it paid for hostages, despite it being bad for America," the ad says. It was paid for by the John Bolton SuperPAC, run by the former U.N. ambassador and Republican political advisor John Bolton.
Burr is the chairman of the Senate Intelligence Committee and has had several prominent moments in that position. He helped lead the government's fight against Apple to try to make the company unlock the phones used by the terrorists in the San Bernardino attack last year. He also spearheaded efforts to keep a report on the CIA's torture program out of the public eye, calling it politically motivated.
Ross has no foreign policy experience. She was formerly a state legislator and executive director of the North Carolina ACLU. The new ad campaign attempts to tie her to the policies of the Obama administration.
But is it true that Ross supports "the Iran nuclear deal and the ransom it paid for hostages" like the ad claims?
A refresher on the Iran deal
The nuclear deal was an exchange: Iran would give up its aspirations for a nuclear weapon, and in return the international community would lift many of the economic sanctions on the country.
We've previously written summaries of both the negotiations and the technical details of the deal and its enforcement.
It can be a tricky subject to talk about, and claims on both sides often lack nuance. Burr previously received a Half True for his claim that Obama and Hillary Clinton were "responsible for leading America into a deal that will arm Iran."
And for a more complete picture on the billions of dollars Iran will receive via the deal – largely coming from overseas bank accounts that had previously been frozen – and whether that money could be put toward terrorism, see this Half True claim from Rudy Giuliani.
Support for the deal?
Ross does say she supports the nuclear deal, although she adds a caveat.
"In the future, the U.S. should extend Iranian sanctions and consider increasing them to stop Iran from financing terrorism around the globe," Ross says on the foreign policy section of her website.
This position seems to be contradictory, since the main part of the deal was to remove many sanctions from the country.
So does she support it or not?
Experts told us that while Ross' two sentiments seem at odds with one another, they actually aren't – as long as any new sanctions are added due to Iran's financing of terrorist groups, like Hezbollah.
But it's a slippery slope.
"Iran could pull out of the deal" if the United States adds sanctions for the wrong reason, said Aaron Arnold, an international affairs expert at Harvard University.
According to Jim Walsh, who leads the Security Studies Program at MIT: "If Iran does something new and egregious that warrants new sanctions, the U.S. has every right under the deal to respond any way it wants, including sanctions. But if this is just, 'I hate Iran so we should have more sanctions,' that is an agreement killer."
Duke University professor Peter Feaver referred to Ross' support of both the Iran deal and extra sanctions as "tip-toeing through a minefield."
Feaver worked in defense policy under Presidents Bill Clinton and George W. Bush. He said Ross' seemingly contradictory position is technically possible since the deal had to allow the possibility for future American sanctions in order to survive Congress. Republicans have tried to pass legislation killing the deal but don't have enough votes in the Senate.
"While in practice those objectives have been in tension with each other, increasingly so as the Obama Administration resorts to ever more desperate measures to prop up the Iran deal, they are not fundamentally at odds," Feaver said.
Prisoners and ransom?
So Ross supports the Iran nuclear deal, even with the caveat that she also supports new sanctions on Iran. But what about her support for "ransom" payments?
PolitiFact has previously looked into whether the $400 million the United States sent to Iran, shortly before several Americans were freed in January, was actually a ransom. We ruled that Mostly False. It was the first part of a $1.7 billion settlement the U.S. agreed to pay in an international arbitration tribunal, related to a failed 1979 arms deal.
Yet at the same time, U.S. officials have acknowledged they withheld the money until they were sure that five Americans held in Iranian jails had been released.
That previous fact check concluded that, "While some in the national security community might consider the transaction unsavory, ineffectual, or legally questionable, calling it 'ransom' isn't quite accurate."
Whatever the appropriate phrase for that payment, Deborah Ross has clearly said she does not support it. She said as much in a TV interview earlier this month, and in a paper outlining her foreign policy positions.
"The United States government should not pay Tehran for the return of American prisoners," Ross wrote.
So we asked Garrett Marquis, a spokesman for the PAC, if there were examples of Ross saying anything that could back up the ad's claim. Marquis didn't point to any examples, but he said that doesn't matter.
"You can't have one without the other," he said. "Of course she's not going to say she's for ransom payments. But she supports the Iran deal which included the payment. It seems that Ross is trying to have her cake and eat it too."
However, several legal experts we spoke with said it's not necessarily true that the payment was part of the Iran deal.
Eric Lorber, a terrorism financing expert and senior associate with the Financial Integrity Network consulting firm, testified before Congress last month regarding the payment. He said in an interview the timing had more to do with the release of the prisoners than with the implementation of the nuclear deal, even though all three happened around the same time.
"The bottom line is that the payment wasn't part of the nuclear deal," he said.
Our ruling
A new ad attacking Richard Burr's challenger Deborah Ross says Ross "supports the Iran nuclear deal and the ransom it paid for hostages."
Ross does support the nuclear deal. She does not support "ransom" payments for American prisoners. The group behind the ad said she can't support the Iran deal and also oppose the payment, arguing that the payment was part of the deal, but experts say that isn't correct.
Since the ad gets one part right and one part wrong, we rate this claim Half True.
Correction: The payment from the U.S. to Iran was agreed to in a settlement in an international tribunal. It was not from an order from that tribunal. This correction does not change our ruling.
https://www.sharethefacts.co/share/80b12778-8fbb-4312-8585-24c71767571e
John Bolton SuperPAC ad, "North Carolina: Didn't See It Coming"
The John Bolton SuperPAC website
Phone and email interviews with Garrett Marquis, spokesman for John Bolton SuperPAC
Email interview with Deborah Ross campaign staff
Deborah Ross TV interview on Iran deal and payments, Sept. 16, 2016, FOX8 TV
Deborah Ross foreign policy position paper, "Keeping Americans Safe"
PolitiFact, Aug. 5, 2016, "Nuclear deal allows Iran to access its frozen assets"
PolitiFact, Sept. 8, 2015, "PolitiFact Sheet: 6 things to know about the Iran nuclear deal"
PolitiFact, Aug. 6, 2016, "NC Sen. Richard Burr says nuclear deal 'will arm Iran'"
The New York Times, Jan. 16, 2016, "Iran Complies With Nuclear Deal; Sanctions Are Lifted"
Phone interview with Aaron Arnold, associate at Harvard University's Belfer Center for Science and International Affairs
Email interview with Eric Lorber, money laundering and terrorism financing expert with the Financial Integrity Network
Email interview with Peter Feaver, Duke University political science professor
Email interview with Jim Walsh, Security Studies Program researcher at the Massachusetts Institute of Technology
Browse the Truth-O-Meter
More by Will Doran
Support independent fact-checking.
Become a member!
In a world of wild talk and fake news, help us stand up for the facts.