Stand up for the facts!
Misinformation isn't going away just because it's a new year. Support trusted, factual information with a tax deductible contribution to PolitiFact.
I would like to contribute
"Ford is moving all of their small-car production to Mexico."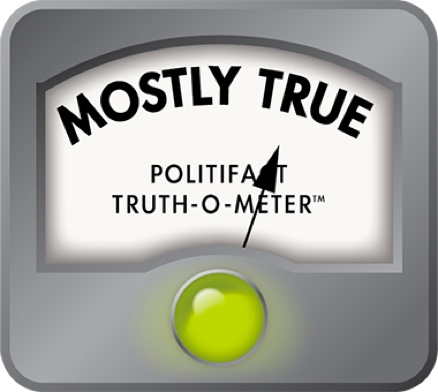 Donald Trump says Ford is moving all small-car production to Mexico
One of Donald Trump's signature issues in his 2016 presidential bid has been stopping the outflow of American jobs to other countries. During a visit to Delaware, Ohio, he cited a recent example of a major American company moving some of its work out of the United States.
"Companies like Carrier are firing their workers and moving to Mexico," Trump said. "Ford is moving all of their small-car production to Mexico. When I'm president, if a company wants to fire their workers and leave for Mexico or other countries, then we will charge them a 35 percent tax when they want to ship their products back into the United States."
Is it really true that "Ford is moving all of their small car production to Mexico"? We'll take a closer look.
On Sept. 14, 2016, Ford CEO Mark Fields announced at an event with Wall Street analysts that "we will have migrated all of our small-car production to Mexico and out of the United States" over the next two to three years, according to Reuters. Ford had already announced that it would be investing $1.6 billion in Mexico for small-car production starting in 2018.
"During contract talks in 2015, Ford confirmed that it would move Focus and C-Max production out of its Wayne, Mich., plant in 2018. The United Auto Workers Union said at the time that Ford planned to build the next Focus in Mexico," Reuters reported. The Focus and the C-Max are considered small cars.
The company cited declining interest among U.S. consumers for smaller cars and growing sales for bigger vehicles in an era of low gasoline prices. It also cited Mexican labor costs that are about 40 percent lower than than in the United States. "That's what it takes to compete in that (small car) segment," Fields told CNN.
So Trump is right that the company is moving all small-car production in North America to Mexico. However, he overlooked a salient point -- that both the company and the United Auto Workers do not expect any jobs to be lost at the Wayne plant.
Instead of building small cars, the Wayne facility will transition into producing SUVs and pickup trucks that are more popular in the United States. "Our U.S. workforce at that plant will be making those new vehicles," said Ford spokeswoman Christin Tinsworth Baker. In the past five years, Ford has invested $12 billion in U.S. plants and created nearly 28,000 U.S. jobs, Baker said. In all, the company has 85,000 U.S. employees.
In a September interview with Fox News, Trump mischaracterized the changes at Ford, saying the company planned to "fire all their employees in the United States and … move to Mexico."
The company aggressively countered that allegation. In an interview with CNN, Fields was asked whether the company would cut any U.S. jobs as part of the relocation of work to Mexico. He said, "Absolutely not. Zero. Not one job will be lost. Most of our investment is here in the U.S. And that's the way it will continue to be."
In his speech in Ohio, however, Trump stuck closer to the facts.
Our ruling
Trump said that "Ford is moving all of their small-car production to Mexico." That's correct as far as it goes, but framing it that way ignores an important qualifier -- that no U.S. jobs will be lost in the transition. The company says that workers at the Ford plant in question will instead make SUVs and pickups. We rate the statement Mostly True.
https://www.sharethefacts.co/share/0f5ed3db-289b-4d1c-a1d6-4c03ac61e82e
Donald Trump, remarks at a rally in Delaware, Ohio, Oct. 20, 2016
Reuters, "Ford to move all small-car production to Mexico from US: CEO," Sept. 15, 2016
CNNMoney.com, "Ford CEO: Donald Trump is wrong about Mexico," Sept. 15, 2016
Email interview with Christin Tinsworth Baker, Ford spokeswoman, Oct. 20, 2016
Browse the Truth-O-Meter
More by Louis Jacobson
Support independent fact-checking.
Become a member!
In a world of wild talk and fake news, help us stand up for the facts.