Stand up for the facts!
Our only agenda is to publish the truth so you can be an informed participant in democracy.
We need your help.
I would like to contribute
"You've got a medical report on me that meets the same standard as Mitt Romney and Barack Obama."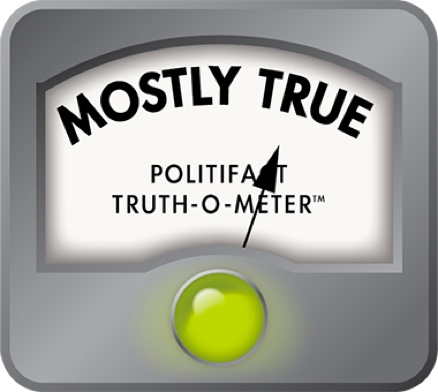 Comparing the medical histories of Clinton, Trump, Romney and Obama
Hillary Clinton's near-collapse at a Sept. 11 memorial service and the subsequent revelation that she had been diagnosed with pneumonia two days earlier has people wondering about the health of the two major presidential candidates.
The Clinton campaign promised more medical data on her health, and Republican Donald Trump pledged to release details of a recent checkup. Both candidates have already released letters from their doctors saying they are healthy enough to be president.
Clinton's team argues that Trump has released less information about his health than Clinton. In an interview with Anderson Cooper on CNN, Clinton said her two-page 2015 letter from her physician is consistent with what presidential candidates have released in the past.
"You know, you've got a medical report on me that meets the same standard as Mitt Romney and Barack Obama" when the two ran for president, Clinton said. "Donald Trump's doctor said he'd be the healthiest president in history. That's just not even serious."
When Cooper asked what additional information she would be supplying, Clinton did not offer any details. "Well, we're going to be releasing more information, and I think it's fair to say, we've already met the standard of disclosure of past presidential candidates like Mitt Romney and President Obama."
Actually, there is no "standard" for the type of medical information that should be released. The experts we consulted agreed. But Clinton's disclosures are on the same level as Obama and Romney in previous elections. 
"There is no 'standard' of medical disclosure, just whatever the voting public is comfortable with," said Jerald Podair, professor of history at Lawrence University in Wisconsin. "This means, of course, that as much secrecy as possible has been the historical norm."
Thus, he said, the public didn't know about Grover Cleveland's cancer, Franklin Roosevelt's paralysis or John Kennedy's Addison's disease. "All kept the true nature of their illnesses secret from the American public. Obviously, is is harder to do so today, but as Hillary ('darn these allergies') Clinton has shown, the system can still be gamed."
"This is an imaginary standard set up by candidates," said Brooks Simpson, a presidential historian at Arizona State University.
Interest in candidate medical records has varied over time.
There was a lot of interest when John McCain ran against Obama in 2008. McCain was 71 and had a history of skin cancer. He released 1,173 pages of records going back to 2000.
In contrast, medical records were not much of an issue in 2004 when George W. Bush, then 58, sought re-election against John Kerry, then 60. Both were known to be big fitness enthusiasts. Bush had received regular checkups as president but that year decided to have his physical after the election.
As CNN reported at the time, "Neither President Bush nor Senator Kerry have released their full medical records, but there isn't much public pressure for either man to release more details. Americans may want a healthy commander-in-chief, but 61 percent say the president has the same rights as other citizens to keep medical records private, compared to just 38 percent in favor of releasing all information that might affect his ability to serve."
It's more of an issue today, in part, because both candidates are so old. "These people are in the Ronald Reagan category," said Simpson.
Trump, if elected, would be the oldest person to assume the presidency. Clinton would be the second oldest behind Reagan. "Maybe 70 is the new 60, but these people are old," Simpson said.
"Neither one has really satisfied issues of disclosure in the public mind," although Clinton has been more forthcoming, he said. "Trump's efforts have been pretty feeble. But the incident on Sunday and the cough just illustrated a personal attack narrative and has given traction to an accusation that her health is less than ideal. This is a way not just to raise questions about candidate health, but about candidate transparency."
When we contacted the Clinton campaign, spokesman Josh Schwerin acknowledged that there is no real standard. He said the candidate was simply referring to the examples of Obama and Romney as a relevant point of comparison.
How do their medical summaries compare?
| | | | | |
| --- | --- | --- | --- | --- |
| Candidate | Obama | Romney | Clinton | Trump |
| Year | 2008 | 2012 | 2015 | 2015 |
| Words in doctor letter | 280 | 535 | 578 | 174 |
| Blood pressure | 90/60 | 130/80 | 100/65 | 110/65 |
| Heart rate | 60 | 40 | 72 | Not mentioned |
| Triglycerides | 44 | 179 | 69 | Not mentioned |
| Total cholesterol | 173 | 169 | 195 | Not mentioned |
| Good cholesterol | 68 | Not mentioned | 64 | Not mentioned |
| Bad cholesterol | 96 | Not mentioned | 118 | Not mentioned |
| Prostate-specific antigen (PSA) | 0.6 | Normal | Not relevant | .015 |
| Allergies mentioned? | No | Yes | Yes | No |
| Past health problems detailed? | No | Yes | Yes | Yes |
| Family history mentioned? | Yes | Yes | Yes | No |
Because there is no standard, the doctors of different candidates included different levels of detail.
The letters for all four candidates gave blood pressure. The letters for Obama, Romney and Clinton offered at least some blood test results, such as total cholesterol. Trump's does not. Family history, a key factor for predicting a person's lifespan or potential health problems, is missing from Trump's letter.
The doctors for Clinton and Romney go into more detail about the candidate's past health problems, but that may be because they had some issues in the past.
We don't know about Trump's history, but the detailed 2014 health report for Obama once he became president says he's had no significant medical problems, including no surgeries.
The most detailed template was Obama's annual presidential physical. The 2014 report contains far more information than he released when he first ran in 2008. It talks about immunizations. It lists medications (without giving doses), a fasting blood sugar level and cholesterol counts. There's also discussion of the status of his heart, lungs, eyes, head neck, bones, muscles, nerves and skin.
"Probably Hillary is about right since the standard is that most politicians conceal their debilitating illnesses or fabricate (maybe exaggerate) how wonderfully healthy they are," said Bert Rockman, professor emeritus of political science at Purdue University. Because of their age, "there is bound to be something wrong with each of them despite Trump's likely-dictated note to his doctor, which meets the standard of a school boy note."
"Of course, some candidates are in terrific shape — Romney and Obama, for example, and Carter," he said. "And you likely wouldn't run for president if you were seriously (physically) debilitated," putting the cases of Kennedy and Roosevelt aside.
"In other words," said Rockman, "the bar is really low, and Hillary likely met it by historical standards."
Our ruling
Clinton said, "You've got a medical report on me that meets the same standard as Mitt Romney and Barack Obama."
If Romney and Obama exemplify a standard, then the information Clinton has provided to the public is on a comparable level.
But Clinton's statement implies a standard that doesn't really exist, according to the experts. And both the quality and quantity of information on presidential candidates has varied widely.
Because the statement is accurate but needs clarification or additional information, we rate it Mostly True.
https://www.sharethefacts.co/share/166c35be-09a0-4fb1-87c0-ec2491afc7ed
CNN, "Hillary Clinton's full Anderson Cooper phone interview," Sept. 12, 2016; "First Patient," Oct. 3, 2004 and "Do voters have the right to know presidential candidates' health histories?" Dec. 15, 2015
Email, Jerald Podair, professor of history, Lawrence University, Sept. 13, 2016
Interview, Brooks Simpson, presidential historian, Barrett, the Honors College at Arizona State University, Sept. 13, 2016.
Email, Bert Rockman, professor emeritus of political science, Purdue University, Sept. 13, 2016
Emails, Josh Schwerin, Hillary Clinton campaign, Sept. 13, 2016
Email, James Hoopes, Murata professor of ethics in business, Babson College, Sept. 13, 2016
PolitiFact, "What we know about the health of Donald Trump and Hillary Clinton," Aug. 16, 2016
Agence France Presse, "Bush postpones election-year doctor's visit," accesed through Nexis.com, Oct. 5, 2004
CBS News, "A Look At McCain's Medical Records," May 23, 2008
Politico, Obama health letter, May 29, 2008
Document cloud, Mitt Romney health letter, Aug. 25, 2012
Hillary Clinton campaign, Hillary Clinton health letter, July 28, 2015
Donald Trump campaign, Donald Trump health letter, Dec. 4, 2015
WhiteHouse.gov, Barack Obama's periodic physical exam, June 12, 2014
George W. Bush archive, "Summary of the President's Physical Examination," Aug. 4, 2001
Browse the Truth-O-Meter
More by C. Eugene Emery Jr.
Support independent fact-checking.
Become a member!
In a world of wild talk and fake news, help us stand up for the facts.