Stand up for the facts!
Our only agenda is to publish the truth so you can be an informed participant in democracy.
We need your help.
I would like to contribute
Says Hillary Clinton and Tim Kaine "want to shut down shale, and shut down natural gas."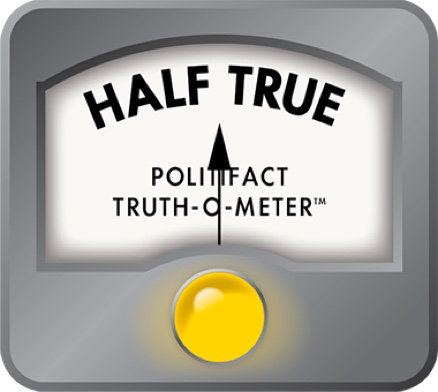 Donald Trump wrong to say Hillary Clinton wants to shut down natural gas, fracking
The weekend before the first presidential debate, Donald Trump went to Roanoke, Va., to talk about energy.
"Here, in Virginia, we are going to end the war on American energy and on our miners. Hillary Clinton says she wants to put the miners out of work," Trump said. "Clinton and (vice presidential candidate Tim) Kaine also want to shut down shale, and shut down natural gas. What they've done is incredible."
Shale has become a dominant source of fossil fuels in the United States, thanks to a controversial process known as fracking. It wrings natural gas out of bedrock in a process that was once not considered profitable for extracting oil or natural gas. The process is efficient enough that the country's dependence on petroleum imports has declined precipitously.
We wondered if the Clinton team wants to shut down fracking and the natural gas it produces.
Trump's evidence
Natural gas, composed mostly of methane, is extracted from shale rock by injecting it with pressurized water, sand and chemicals. Supporters note that burning it produces far less pollution than other types of fossil fuel.
Critics say the process can cause earthquakes, water contamination and the unwanted release of methane, a gas renowned for trapping heat, which makes it a big player in climate change.
When we contacted the Trump campaign, spokesman Jeff Wood sent us to a transcript of the March 6, 2016, Democratic presidential debate in Flint, Mich., where Clinton and her primary opponent, Bernie Sanders, were asked about fracking.
Sanders said he opposed it unconditionally. Clinton, who had come under fire by Sanders for her support of the technology, was less absolute.
"I don't support it when any locality or any state is against it, number one," Clinton told the crowd. "I don't support it when the release of methane or contamination of water is present. I don't support it — number three — unless we can require that anybody who fracks has to tell us exactly what chemicals they are using."
"So by the time we get through all of my conditions, I do not think there will be many places in America where fracking will continue to take place," she continued. "And I think that's the best approach, because right now, there are places where fracking is going on that are not sufficiently regulated. So first, we've got to regulate everything that is currently underway, and we have to have a system in place that prevents further fracking unless conditions like the ones that I just mentioned are met."
When we looked at this issue previously, we found evidence that Clinton had been supportive of fracking as secretary of state. She promoted it for Latin America, China, India and the European Union.
In a 2009 speech, Clinton said: "Now, I know that in some places it's controversial. But natural gas is the cleanest fossil fuel available for power generation today, and a number of countries in the Americas may have shale gas resources." She did, however, call for "smart regulations" on the practice.
In an April debate against Sanders in Brooklyn, N.Y., Clinton was asked about her past statements as secretary of state. Clinton characterized natural gas as a "bridge" between dirty fuels, such as coal, and clean renewable energy, and said she was promoting it to other countries as a way to get European countries away from Russian sources.
"So we did say natural gas is a bridge. We want to cross that bridge as quickly as possible, because in order to deal with climate change, we have got to move as rapidly as we can," she said.
Shut down fracking?
Only a minority of states have banned fracking. Vermont was the first in 2012 and New York followed in 2014. Maryland has a moratorium on the practice through next year. Some municipalities have banned it as well.
As for places with the unwanted release of methane — known as "fugitive emissions" — a 2015 study found that would apply to roughly one in 25 facilities.
On the issue of water pollution, fracking critic Robert Howarth of Cornell University has estimated that 4 percent of production wells pollute water. And a 2015 EPA study said there were 151 cases of fracking spills in 11 states between 2006 and 2012..
When it comes to disclosing the chemicals used in the process, the impact of Clinton's rules would not be large. According to the American Chemical Society, 26 of the 28 states where fracking is done already have some disclosure rules, although those rules may not provide complete disclosure because they often drilling companies to protect what are regarded as trade secrets.
It seems likely that if Clinton's ideas were put in place, drillers in the remaining two states could simply disclose the ingredients of their fracking solution the way drillers in other states have.
When we asked the Clinton campaign about Trump's allegation, spokesman Josh Schwerin directed us to her campaign website and this statement:
"Switching to natural gas has avoided thousands of premature deaths and more than 100,000 asthma attacks by improving air quality, while creating good paying jobs and careers and helping reduce U.S. carbon pollution to its lowest level in 20 years," Clinton is quoted as saying. "With strong safeguards in place, natural gas can play an important role in our transition to a clean energy economy . . . As President, I will ensure natural gas production is safe and responsible in those communities that choose to pursue it."
The Clinton campaign said she and Kaine agree on fracking and natural gas.
Our ruling
Trump said that Clinton and Kaine "want to shut down shale, and shut down natural gas."
Trump's campaign points to Clinton's statements that she wants to put restrictions on the fracking process used to extract natural gas from shale, and she wants to move the world away from petroleum sources as quickly as possible.
But a review of Clinton's statements also make clear that she supports natural gas as a cleaner alternative to coal and oil. Her restrictions would not shut down fracking or natural gas production.
Because the statement is partially accurate but leaves out important details or takes things out of context, we rate it Half True.
https://www.sharethefacts.co/share/17249e35-e2f6-4360-87a7-f75aadf95c06
Emails, Jeff Wood, spokesman, Donald Trump campaign, Sept. 25, 2016
Emails, Josh Schwerin, spokesman, Hillary Clinton campaign, Sept. 25, 2016
U.S. Energy Information Administration, "Table 1. Coal Production and Number of Mines by State and Mine Type, 2014 and 2013," Annual Coal Report 2014
YouTube, "FULL EVENT: Donald Trump MASSIVE 20K Rally In Roanoke, Virginia (9/24/2016) Trump Virginia Speech," Sept. 24, 2016
CNN, "Full transcript: CNN Democratic debate," April 15, 2016 and "U.S. energy independence looks 'tantalizingly close,'" Aug. 9, 2016
New York Times, "Transcript of the Democratic Presidential Debate in Flint, Mich.," March 6, 2016
PolitiFact, "Does Hillary Clinton support fracking?" April 13, 2016
U.S. Department of State, "Energy and Climate Partnership of the Americas (ECPA) Ministerial; remarks; Hillary Rodham Clinton," April 15, 2010
MSNBC, "Why Hillary Clinton is repeating herself on fracking," updated Dec. 2, 2014
Congress.org, "States Take Wait and See Approach on Fracking Regulation," July 9, 2015
The Houston Chronicle, "List of places that ban fracking keeps growing," Feb. 2, 2015
Environmental Science & Technology, "Methane Emissions from the Natural Gas Transmission and Storage System in the United States," July 21, 2015
Environmental Protection Agency, "Assessment of the Potential Impacts of Hydraulic Fracturing for Oil and Gas on Drinking Water Resources," June 2015
American Chemical Society, "Tracking Fracking," undated, accessed Sept. 25, 2016
HillaryClinton.com, "Statement on Plan to Ensure Safe and Responsible Natural Gas Production," undated, accessed Sept. 25, 2016
Browse the Truth-O-Meter
More by C. Eugene Emery Jr.
Support independent fact-checking.
Become a member!
In a world of wild talk and fake news, help us stand up for the facts.