Stand up for the facts!
Our only agenda is to publish the truth so you can be an informed participant in democracy.
We need your help.
I would like to contribute
Says former Sen. Rick Santorum said, "Sometimes pregnancy is God's way of comforting rape victims."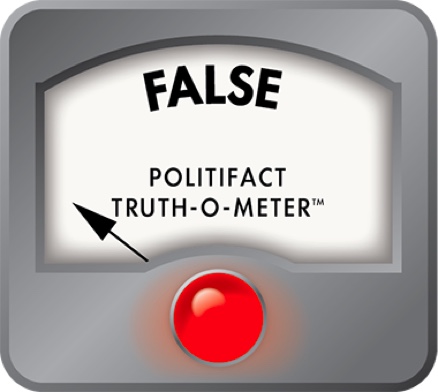 'Uspoln' puts rape pregnancy words in ex-US Sen. Rick Santorum's mouth
Former Pennsylvania Sen. Rick Santorum has been a pro-life stalwart throughout his political career. He's regularly said he would oppose abortion in all cases -- even incidents of rape and incest. But did he recently go so far as to say, "Sometimes pregnancy is God's way of comforting rape victims?"
According to Uspoln, a "U.S. political news" site with 23,000 Facebook likes (and some of the weirdest "you may also like" links of all time), Santorum made the comment on "Piers Morgan Live" in mid-February. It uses that quote as a headline and then presents further comments about abortion attributed to Santorum.      
Here's the thing: Santorum didn't give most of these comments in the way Uspoln presented them, and he certainly didn't say them this year.
Uspoln published the article Feb. 18, 2017. Its article states Santorum spoke to Piers Morgan "last Friday," which would have been Feb. 17. That is not possible. Morgan has been off the air since 2014. He is currently working as an editor for the Daily Mail.  
Now, during his time on CNN, Morgan did once host Santorum. During Santorum's presidential run in 2012, he and his family appeared on the show, and Morgan asked him about abortion in cases of rape and incest.  
Uspoln's article partially paraphrases and partially directly quotes Santorum. It says, "sexual assault victims should 'accept this horribly created' pregnancy because it is 'nevertheless a gift in a very broken way' and that, when it comes down to it, a victim 'just has to make the best out of a bad situation.'"
Uspoln also quotes Santorum and Morgan having an exchange in which Santorum compares a pregnancy through rape to a suicide bombing.   
This is the full statement Santorum made to Morgan, according to a transcript from the show: "As horrible as the way that that son or daughter and son was created, it still is her child. And whether she has that child or doesn't, it will always be her child. And she will always know that. And so to embrace her and to love her and to support her and get her through this very difficult time, I've always, you know, I believe and I think the right approach is to accept this horribly created -- in the sense of rape -- but nevertheless a gift in a very broken way, the gift of human life, and accept what God has given to you. As you know, we have to, in lots of different aspects of our life. We have horrible things happen. I can't think of anything more horrible. But, nevertheless, we have to make the best out of a bad situation."
According to the transcript, the conversation between Santorum and Morgan about suicide bombing and a pregnancy from a rape did not occur.     
Santorum's remarks did lead to some backlash in 2012. An opinion writer for The Guardian, for instance, wrote a critical story on Santorum with the headline, "Rick Santorum thinks pregnancy through rape is God's gift? Seriously?"  
Uspoln did not respond to an interview request. The site appears to regularly twist and embellish the words of famous politicians and then publish or re-publish the articles months after the comments were made. For example, after a Sarah Palin Facebook post about Black Lives Matter caused controversy last summer, Uspoln ran an article falsely claiming Palin said, "I'm sick of being called a racist. If it's dangerous for blacks here, they can go back to Africa."
Our ruling
The website Uspoln claimed Rick Santorum said, "Sometimes pregnancy is God's way of comforting rape victims" and also made other comments comparing suicide bombing and pregnancies because of rape in February 2017 on a TV show with Piers Morgan. "Piers Morgan Live" has not been on television since 2014 and in a 2012 interview with Morgan, Santorum made no such comments. Though he did say pregnancy from a rape should be "approached...as a gift in a very broken way," Santorum did not say pregnancy was "God's way of comforting rape victims" and made no comparisons to suicide bombing.  
We rule the claim False.
https://www.sharethefacts.co/share/217c286c-c3a4-4b7a-94f0-202ed85b3329
Browse the Truth-O-Meter
More by Mark Dent
Support independent fact-checking.
Become a member!
In a world of wild talk and fake news, help us stand up for the facts.