Stand up for the facts!
Our only agenda is to publish the truth so you can be an informed participant in democracy.
We need your help.
I would like to contribute
The Trump administration has granted amnesty to "nearly 100,000 'Dreamers' "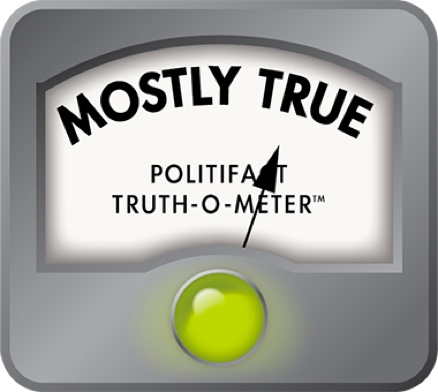 Ann Coulter says Trump granted amnesty to nearly 100,000 'Dreamers.' Is that true?
Conservative pundit Ann Coulter, a staunch supporter of Donald Trump during the presidential campaign, is calling him out for stalling on key immigration promises, including the deportation of hundreds of thousands of young immigrants. 
Trump campaigned on a hardline stance against immigrants who violated immigration laws, promising to deport them and to "immediately terminate" programs created during the Obama administration. One of those programs, Deferred Action for Childhood Arrivals (DACA), gives deportation reprieves to immigrants who came to the United States as children and have no legal authorization to live here, so-called "Dreamers."
As of June 8, DACA was still in effect, and the Trump administration continued to take applications, prompting Coulter to tweet: "HOW TRUMP LOSES THE NEXT ELECTION. Nearly 100,000 'Dreamers' Granted Amnesty In Trump's Opening Months."
Her tweet linked to an article from conservative news outlet The Daily Caller, headlined "Nearly 100,000 'Dreamers' Granted Amnesty In Trump's Opening Months" — part of the text in Coulter's tweet.
We wondered if her tweet was accurate. We found that the numbers are in line with data from U.S. Citizenship and Immigration Services, but whether the program grants "amnesty" is a matter of debate among experts.
DACA by the numbers
About a month into Trump's administration, Department of Homeland Security Secretary John Kelly rescinded all previous enforcement priorities memos. But he kept in place a June 2012 memo that created DACA and a November 2014 memo for a separate deferred action program that would have benefitted immigrants in the country illegally who are parents of U.S. citizens and lawful permanent residents.
 On June 15, the Trump administration revoked the memo that benefitted the parents, but said DACA would remain in place. White House press secretary Sean Spicer on June 19 said DACA is under review but did not provide a timeline for a final determination. 
Close to 800,000 immigrants have been approved for DACA, according to USCIS data released June 8. The latest numbers show approvals from 2012 up to March 31, 2017.
From January 2017 to March 2017, immigration officials approved more than 124,000 applications: 107,524 renewal cases plus 17,275 initial cases.
How many have been approved since Trump took office Jan. 20? 
The Daily Caller, citing USCIS numbers, reported that the Trump administration through DACA had "given amnesty to an estimated 98,000 illegal immigrants." 
We reached out to The Daily Caller's reporter, Alex Pfeiffer, who told us he reached the estimated 98,000 by dividing the total number of cases approved from January through March by the number of business days in that period, and removing days in January that Trump was not in office.
Pfeiffer said he only used business days in the calculation, because those are the only days that USCIS accepts DACA applications. USCIS told us DACA applications are not accepted online, only by mail, and that the lockbox where requests are sent typically accepts mail from Monday through Friday. 
We did our own calculation using Pfeiffer's parameters and also got about 98,000.
We asked USCIS for a month-by-month breakdown of approved applications, but did not receive the information by deadline.
Coulter did not respond to our inquiries sent via social media or her booking company.
DACA recipients granted amnesty?
Whether DACA beneficiaries are getting amnesty is a not a settled matter among experts.
We've noted before that a legal definition of amnesty is "a blanket abolition of an offense by the government, with the legal result that those charged or convicted have the charge or conviction wiped out … Amnesty is not a pardon as some believe, since a pardon implies forgiveness, and amnesty indicates a reason to overlook or forget the offenses."
The common reference for amnesty in modern American politics is the Immigration Reform and Control Act of 1986, signed by President Ronald Reagan. The law paved the way for immigrants who were in the country illegally to become lawful permanent residents if they met certain requirements, including being in the country by Jan. 1, 1982.
Individuals granted DACA are protected from deportation for two years and are eligible for work permits. Recipients can apply to renew their DACA protection, but are not granted a lawful status.
DACA is a temporary and limited kind of relief that can be revoked by the president, said Kevin R. Johnson, an immigration law expert and dean of the University of California, Davis School of Law.
"DACA does not create a lasting 'amnesty' and lawful permanent residence" as did the 1986 law, Johnson said.
Others see it differently.
Based on the benefits it offers, DACA is amnesty, said Steven Camarota, director of research for the Center for Immigration Studies, which favors low-immigration levels.
"I would define an amnesty as such whenever the law is set aside and the normal penalty is waived as a matter of policy," Camarota said. "The normal penalty for being in the U.S. illegally is removal."
Our ruling
In a tweet, Coulter said the Trump administration granted amnesty to "Nearly 100,000 'Dreamers.' " 
Trump assumed office Jan. 20. Data from USCIS shows more than 124,000 people have been approved for DACA from January to March.
Calculations of the total applications approved January through March that only include days Trump has been in office show that, at least, about 98,000 were approved.
Whether the program is amnesty is subject to interpretation. For that reason, we rate Coulter's claim Mostly True.
Twitter, @AnnCoulter tweet, June 8, 2017
Department of Homeland Security, DAPA and DACA expansion memo, Nov. 20, 2014
Department of Homeland Security, original DACA memo, June 2012
PolitiFact, Trump-O-Meter, Terminate Barack Obama's immigration executive orders 'immediately', last updated June 16, 2017
Email exchange, Alex Pfeiffer, The Daily Caller reporter, June 20, 2017
Email exchange, USCIS press office, June 20, 2017
Email interview, Kevin R. Johnson, an immigration law expert and dean of the University of California, Davis School of Law, June 20, 2017
Email interview, Steven Camarota, director of research for the Center for Immigration Studies, June 20, 2017
White House, Press Gaggle by Press Secretary Sean Spicer, 6/19/2017
USCIS, Number of DACA application approvals up to March 31, 2017, released June 8, 2017
PolitiFact, Sen. Marco Rubio says immigration bill is not amnesty, April 17, 2013
Law.com, definition of amnesty, accessed June 21, 2017
Browse the Truth-O-Meter
More by Miriam Valverde
Support independent fact-checking.
Become a member!
In a world of wild talk and fake news, help us stand up for the facts.