Stand up for the facts!
Our only agenda is to publish the truth so you can be an informed participant in democracy.
We need your help.
I would like to contribute
Says police officers smoke marijuana once a year as part of their jobs.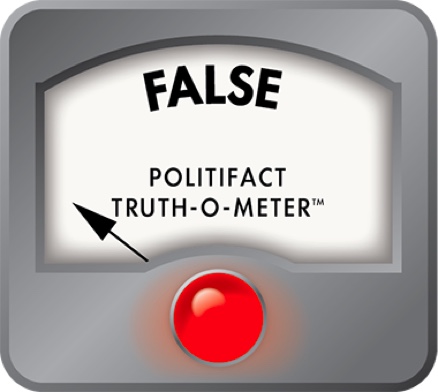 Police smoke marijuana yearly to test potency, Alex Jones says
Texas-based radio show host Alex Jones admitted during a child custody hearing that he has smoked cannabis, in violation of state law. But he only smoked it once per year, he reasoned — just like law enforcement does.
Locked in a custody battle over his three children with his ex-wife, the conservative media personality made the admission during testimony in Austin, Texas, on April 20. That's right, 4/20.
Jones said that he tries marijuana annually to gauge its potency. He argued from the stand that he thought marijuana was too strong, a shortcoming he blamed on billionaire George Soros, a frequent scapegoat of conspiracy theorists.
Why smoke cannabis annually?
"That's what police do," Jones said, according to the Austin American-Statesman. "They smoke it once a year, too."
Jones has admitted to smoking marijuana before, and notably sparked up on Joe Rogan's podcast earlier this year. While marijuana is illegal in Texas, it is decriminalized in California, where Rogan's show was recorded.
PolitiFact has checked claims about marijuana potency before, the gist being that cannabis is as much as 800 percent stronger now than it was four decades ago.
We attempted to contact Jones through his InfoWars website to suss out the basis of his claim that cops rolled their own, but did not receive a response. Jones may have been speaking anecdotally, with or without firsthand knowledge of stoner cops. Law enforcement agencies, however, suggested that Jones was just blowing smoke.
Where there's smoke
In general, when people talk about marijuana's potency, they mean the levels of tetrahydrocannabinol, or THC. That's the main psychoactive ingredient in marijuana, which contains hundreds of chemical compounds.
There's plenty of research that shows THC levels have increased over the years. A 2010 study by researchers at the National Center for Natural Products Research at the University of Mississippi, for example, found that the THC concentrations had risen by about 171 percent in just a 16-year time period. That study used 46,000 samples of marijuana seized during law enforcement raids.
But there was no indication that cops smoked the ganja to find out how strong it was. That's a job for a laboratory.
There are a couple of methods for measuring the chemical compounds in cannabis, but all of them take a certain level of scientific proficiency and technical equipment. Many states that have medical or recreational marijuana have labs that test for these compounds; one company in California has even developed testers for business use outside of a lab.
But it's not like you can take a few hits and spit out a THC percentage, the way Jones implied.
We don't know how he concocted his theory, or which police department he believed was letting officers light up, but we checked with a few places.
The Texas Department of Public Safety said they did not have any specifics about departmental drug testing, either for seized evidence or for employees. The state does operate several crime labs that test drugs seized as evidence.
The Texas Police Association also did not tell us any particular procedure used by law enforcement agencies. They only said that each department in the state would have its own policies and methods.
Since Jones is in Austin, we went to the local P.D. to ask them if it's possible cops spark up the local dank to get an idea of how strong the weed is there.
In a word, no.
Jennifer Herber, a spokeswoman for the Austin police department, pointed out that the department's policy manual prohibited marijuana use. The department does not test cannabis, she said.
On a federal level, Drug Enforcement Administration spokesman Russ Bayer said the DEA operates its own labs to gauge potency and purity of all kinds of drugs, including marijuana. Depending on the case, the labs may test evidence from federal cases or helping local authorities.
But agents toking up to give drugs a personal test?
"It's laughable. Not plausible," Bayer said. "Frankly, it's insulting. The DEA would never allow consumption of any controlled substance."
Our ruling
Defending his own use of marijuana, Jones said police officers "smoke it once a year, too."
He didn't offer any proof of his claim that cops light up joints annually to test the strength of cannabis, and we couldn't find any. Perhaps Jones anecdotally knows or has heard of police officers who don't keep off the grass, but we didn't find a cop shop that said that was a policy. Law enforcement agencies generally test marijuana potency in a laboratory setting, and not by lighting up in the squad room (or elsewhere).
For lack of evidence, we rate this statement False.
Austin American-Statesman, "ALEX JONES TRIAL: Jones tears up, tells ex-wife's lawyer, you have 'no decency, zero'," April 20, 2017
Journal of Forensic Sciences, "Potency Trends of D9 -THC and Other Cannabinoids in Confiscated Cannabis Preparations from 1993 to 2008*," September 2010
PolitiFact, "Marijuana legalization opponent Heidi Heilman says today's marijuana is 300 percent to 800 percent stronger than in the past," March 30, 2014
Seattle Times, "World's strongest weed? Potency testing challenged," Jan. 3, 2015
CBS News, "Marijuana far more potent than it used to be, tests find," March 23, 2015
RealNSE.com, "Alex Jones Smokes Weed With Joe Rogan Live On Air," Feb. 2, 2017
KDVR.com, "Boulder company develops way to test potency of marijuana instantly," May 14, 2015
PolitiFact, "Carly Fiorina says pot is stronger today than in the past," Sept. 16, 2015
PolitiFact Florida, "'Medical-grade marijuana' won't get you high, cannabis amendment supporters say," Aug. 19, 2016
Austin Police Department, "Policy Manual," accessed May 3, 2017
Texas Department of Public Safety, "Drug Analysis Section," accessed May 3, 2017
Texas Department of Public Safety, "Physical Evidence Handbook," accessed May 3, 2017
Interview with Karen O'Keefe, Marijuana Policy Project director of state policies, May 2, 2017
Interview with Jennifer Herber, Austin Police Department spokeswoman, May 3, 2017
Interview with Russ Bayer, Drug Enforcement Administration, May 3, 2017
Interview with Lauren Wilson, Sage Analytics spokeswoman, May 4, 2017
Interview with Bradley Douglass, The Werc Shop laboratory scientist, May 4, 2017
Browse the Truth-O-Meter
More by Joshua Gillin
Support independent fact-checking.
Become a member!
In a world of wild talk and fake news, help us stand up for the facts.