Get PolitiFact in your inbox.
Congressional Republicans "want to take health care from millions of Americans in order to pay for" a tax bill.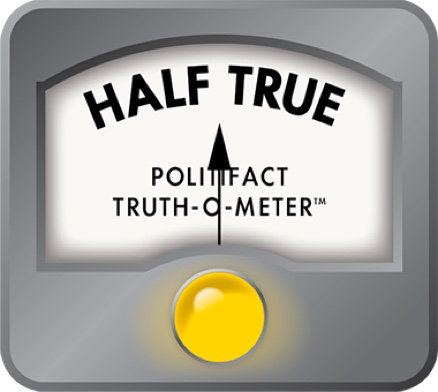 What impact will eliminating individual mandate have on uninsured, deficit?
Republican efforts to reverse portions of the Affordable Care Act are not over yet.
A few months after failing to pass a bill repealing and replacing the law, some senators are pushing to add a provision to the tax overhaul bill that would repeal the individual mandate, which requires Americans to have health insurance coverage or else pay a tax penalty.
While the repeal provision wasn't in the original version of the bill released by Senate Republican leaders, Sen. Rand Paul, R-Ky., said on Twitter he would introduce an amendment to add it.
Democratic critics of both the tax bill and the effort to undo the Affordable Care Act pounced on this development.
"Apparently giving a massive tax cut to corporations and the wealthy wasn't enough for the GOP. Now they want to take health care from millions of Americans in order to pay for it," tweeted New York Gov. Andrew Cuomo, a Democrat.
We wondered whether Cuomo was right to say that congressional Republicans "want to take health care from millions of Americans in order to pay for" a tax bill.
We found his phrasing misses some important points, including this one: Many Americans would be choosing to give up their health insurance if the individual mandate were lifted.
New York Gov. Andrew Cuomo at a news conference on Nov. 2, 2017. (Jefferson Siegel/New York Daily News/TNS) 
Where Cuomo has a point
In the tweet, Cuomo linked to a story in The Hill newspaper headlined, "Senate GOP tax bill will include repeal of ObamaCare mandate."
The article supports Cuomo's assertion that savings from eliminating the individual mandate could help offset lower revenues from tax cuts elsewhere in the bill. The general principle is this: The more money an additional tax bill provision saves for the Treasury, the more tax cuts lawmakers can propose without adding more to the deficit.
Getting rid of the mandate "will raise an estimated $300 billion to $400 billion … that could be used to pay for lowering individual and business tax rates even further," The Hill article said.
The estimate cited in The Hill story originated with an analysis by the Congressional Budget Office, the nonpartisan office that studies legislative proposals for Congress. The CBO projected that eliminating the individual mandate would reduce the federal deficit by $338 billion over 10 years.
The savings would come from a reduction in subsidy payments for people who currently buy insurance on the law's online marketplaces but would not do so if the mandate was lifted, and from reductions in Medicaid payments. Collectively, these reductions would more than balance out the loss of penalty payments by uninsured Americans, which CBO projected to be $43 billion in 10 years.
Meanwhile, the CBO also projected that 4 million fewer Americans would have health insurance in 2019 as a result of the individual mandate being eliminated, which would rise to 13 million in 2027.
What Cuomo's claim doesn't tell you
Cuomo is putting the cart somewhat before the horse. For starters, the provision is already controversial among some senators, including Susan Collins, R-Maine -- one of the GOP senators who sank the previous repeal-and-replace effort and whose support is widely expected to be crucial for passing the tax bill.
And even if a Senate bill that includes the individual mandate repeal does pass, the same language appears unlikely to be in the House bill.  In remarks to CNBC, House Speaker Paul Ryan said that his chamber would not include the provision in the version it takes up on the floor, though he left open the possibility that it could be included in the "conference committee" version of the bill that attempts to iron out differences between any bills that pass the House and Senate.
The bigger problem, however, is Cuomo saying that the GOP will be taking away people's coverage. In reality, it's more complicated than that.
Some Americans who are only buying insurance today under threat of the mandate will choose to drop their coverage voluntarily. But if this group is healthier than average, as health care economists say is likely, then the people remaining in the insurance pools would be less healthy — and thus more costly to insure. That would increase premiums, potentially squeezing out some people who, all things considered, would have rather kept their insurance.
If the mandate is lifted, no one knows for sure how many people will drop their coverage voluntarily and how many will have their insurance stripped against their will. The CBO figures do not drill down into the reasons that people will be uninsured -- just that they will be uninsured. Here's CBO's summary (look at the bottom line).
Christine Eibner, a health policy analyst with the RAND Corp., said it's "reasonable" to argue that the disenrollment from Medicaid would be voluntary, since price would not be a factor for beneficiaries. This would account for 1 million fewer Americans with insurance in 2019 and 5 million fewer in 2027, the bulk of them "voluntary."
Eibner said it's harder to guess about disenrollments from the individual market. (The individual market consists of policies purchased outside the employer-provided insurance market.) In previous research, RAND estimated that roughly two-thirds of disenrollment would stem from voluntary choices and one-third would be due to price increases. Other research has put the percentage at about 50-50, said Linda Blumberg, a health policy specialist at the Urban Institute.
Cuomo did say "millions" rather than specifying CBO's 13 million figure, and even on the lower end, estimates such as these could well produce "millions" of involuntary losses of coverage. But it's worth remembering that there's a lot of uncertainty in the numbers.
Our ruling
Cuomo said that congressional Republicans "want to take health care from millions of Americans in order to pay for" a tax bill.
Cuomo has a point that Republicans would be able to increase the size of their tax cuts if they could count on a projected $338 billion in added revenue over 10 years, and ending the individual mandate would result in an estimated 13 million fewer Americans with health coverage by 2027.
However, it's worth pointing out that ending the individual mandate isn't the same thing as stripping away health insurance away for a large number of Americans. While some would lose access to health insurance due to increased premiums, many others would drop their coverage voluntarily.
We rate the statement Half True.
Andrew Cuomo, tweet , Nov. 15, 2017
Congressional Budget Office, "Repealing the Individual Health Insurance Mandate: An Updated Estimate," November 2017
Rand Paul, tweet, Nov. 14, 2017
The Hill, headlined, "Senate GOP tax bill will include repeal of ObamaCare mandate
The Commonwealth Fund, "The Ramifications of Repealing the Individual Mandate," Aug. 13, 2015
CNBC, "Paul Ryan: Senate will have to take lead on scrapping Obamacare individual mandate in the tax bill," Nov. 15, 2017
CNN, "Individual mandate repeal to be included in Senate's tax bill," Nov. 15, 2017
Politico, "CBO: Obamacare mandate repeal would cut deficit by $338 billion," Nov. 8, 2017
Email interview with Gail Wilensky, head of Medicare and Medicaid under President George H.W. Bush, Nov. 15, 2017
Email interview with Christine Eibner, health policy analyst with the RAND Corp., Nov. 15, 2017
Email interview with Linda Blumberg, health policy analyst at the Urban Institute, Nov. 15, 2017
Email interview with Richard Azzopardi, spokesman for Gov. Andrew M. Cuomo, Nov. 15, 2017
Browse the Truth-O-Meter
More by Dan Clark
Support independent fact-checking.
Become a member!
In a world of wild talk and fake news, help us stand up for the facts.