Stand up for the facts!
Our only agenda is to publish the truth so you can be an informed participant in democracy.
We need your help.
I would like to contribute
Says Scott Pruitt's security spending was "somewhat more" than his predecessor.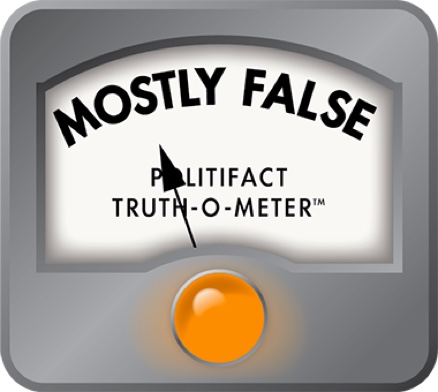 Is Scott Pruitt's security spending somewhat more than predecessor? It's a lot more
President Donald Trump came out in defense of Scott Pruitt, the Environmental Protection Agency administrator under fire for multiple ethics violations, in a tweet April 7.
"While Security spending was somewhat more than his predecessor, Scott Pruitt has received death threats because of his bold actions at EPA. Record clean Air & Water while saving USA Billions of Dollars. Rent was about market rate, travel expenses OK. Scott is doing a great job!"
In this fact-check, we zeroed in on Trump's claim that Pruitt's spending was "somewhat more" than his predecessor.
No public records tally up Pruitt's or his predecessors' individual security costs. But there are many reports and Freedom of Information Act responses comparing Pruitt's practices with his predecessors' — and they suggest that "somewhat more" is not suitable to describe the grandeur of Pruitt's expenditures.
Spending on Pruitt's security detail tallied up to $832,735.40 during his first three months in office, and a soundproof security booth in his personal office cost $24,570, U.S. Rep. Peter DeFazio, D-Ore., detailed in an Oct. 7, 2017, letter to EPA Inspector General Arthur Elkins.
That's "nearly double what the two previous administrators spent on security over that same timeframe," wrote DeFazio, in his capacity as the ranking member on the House Committee on Transportation and Infrastructure.
While we don't have access to the budget breakdown, we unearthed a few details that make Pruitt's security spending stand out.
First off, Pruitt is the first EPA administrator with 24/7 security detail. Pruitt has at least double the number of security guards as Gina McCarthy, the previous EPA administrator under President Barack Obama.
An Associated Press investigation found Pruitt has 20 full-time security agents. The office of Sen. Sheldon Whitehouse, D-R.I., found through an Inspector General information request that nearly three dozen EPA security and law enforcement officers were assigned to Pruitt over a six-week period from mid 2017 to the beginning of 2018.
The schedules obtained by Whitehouse show multiple EPA security agents accompanied Pruitt and his family on vacations, football games and baseball games, during which no EPA business was conducted.
McCarthy, on the other hand, had six or seven full-time guards, according to Liz Purchia, who was McCarthy's spokeswoman at the EPA. Those staffers accompanied her door-to-door during her workday, but did not work around-the-clock or accompany her on personal travel.
EPA chiefs' protection is normally limited to door-to-door security, explained Elgie Holstein, a current director at the Environmental Defense Fund and former Energy Department chief of staff under the Clinton administration.
"The administrator of the EPA is not a high-profile position, and especially not internationally. (During travel) there's typically only a couple of security people, three at most," Holstein said. "Not a phalanx of protection as though he were to be assaulted any moment."
But the reason for Pruitt's security is what special agent in charge Nino Perrotta calls a "high level of unusual interest in the administrator."
Patrick Sullivan, EPA's assistant inspector general for investigations, said Pruitt received more death threats than any of his predecessors. In the interest of Pruitt's safety, the number of death threats is not made publicly available. The rough estimate of over 70 threats has not been updated since September, Inspector General spokeswoman Kentia Elbaum said.
"We have at least four to five times the number of threats against Mr. Pruitt than we had against Ms. McCarthy," Sullivan said.
But in its investigation, the Associated Press found no federal or state court records of arrests or charges for death threats to Pruitt. EPA FOIA analyst Candace White told Buzzfeed senior investigation reporter Jason Leopold in response to a FOIA request that neither the EPA nor the OIG held any records relating to death threats.
"If there is a credible threat, the administrator's protection would be leveraged by D.C. police in town, embassy guards overseas, or uniformed protection in the building," Holstein said. "These existing resources are not the same thing as pulling people off superfund investigations and bringing them to Washington. This is a head scratcher."
Travel
It is tricky to compare travel expenses across various EPA administrations.
In total, the EPA spent about $731,000 on McCarthy's trips and $464,000 on previous EPA administrator Lisa Jackson's trips, according to a document the EPA press office sent reporters in March. The figures lump together both travel and security costs combined for all travelers, not just the administrator.
Those totals encompass the two ex-administrators' entire tenures heading the EPA. McCarthy was in office three and a half years, and Jackson served four years.
Pruitt, on the other hand, had a significantly higher price tag despite entering office in February 2017. An EPA official told the Associated Press "total security costs approached $3 million when pay is added to travel expenses."
McCarthy's trips cost on average less than $120,000 — the price tag a Washington Post report put on Pruitt's June 2017 trip to Italy, where he visited the U.S. Embassy in Rome and took a private tour of the Vatican before attending a meeting of G-7 environment ministers in Bologna.
Our ruling
Trump said Pruitt's "security spending was somewhat more than his predecessor."
"Somewhat more" is a significant understatement of the situation. By almost every measurement available, Pruitt more than doubles his immediate predecessor's spending on security. The White House attributed the additional spending to unprecedented death threats. We were unable to obtain any details on the gravity of those threats.
We rate this statement Mostly False.
Donald Trump, Tweet, April 7, 2018
Email interview with Steven Cheung, White House spokesman, April 9, 2018
E&E News, Big spike in security spending for Pruitt, July 5, 2017
Democrats-transportation.house.gov, Top Democrats Request IG Investigation of EPA Administrator Pruitt's Wasteful Spending, Oct. 7, 2017
Associated Press, Security for EPA chief comes at a steep cost to taxpayers, April 8, 2018
CNN, EPA chief getting his own $25,000 sound-proof booth, Sept. 26, 2017
CNN, EPA pulls agents from criminal investigations to guard Pruitt, Sept. 28, 2017
Washington Post, The Energy 202: EPA chief fires back on flight costs as #BootPruitt campaign revs up, March 28, 2018
Washington Post, Travel costs for EPA chief's security detail topped $30,000 on Italy trip, March 20, 2018
Phone interview with Kentia Elbaum, EPA Inspector General spokeswoman, April 9, 2018
Phone interview with Liz Purchia, Gina McCarthy's spokesperson at EPA, April 9, 2018
Email from EPA press office, March 20, 2018
Interview with Buzzfeed senior investigative reporter Jason Leopold, April 9, 2018
Phone interview with Rich Davidson, Sen. Whitehouse spokesman, April 9, 2018
Phone interview with Elgie Holstein, former Energy department chief of staff under the Clinton administrator and a current director at the Environmental Defense Fund.
Email interview with Bayley Sandy, Committee on Transportation and Infrastructure spokeswoman
Browse the Truth-O-Meter
More by Manuela Tobias
Support independent fact-checking.
Become a member!
In a world of wild talk and fake news, help us stand up for the facts.