Stand up for the facts!
Our only agenda is to publish the truth so you can be an informed participant in democracy.
We need your help.
I would like to contribute
Says Joe Manchin displayed an "unwillingness to change the failed Obamacare."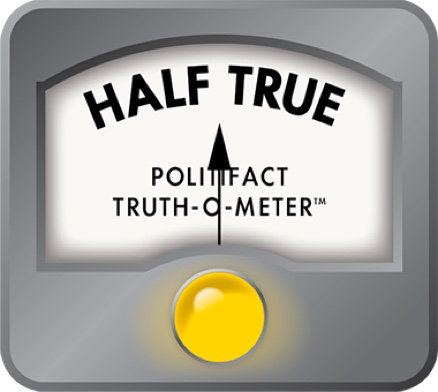 Patrick Morrisey says Joe Manchin won't budge on Obamacare, ignoring bipartisan efforts
As the general election for the seat held by Sen. Joe Manchin, D-W.Va., heated up, West Virginia Attorney General Patrick Morrisey took a shot in a radio interview with Breitbart, saying Manchin too often stands against President Donald Trump, who remains popular in the state.
Referring to Trump's appointee to the Supreme Court, Morrisey said, "If Joe Manchin had his way, Judge (Neil) Gorsuch never would have been able to get a vote" in the Senate.
Morrisey went on to say, "Whether we're talking judicial picks, whether we're talking Trump tax cuts, whether we're talking unwillingness to change the failed Obamacare ... Joe Manchin has not stood with President Trump."
Morrisey is right that Manchin voted against the tax bill supported by Trump and most Republicans. But he isn't really right about Manchin's positions on Gorsuch and modifying Obamacare, officially known as the Affordable Care Act.
We'll look at the Obamacare assertion here; we separately fact-checked the part about Gorsuch in another item.
Bottom line: Despite voting against the major Obamacare overhaul that most Republicans supported, Manchin has been open to making incremental changes to the law.
Changing Obamacare
Manchin voted against the major Obamacare overhauls that most Republicans supported in 2017.
When the Senate took up three varieties of bills to repeal the Affordable Care Act, Manchin voted against all three bills, siding with all other Democrats. All three failed, due to Republican defections.
However, it is wrong to say that Manchin was unwilling to "change" the Affordable Care Act.
In January 2017, Manchin told West Virginia's MetroNews radio that he had told Republican leaders that he's "happy to sit down with you to see if we can find a pathway forward" on Obamacare, Politico reported.
Six months later, Manchin repeated that sentiment, telling MetroNews' Talkline that he was still willing to work toward fixes for Obamacare, even as he objected to the Republican plan for a thorough overhaul.
"If they want to say, 'Okay, Joe, we can't pass this thing. Will you sit down and work with us?' I'm there tonight with them and I'll get six or seven or eight other very like-minded Democrats," Manchin said.
Manchin then organized a bipartisan health care policy meeting.
Perhaps most important, Manchin was one of 24 original supporters — 12 Democrats and 12 Republicans — of a bill written by Sens. Lamar Alexander, R-Tenn., and Patty Murray, D-Wash., that was touted as a way to fix rather than scuttle Obamacare. The measure would have granted flexibility for states to allow a wider variety of insurance policies while temporarily continuing certain Obamacare payments that were at risk under a repeal. (It remains pending.)
Manchin also expressed public support for efforts by Sens. Susan Collins, R-Maine, and Bill Nelson, D-Fla., to modify Obamacare short of repeal, which crystallized as S. 1835, which would allow states to apply for funding for a reinsurance program or high-risk pool program.
The Morrisey camp pointed to several votes, including a number of Republican attempts to either repeal Obamacare entirely or make sweeping changes to it. But Morrisey's use of the word "change" suggests something more measured than those bills offered, so we won't consider them as evidence of Morrisey's claim.
Of the other votes Morrisey's campaign cited, three concerned one narrow provision of the law: the "Cadillac" tax on high-cost health care plans. This provision has been controversial ever since the passage of the law, and the effective date has regularly been pushed back by Congress.
Manchin declined to push back the effective date on at least three occasions, sometimes alongside Republicans. On one such vote in December 2015, Manchin was joined by six other Democrats and three Republicans. On another vote that same month, Manchin was joined by 26 Republicans and six other Democrats or Democratic-aligned Independents. The third vote, in July 2017, was largely along party lines.
Morrisey's campaign mentioned other Obamacare-related votes on taxes, including a 2013 amendment to repeal Obamacare tax increases that hit "middle-income Americans." These included the tax penalty for not purchasing health insurance, the "Cadillac" tax, expense deductions and penalties for withdrawing funds from health savings accounts. This amendment failed on a party-line vote.
These comprise the strongest piece of evidence for Morrisey's position, but they mostly involve relatively narrow tax provisions affecting how the law is funded.
It's worth noting that Manchin has also pursued his own efforts to tweak the bill narrowly, such as exempting volunteer first responders from the tax for not having health insurance; to delay the individual mandate penalty; and to redefine who counts as a full-time employee under the law.
Our ruling
Morrisey said Manchin displayed an "unwillingness to change the failed Obamacare."
Manchin did oppose the various Republican-led repeal efforts, but he has worked actively to promote incremental changes to Obamacare — not only rhetorically but also by backing bipartisan bills intended as efforts to modify Obamacare without scuttling it.
We rate the statement Half True.
Browse the Truth-O-Meter
More by Louis Jacobson
Support independent fact-checking.
Become a member!
In a world of wild talk and fake news, help us stand up for the facts.