Get PolitiFact in your inbox.
Tim Kaine: "opposes everything President Trump does."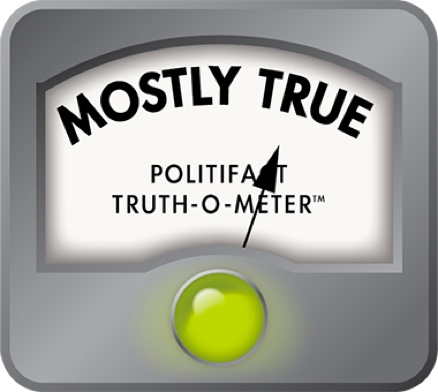 Stewart is close in describing Kaine's opposition to Trump
Corey Stewart, the Republican nominee for the U.S. Senate, rarely misses a chance to link himself to President Donald Trump.
On the flip side, Stewart seldom misses an opportunity to paint Sen. Tim Kaine - the Democratic incumbent - as an unflagging enemy of the president.
"He opposes everything President Trump does" Stewart said during a July 21 debate with Kaine in Hot Springs, Va.  "He's automatically going to vote against anything the president does."
Three other times during the debate, Stewart repeated that Kaine never supports the president. We decided to test the claim. His campaign did not respond to our request for backup information.
So we turned to FiveThirtyEight, a much-quoted website that collects and analyzes statistics on politics, sports and other topics. The site keeps records of each congress member's presidential support - the percentage of times a congress member votes in support of the president when the White House has taken a clear position on legislation.
The website identifies 76 bills and resolutions on which Trump stated a position since Jan. 12, 2017 - eight days before his inauguration. Kaine cast 26 votes backing Trump and 50 votes against him. That comes to 34.2 percent support.
But there are some caveats to that figure. Let's take a deeper look.
Nominations
Kaine, during the debate, didn't put up a fight when Stewart said he "opposes everything" Trump does. His response: "I have voted for many of President's nominees,  and I work with them everyday."
For sure, Kaine's agreement percentage has been buoyed by his votes for Trump nominees to certain cabinet and administrative posts. Fifteen of Kaine's 26 votes backing Trump have been to confirm nominations.
But it also should be noted that Kaine has voted against 15 Trump nominees, including U.S. Supreme Court Justice Neil Gorsuch. Kaine said Gorsuch was an "activist" for restricting women's health rights.
Kaine voted against confirming nine of the 15 current members of Trump's cabinet:
•Secretary of Education Betsy DeVos;
•Attorney General Jeff Sessions;
•Secretary of Health and Human Services Alex Azar;
•Secretary of Treasury Tom Mnuchin;
•Secretary of Housing and Urban Development Ben Carson;
•Secretary of Energy Rick Perry;
•Secretary of Homeland Security Kirstjen Nielsen;
•Secretary of Labor Alexander Acosta; and
•Secretary of State Mike Pompeo.
Policy
If we scratch confirmations from the list, we're left with 46 policy votes on which Trump took a stand. Kaine voted with the president on 11 occasions, or 24 percent of the time. But that doesn't mean Kaine agreed with Trump on 11 issues. Boiled down, they were only in sync on five matters:
•Avoiding or ending government shutdowns. Kaine backed the president six times on contested votes to keep the government funded;
•Disaster relief.  Kaine and Trump agreed on two measures that gave aid to victims of Hurricane Harvey, centered in Houston, and Hurricane Harvey, centered in Puerto Rico;
•Expanding veterans access to private-sector health care at government expense;
•Ending some regulations on small banks that were passed during the Great Recession; and
•Continuance of a spying program that allows intelligence analysts to search, without warrant, communications between Americans and people identified as foreign threats living overseas.
Conversely, Kaine has voted against the president's policies 35 times, or 76 percent of the time. He has opposed, often repeatedly, most of Trump's signature initiatives. For example, Kaine cast votes against Trump's:
•$1.5 trillion tax cut over 10 years, saying it would mainly benefits businesses and wealthy;.
•Increased tariffs;
•Tough stand on immigration; and
•Efforts to end or dismantle Obamacare.
Kaine's response
Ian Sams, communications director for Kaine's campaign, says the presidential support rating presents an incomplete picture of Kaine's accordance with Trump. He acknowledged in an email that Kaine "objects to a lot" of Trump's initiatives, but added that the senator has been pleased by the president's signature on a number of less-publicized bills and resolutions that help Virginia. They include:
•Working towards a 355-ship Navy;
•Federal recognition of Virginia's native tribes; and
•Several measures that improve veteran service and benefits.
Our ruling
Stewart says Kaine "opposes everything President Trump does."
It's a greatly hyped statement. Kaine doesn't oppose every Trump action. When Trump has stated a position on legislation, records show Kaine has voted in support of him 34.2 percent of the time. Most of these votes have been on nominations. Not included in the calculation are a number of little-known bills and resolutions helping Virginia that Kaine backed and Trump quietly signed.
But Stewart's larger context - that Kaine fundamentally disagrees with Trump - is correct. Kaine has voted against confirming most of Trump's major nominees, including Supreme Court Justice Gorsuch and 9 of the 15 people now in the president's cabinet.
Kaine has also voted against Trump's defining initiatives on tax reform, immigration, health care and tariffs. He's clearly opposed Trump most of the time on major issues. So we rate Stewart's statement Mostly True.
Browse the Truth-O-Meter
More by Warren Fiske
Support independent fact-checking.
Become a member!
In a world of wild talk and fake news, help us stand up for the facts.