Stand up for the facts!
Our only agenda is to publish the truth so you can be an informed participant in democracy.
We need your help.
I would like to contribute
Says a meat shortage is "not expected"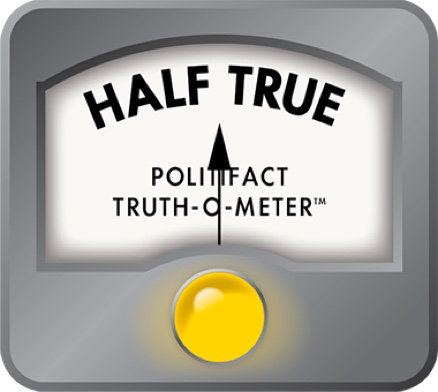 No shortage expected, but meat supply could see new constraints
If Your Time is short
Waukesha County Executive said on Facebook on April 30 there will be no meat shortages.

President Trump ordered meat packing plants to stay open on Tuesday, April 28.

A UW-Madison expert in agricultural and applied economics said consumers may see temporary meat shortages in the short run as the supply chain adjusts to new production constraints.
Outbreaks of COVID-19 at meat-packing plants around the country — including several in Wisconsin — have raised concern nationwide over meat supplies.
But one local official says those fears are overblown.
In a Facebook post April 30, 2020, Waukesha County Executive Paul Farrow posted a image comparing "rumor" and "fact" about the meat supply locally. It read:
RUMOR: The United States is facing a meat shortage because processing plants are closing due to COVID-19.
FACT: Most meat processing plants across the US are still open. You may see short-term changes in meat selection or prices, but a shortage is not expected.
Is Farrow right that no shortage is expected?
Claim focused on Waukesha County
There have been clusters of COVID-19 cases linked to meat packing facilities across the country, USA TODAY reported on April 22, 2020. Trump ordered meat packing to stay open, deeming them a "critical" industry.
Wisconsin has seen a number of outbreaks.
In Brown County, 290 cases are associated with JBS Packerland employees, 203cases with American Foods Group, and 35 cases with Salm Partners as of May 1, as reported by the Green Bay Press-Gazette. 
In Cudahy, officials reported 85 COVID-19 cases at the Patrick Cudahy plant as of May 1, according to FOX-6.
Asked for evidence of the claim, a spokeswoman for Farrow said the county's emergency operations center reached out to local farmers and businesses and consulted with the Wisconsin Department of Trade and Consumer Protection to get an overview of the meat supply.
"Right now the overwhelming message for members of the public is not to panic buy or overstock meat supplies," Nicole Armendariz said in a May 1 email. "At this time, there are some limitations to certain meat items and fluctuations in prices, but meat is available. There are concerns that panic buying by consumers could aggravate existing limitations."
Armendariz also noted local suppliers said they have enough meat to meet customer demand at this point.
So Farrow's evidence is focused on Waukesha County, which is referenced in the graphic he posted.
But experts said the outbreak has disrupted the supply chain for meat throughout the country.
Not just a "rumor"
USA TODAY reported on April 30 that the U.S. will see meat shortages despite Trump's order for meat packing plants to remain open.
Jayson Lusk, head of Department of Agricultural Economics of Purdue University, told USA TODAY, "The meat sector is in a real serious, critical condition." Lusk said there will just be limited availability of certain products, depending on where you live.
However, Lusk and other experts said most Americans will still be able to buy meat.
USA TODAY reported meat production in the week of April 20 was 75% of what it had been that time last year. Poultry remains available, and only 13.5% of retailers were out of stock of poultry as of April 27 -- better than the week prior.
Andrew Stevens, professor of agricultural and applied economics at the University of Wisconsin-Madison, said shortages could happen because the meat supply chain is complex and relies on refrigeration in transport and production facilities.
"It is definitely reasonable that individual people and individual retail outlets could see meat shortages of particular products, especially for short periods of time," Stevens said. "The reason why that would make sense to me is that a lot of these supply chains are much more based on individual contracts between suppliers and retailers, where a particular weak link in that supply chain could lead to a short-run breakdown."
If a meat packing plant goes offline and a grocer only gets a particular meat product through them, it will take some time for that supply chain to adjust and for retailers to find other suppliers, Stevens said.
Stevens said to think of the concept of meat shortages along a time scale. 
In the short run for individual products and stores: meat products are going to be affected the way produce has been affected where it may not be in stock for a few days. 
In the long run: as the economy adjusts to new realities, retailers will adjust to short-run disruptions and consumers may see higher prices. 
He said consumers will likely not lose complete access to meat products.
And in the longer term – from a few months to within the year – nodes of the supply chain will adjust to any new production constraints.
Our ruling
Farrow said a meat shortage is "not expected," labeling claims to the contrary as rumors.
The key point here is how one defines a shortage. Farrow does not consider fewer choices and higher prices in the short-term a "shortage," while other experts say it is -- just one limited in scope.
Experts agree that Americans will still be able to buy meat.
We define Half True as a statement that is partially accurate but leaves out important details or takes things out of context. That fits here.
Paul Farrow, Facebook post, April 30.
Email correspondence with the Office of the Waukesha County Executive, May 1, 2020.
Green Bay Press-Gazette, "Coronavirus updates: Brown County now at five COVID-19 related deaths; total cases reach 1,163," updated May 1, 2020.
Milwaukee Journal-Sentinel, "COVID-19 cases intensifies at Wisconsin food plants 1 dead; 100 more test positive," April 28, 2020.
USA TODAY, "Coronavirus at meat packing plants worse than first thought, USA TODAY investigation finds," April 22, 2020.
USA TODAY, "Meat shortages expected as coronavirus disrupts production despite executive order," April 30, 2020.
Interview with Andrew Stevens, professor at the University of Wisconsin-Madison, May 1, 2020.
Browse the Truth-O-Meter
More by Nusaiba Mizan
Support independent fact-checking.
Become a member!
In a world of wild talk and fake news, help us stand up for the facts.