Stand up for the facts!
Our only agenda is to publish the truth so you can be an informed participant in democracy.
We need your help.
I would like to contribute
"Newly obtained emails show UCSF harvesting the clitorises, testicles and penises of murdered babies."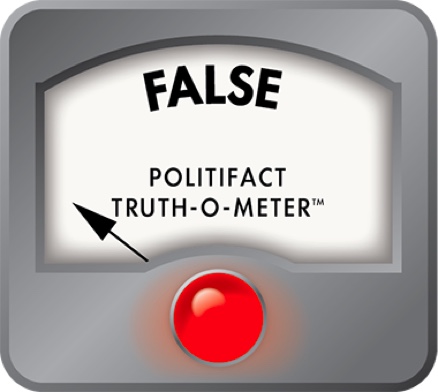 No, UC San Francisco Is Not 'Harvesting' The Genitalia Of 'Murdered Babies'
If Your Time is short
Live Action, an anti-abortion nonprofit organization, obtained emails documenting tissue collection by UC San Francisco researchers through the California Public Records Act.

The group stated that the emails show researchers harvesting the genitalia of "murdered babies," but that claim is not accurate.

UCSF conducts biomedical research on fetal tissue that is donated after miscarriages and abortions. Abortions are not performed specifically to obtain fetal tissue.

UCSF scholars' work includes research surrounding the fetal development of reproductive organs, which can yield new medical knowledge and help develop treatments for a variety of conditions and diseases.
Anti-abortion activists in San Francisco protested this week after Live Action, an anti-abortion nonprofit organization, released emails that they claim show researchers at University of California, San Francisco "harvesting the clitorises, testicles and penises of murdered babies."
The emails were publicized in a Facebook post on the group's page and an accompanying article on the organization's website. In the Facebook post, which was published on July 6 and shared more than 500 times, the group wrote that "it's time to outlaw abortion and criminally prosecute those who abuse the bodies of children."
The claims do not accurately represent how UCSF obtains and uses fetal tissue. But that did not stop activists from gathering at the San Francisco Department of Public Health on July 14.
The protest was livestreamed on Live Action's Facebook page, racking up 35,000 views. Holding signs that read "end live dismemberment" and "human rights begin in the womb," activists chanted "do no harm" and "UCSF, we know what you do."
Facebook flagged the posts as part of its efforts to combat false news and misinformation on its News Feed, so we decided to break down the claims. (Read more about PolitiFact California's partnership with Facebook.)
The emails
Pro-Life San Francisco, an organization affiliated with Live Action, said it obtained emails between UCSF employees through the California Public Records Act, which requires government entities, including public universities, to make certain documents and records available to members of the public upon request.
The emails appear to log the collection of fetal tissue, a standard practice in biomedical research. They list what type of fetal tissue was collected and the time and date.
Genitalia are among the types of fetal tissue listed in the emails. In one email, a UCSF employee states that they collected tissue from three different fetuses: a "testis [and] bladder," a "penis [and] bladder" and a "clitoris, bladder [and] uterus."
Acquiring fetal tissue
UCSF does conduct biomedical research using fetal tissue and has done so for decades — but the claim that they obtain it from murdered babies greatly distorts the truth and is not correct.
In a statement to PolitiFact, UCSF officials said the tissue used for research comes from donations, which can happen after a woman miscarries, chooses to terminate a pregnancy for medical reasons or chooses to have an elective abortion. The officials asked not to be named because of safety concerns.
"Only tissue that has been donated may be used in research," officials said. "Many women who choose to terminate or experience the loss of a pregnancy specifically ask whether they can make these donations."
When fetal tissue is donated to research as the result of an elective abortion, officials said donations are made with written consent from women after they have "independently" decided to terminate their pregnancy.
"The [Live Action] article inaccurately implies throughout, through words such as 'procure' and 'harvest,' that these abortions are being performed in order to obtain tissue, which is false," officials said.
Live Actions' article also claims that "the labor induction abortion techniques used in these facilities to procure 'fresh' parts can result in live births as often as 50% of the time." To support this claim, the article cites a study published in 2011 on abortion in the second trimester.
That study applies only to medical abortions induced with misoprostol, a drug that causes the uterus to cramp and expel a fetus. Medical abortions make up more than a third of all abortions at over 8 weeks gestation in the United States. Typically, women are first given mifepristone, a drug that stops the absorption of progesterone in the womb, which fetuses need to survive.
The study states that "survival with misoprostol for labor induction abortion at greater than 18 weeks ranges from 0% to 50%." It cites research from 2002 on using misoprostol to facilitate mid-trimester abortions to support the claim. In that study, women were given just misoprostol, without taking mifepristone beforehand. 
The scientists behind that research note in the study that "live birth is a potential complication of any mid-trimester medical induction," but that their research is "limited" by the study's sample size, since 47 women participated and just 23 of them were treated with misoprostol. The end of the article encourages further research.
UCSF offers medical abortions, among other reproductive health services, at a clinic called the Women's Options Center. Healthcare workers at the clinic use both mifepristone and misoprostol, and UCSF officials said there has never been a live birth during an abortion procedure.
Why collect genitalia?
Fetal tissue is used for many different types of research that helps advance scientific understanding of fetal development and can lead to new drugs and cures for a variety of conditions.
By examining and conducting research with fetal tissue, researchers at UCSF have been able to further understand how the urinary tract develops in men and women, how genital malformations occur and the impact of fetal environment on the development of male and female reproductive organs.
"Tissues that have been donated to research after a miscarriage or abortion can offer significant insights that researchers would not otherwise be able to learn and translate into treatments for a range of diseases and illnesses," officials said.
For many years, researchers at UCSF also used fetal tissue to study HIV and test new drugs that could help treat the disease. That research was supported with money from the National Institutes of Health, funding which was halted in 2019 after President Donald Trump's administration announced new restrictions on government dollars going to research involving human fetal tissue.
UCSF officials said research with fetal tissue is conducted "in full compliance with federal and state law, and within the ethical standards established by preeminent scientific societies and professional research associations."
Our rating
Live Action's posts claimed that UCSF is "harvesting the clitorises, testicles and penises of murdered babies."
The emails Live Action cites are real and it is true that UCSF conducts biomedical research using human fetal tissue, including fetal tissue from the genitals. However, the social media posts suggest that UCSF is purposefully killing children to obtain this tissue, which is wildly misleading and inaccurate.
The tissue used by UCSF scientists is donated by women who have miscarried, have terminated their pregnancies for medical reasons or have elected to have an abortion. In the case of elective abortions, women are only offered the option of donating fetal tissue after they have independently made the decision to terminate a pregnancy.
Furthermore, in an article posted to Live Action's website that accompanied their initial social media post, the group claims that abortion techniques used to obtain fetal tissue often result in live births, suggesting that healthcare workers obtain fetal tissue from live fetuses.
Athough the group cites a scientific study to back up their claim, the study pertains only to abortions facilitated solely with misoprostol, a drug that causes the uterus to cramp and expel a fetus. At UCSF's clinics, medical abortions are conducted using mifepristone, a feticidal drug, before misoprostol is administered to finish the abortion process. UCSF officials said there has never been a live birth during an abortion procedure at any of their clinics.
UCSF's biomedical research and acquisition of fetal tissue is legal and adheres to ethical guidelines. It is clear that Live Action's posts take the university's emails out of context and disregard the facts.
Therefore, we rate this post False.
FALSE – The statement is not accurate.
Facebook post, July 6, 2021
Facebook post, July 14, 2021
Live Action, UCSF's callous abortion harvesting operations exposed in records obtained by pro-life group, July 3, 2021
National Institutes of Health, Guidelines for Human Biospecimen Storage, Tracking, Sharing, and Disposal within the NIH Intramural Research Program, Sept. 7, 2019
Email interview with UCSF officials, July 14, 2021
UCSF Human Gamete, Embryo and Stem Cell Research (GESCR) Committee, GESCR Consent Guidance, Oct. 21, 2020
Contraception: An International Reproductive Health Journal, Labor induction abortion in the second trimester, March 31, 2011
Gynecologic and Obstetric Investigation, High-Dose Oral Misoprostol for Mid-Trimester Pregnancy Interruption, Sept. 30, 2002
Kaiser Family Foundation, The Availability and Use of Medication Abortion, June 16, 2021
UCSF Health, Treatments A-Z: Medical Abortion
San Francisco Chronicle, UCSF loses contract as Trump administration restricts fetal tissue research, June 5, 2019
Browse the Truth-O-Meter
More by Sasha Hupka
Support independent fact-checking.
Become a member!
In a world of wild talk and fake news, help us stand up for the facts.