Stand up for the facts!
Our only agenda is to publish the truth so you can be an informed participant in democracy.
We need your help.
I would like to contribute
"California is moving folks out of encampments, into safe housing and getting them the mental health services they need."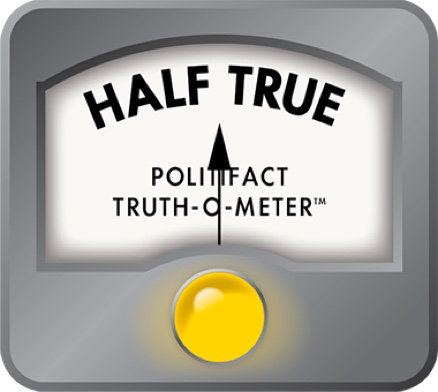 Gavin Newsom Showed Up At An Encampment Sweep. Were The People Living There Moved Into Safe Housing?
If Your Time is short
Gov. Gavin Newsom took part in a homeless encampment sweep in Berkeley on Aug. 9. Photos of Newsom cleaning up and removing items from the camp were shared by the California Governor's Office accounts on social media, along with a short statement.

The photos and statement were criticized by unhoused people and homeless advocacy groups. Advocates said only a few people were moved off the streets into permanent housing and several remain unsheltered.

Unhoused people were given the option of going to the Grayson Shelter or participating in Project Roomkey, both of which provide temporary housing.

Unhoused people and advocates said both options come with drawbacks that can impact their mental health and quality of life.
Caltrans officials clearing a Berkeley homeless encampment last month were joined by a surprise guest: Gov. Gavin Newsom, who personally spoke with the workers about their efforts to move unhoused people into shelters and was photographed at the site moving items.
Ninety minutes later, the photos were posted on Facebook, Instagram and Twitter, along with a statement:
"California is moving folks out of encampments, into safe housing and getting them the mental health services they need. The conditions at this site in Berkeley are unacceptable and unsafe. Homelessness can be solved and the #CAcomeback Plan puts us on that path."
Some Californians immediately expressed their displeasure online, calling the photos "cruel" and "propaganda."
Optics aside, there was another issue: Several local homeless advocates said not everyone from the site, known as the Seabreeze encampment, was placed into safe housing, as the tweet suggests.
While Newsom was taking pictures, advocates claimed many former residents of the encampment were left in limbo, desperately seeking new places to live.
With the local controversy well underway and the gubernatorial recall days away, we set out on a fact check.
The Encampment
The Seabreeze encampment was located at the intersection of University Avenue and Interstate 80, near the Berkeley Marina. It was comprised of "upstairs," located in the grassy area between the freeway and Frontage Road, and "downstairs," an area next to the freeway underneath the University Avenue overpass.
The site, on land owned by the California Department of Transportation, or Caltrans, was a long-standing encampment in the community. Some unhoused people had resided there for years, including Christopher "Chaos" Lilley, who said he lived at the site since March 2018.
It was also one of the largest encampments in the city, with an estimated 80 people at the time of the sweep, according to figures published by Berkeleyside.
A local nonprofit, Where Do We Go Berkeley, was involved in managing the tent community. The group assists residents of encampments in the Interstate 80 corridor in the East Bay.
During most of the COVID-19 pandemic, Caltrans halted encampment clear-outs, an effort to prevent the spread of the virus and ensure residents remained near their medical service providers. But at the start of the summer, officials resumed sweeps.
Newsom joined officials for the clean-out of the "downstairs" portion of the encampment on Aug. 9. The "upstairs" was cleared the following week.
The sweep was prompted by deteriorating conditions, said Caltrans spokesperson Matt Rocco. He said a large fire broke out at the camp several weeks before and that it "presented potentially hazardous conditions for the traveling public."
"Electrical boxes for lighting on the quad area are continuously being broken into and tapped for power sources, along with constant fires from unsafe heating equipment," he added.
Shelter Or The Streets
At the "downstairs" portion, signs notifying residents of the encampment's pending closure appeared roughly 10 days before the clearing.
California cities generally give residents at least 72 hours notice of pending sweeps, and Caltrans must give notice under the terms of a $5.5 million settlement of a class-action lawsuit in early 2020.
Officials also cannot arrest people for sleeping on the street without first offering them shelter, the result of a 2018 decision by the U.S. Court of Appeals for the Ninth Circuit in Martin v. Boise.
But they aren't required to give them social services such as permanent housing or health care following the evictions, said Heather Freinkel and Danny Homer, managing attorneys at the Alameda County Homeless Action Center.
"While Martin v. Boise prohibits criminal action against homeless people when no alternative shelter is offered or available, that only applies to criminalization," Freinkel said. "Cities can still come in and throw people's property in a dumpster and force them to leave, as long as they don't arrest or charge anyone."
Ian Cordova Morales, president of Where Do We Go Berkeley, said the signs posted at the camp encouraged residents to call 211, Alameda County's housing and health services hotline, to access housing services.
He noted the signs were only posted in English, even though several residents only spoke Spanish. Additionally, he said the outreach worker in charge of helping people enter Berkeley's shelter system was not initially present at the sweep.
"He arrived an hour late," Morales said. "So at the time of the sweep, when people were getting kicked out of the area, there was nobody there to offer them services. They were all gone by the time he showed up."
The city of Berkeley assisted with on-the-ground outreach efforts prior to the sweep, said spokesperson Matthai Chakko. He said workers visited the encampment at least once per week in May and June, and held an event to provide information about housing options in late June.
Those options came with offers for transportation, he added.
"Our commitment to people who are unhoused means that the City, Alameda County, and nonprofit partners we fund continue to provide outreach and shelter and service offers to as many people as possible who are unhoused," Chakko said. "We strive to serve all within the constraints of our resources."
For the "downstairs" sweep, Morales said unhoused residents ultimately had three options: go to the Grayson Shelter, try to secure a spot in Project Roomkey or refuse services entirely and stay on the streets.
The Grayson Shelter, formerly known as the Horizon Transitional Shelter, opened in July and can temporarily house 50 people. It is a 24-hour shelter, which Morales said makes it a better option than what was previously available in Berkeley. But he said it's little more than a warehouse with tents.
"The general vibe of the place freaks people out a little bit because it's got a weird set up," Morales said. "People were getting FEMA vibes from it. And unhoused people are generally a little bit paranoid about FEMA."
Project Roomkey, a program partially funded by the state, was started by the Newsom administration in March 2020, has provided temporary shelter for tens of thousands of homeless Californians in hotel and motel rooms since the start of the pandemic. 
Supporters say the program prevented major outbreaks of the virus in the homeless community and connects residents with housing and social services. They say the rooms offer simple but profound benefits — clean water, the chance to take a shower and dignity. 
Morales said most unhoused residents of the Seabreeze encampment were open to joining the Roomkey program. But by the time of the sweep, finding rooms was a struggle.
Lilley, the unhoused resident who had lived at the tent community for three years, is currently participating in Roomkey. He said it took five days after the sweep to secure his room. In the meantime, he added, he was forced to find new places to sleep on the street.
Even though he now has a room, Lilley said the program has been far from ideal.
"We do not get a key to our own rooms," he said. "If we are not in by 11 p.m. we can't come till 6 a.m., although there are two security guards in the parking lot 24 hours per day."
He added that security guards search residents' backpacks before they are allowed to enter the hotel and that each person is only allowed to have a certain number of items in their room.
"It's very stressful," Lilley said.
Unhoused people often encounter unexpected barriers to entering temporary housing, Homer, of the Homeless Action Center, said. In most places, animals are not allowed in shelters and storage space is not available for bikes, carts and other belongings. Sometimes, shelters and other housing options are in unfamiliar areas.
"As an analogy, if someone came to my apartment and said, 'Hey, we have to bulldoze this building, pack a backpack and come with me to another temporary apartment sight unseen,' I'd be hesitant too," Homer said. "So even though it might seem like a good offer, I can understand people being tentative, suspicious and some refusing a room or shelter bed."
The Impact
It's unclear where everyone from the "downstairs" of the Seabreeze encampment is currently located.
Rocco of Caltrans said that local agencies reported 15 clients in the encampment in June. Of those 15 people, he said 11 were placed into temporary or permanent housing. Four declined services and remain unhoused.
But other sources found more people remained unsheltered.
Berkeleyside reported that 35 people lived in the camp, based on data from Where Do We Go Berkeley. At least 10 are still on the streets, at least 10 have some sort of shelter and one is deceased. It's unclear where the others are located.
Morales said he and others with Where Do We Go Berkeley were "upset" by the statement from the governor's office.
"The biggest problem that I had with it was [Newsom] putting out this message that everything is fine and that everything went great and they cleaned and the people got housing when our whole group, our message and what I've been working on for the last two years, is letting people know that things are not fine," Morales said. "They are as far from fine as they could be."
Lilley said he knows at least five people who are still unsheltered. He called the statement from the governor's office "an absolute lie."
"Instead of looking like he was going through our possessions and destroying what little we had … he could have had a conversation with us himself to show his concern," Lilley said. "But instead he focused on garbage and cleaning it up."
Rocco confirmed that Newsom did not speak with any unhoused people while he was at the encampment sweep.
"Gov. Newsom arrived around 10 a.m., and by that time, there were no people experiencing homelessness present at the site," Rocco said.
He added that Newsom is "dedicated to providing proper care to those struggling the most and who've found themselves homeless due to mental health and addiction struggles."
In the weeks since the "downstairs" sweep, Newsom has appeared at several other encampment clear-outs and clean-ups, including one in San Francisco at the end of last month.
Our Rating
A statement from the governor's office claimed that California is providing unhoused people with services and shelter. It was posted on social media alongside photos of Newsom assisting with an encampment sweep.
While the post gives the impression that all or most people at the encampment received housing, that's only partially true. At least four people declined the offer of housing and remained unsheltered, according to state officials. A local advocacy group believes more than twice as many remain on the streets.
People who did accept services largely ended up in temporary housing programs, but some spent days after the sweep on the streets while sorting through the logistics of being placed in the Grayson Shelter or Project Roomkey. The social media post ignores this important context.
Perhaps most importantly, the story behind this sweep speaks to the broader challenges of accessing housing and services in California. Newsom and other state officials have worked to create new options for unhoused people, such as Project Roomkey, and Newsom's California Comeback Plan invests $12 billion into tackling homelessness.
However, temporary housing often comes with barriers to entry that are insurmountable to unhoused people who have disabilities, are struggling with addiction or are experiencing mental illnesses. Additionally, the California Comeback Plan was just signed this summer, so it's too early to tell how much of an impact new funding will have.
In short, while California officials are working to find solutions to homelessness, they are still a long way from housing and providing services to the state's vast homeless population. 
While some Berkeley encampment residents received housing, we found that several remain on the streets or in temporary residences with high barriers to entry. Therefore, we rate this statement Half True.
HALF TRUE – The statement is partially accurate but leaves out important details or takes things out of context.
Facebook post, Aug. 9, 2021
Instagram post, Aug. 9, 2021
Twitter post, Aug. 9, 2021
Email interview with Danny Homer, a managing attorney at the Homeless Action Center, Sept. 2, 2021
Email interview with Heather Freinkel, a managing attorney at the Homeless Action Center, Sept. 2, 2021
Email interview with Matt Rocco, public affairs chief for the California Department of Transportation, Aug. 20, 2021
Messenger interview with Christopher "Chaos" Lilley, a former resident of the Seabreeze encampment, Aug. 28, 2021
Interview with Ian Cordova Morales, president of Where Do We Go Berkeley, Aug. 23, 2021
Email interview with Matthai Chakko, public information officer for the city of Berkeley, Sept. 7, 2021
Berkeleyside, Residents under I-80 underpass search for housing after encampment sweep, Aug. 10, 2021
Berkeleyside, Berkeley's biggest homeless camps were closed. Where are the residents now?, Sept. 2, 2021
San Francisco Chronicle, Newsom grabs a broom and talks homeless policy at an S.F. encampment, Aug. 27, 2021
The New York Times, Laws Punishing Homeless People for Sleeping in Public Are Cruel and Unusual, Court Rules, Sept. 5, 2018
California Department of Social Services, Project Roomkey
Office of the California Governor, California Roars Back: Governor Newsom Signs $100 Billion California Comeback Plan to Accelerate State's Recovery and Tackle Persistent Challenges, July 12, 2021
League of California Cities, Strategies for Addressing Homelessness: Policies and Enforcement Issues, Aug. 28, 2019
The Mercury News, Caltrans settles claims of unconstitutional homeless 'sweeps' for $5.5 million, Feb. 19, 2020
Browse the Truth-O-Meter
More by Sasha Hupka
Support independent fact-checking.
Become a member!
In a world of wild talk and fake news, help us stand up for the facts.