Stand up for the facts!
Our only agenda is to publish the truth so you can be an informed participant in democracy.
We need your help.
I would like to contribute
"After California taxes, Trey Lance's $34.1M rookie deal becomes just $16M."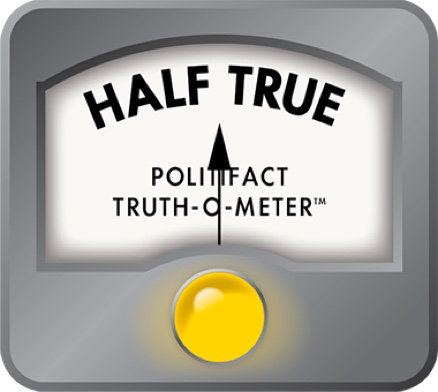 San Francisco 49ers QB Trey Lance Signed A $34M Contract. How Much Will Go To California Taxes?
If Your Time is short
An image shared on Instagram claims that rookie quarterback Trey Lance, who recently signed to the San Francisco 49ers, will take home $16 million from his $34.1 million deal after paying California income taxes.

The $16 million figure isn't just based on California income taxes. It also includes estimated payroll and federal income taxes.

Although $16 million is a reasonable estimate of Lance's take-home pay given current tax rates, it is still just an educated guess. Tax experts say that number could be influenced by a variety of factors, such as how Lance's income is spread out over time, whether he accepts any endorsement deals and whether he chooses to donate to charity.
Days after rookie quarterback Trey Lance signed to the San Francisco 49ers after being taken third overall in the National Football League draft, an image posted on Instagram kicked off debate over how much of his $34.1 million deal might go to California income taxes.
The image, posted on May 3, shows a photo of California Gov. Gavin Newsom laughing, which is superimposed over a photo of Lance on draft day. Text in the image states, "After California taxes, Trey Lance's $34.1M rookie deal becomes just $16M." 
It was originally posted by Sports for Simps, an account with around 17,000 followers that shares content related to football. Later, it was reshared by Catchcentral Sports HQ, a page with more than 70,000 followers.
The original post included a caption that read: "Californians: OUR CONTRACT," a reference to a series of memes satirizing socialism. It gained more than 17,200 likes and 1,600 comments, many of which criticized California's income tax rates. 
But are the numbers in the image accurate, or is this a false start?
Facebook flagged this image as part of its efforts to combat false news and misinformation on its News Feed, so we decided to find out. (Read more about PolitiFact California's partnership with Facebook.)
Running the numbers
Lance's contract with the 49ers stipulates that he will receive a $22.1 million signing bonus in addition to his annual salary from the team. His entire contract is valued at $34.1 million and is valid for four years, with the option of a fifth-year extension.
Assuming Lance lives in California, files as a single individual and claims an income of $34.1 million, he would pay roughly $18.1 million in federal and state income taxes given current tax rates. Of that $18.1 million, roughly $830,000 would be taken out in payroll taxes, about $12.6 million would be claimed by the federal government, and California would be owed $4.5 million. After paying that $18.1 million in income taxes, Lance would be left with approximately $16 million — although he would also possibly have to pay property taxes if he owns real estate and sales taxes on items he buys.
But because the deal runs for four years, Lance won't receive the entire sum of his contract upfront. His salary will be paid on a set schedule over that time. Traditionally, the NFL has also paid large signing bonuses in several installments. However, this is a part of the contract that is negotiable, and Lance's agents will likely maneuver to have his signing bonus paid as a lump sum, since 2019 second overall pick Nick Bosa got his bonus as a one-time payment from the 49ers.
According to tax experts, there are tax implications surrounding whether or not Lance gets his money all at once or in a series of installments over the course of several years. Income taxes are progressive, meaning that the tax rate progresses from low to high over the amount an individual earns. For someone filing as a single individual in California, all income over $599,012 is taxed at 12.3%. There's also a 1% mental health services tax on income over $1 million. But income under those bars is taxed at lower rates. 
For Lance, this means that his first $599,012 in income will be taxed at a lesser rate than any income over that which he claims for any given year and he won't have to pay the mental health services tax on his first million dollars each year. By spreading out his income, he can make the most of those lower tax rates, said Alan Auerbach, a professor of economics and law at UC Berkeley and the director of the Burch Center for Tax Policy and Public Finance.
The same concept applies to federal income taxes. So, by spreading out his income, Lance could also score savings there. Federally, the top rate is currently 37% on income over $518,400.
Other factors that could fumble tax estimates
There's a number of other complications that make it difficult to determine how much Lance might pay in taxes over the next four years.
He could see his taxes go up if his income increases because he signs endorsement deals or establishes other streams of income. They could go down if he opts to donate money and takes advantage of tax breaks available for charitable giving. His taxes could also be impacted by future uncertainties. For instance, Lance could get married, which would change his filing status, or have a child, which would add a dependent to his taxes. 
Outside of Lance's personal life, there is currently a pending bill in the California Senate that would increase the state's top tax rate to 16.8%. The law would also apply retroactively to January 1, 2020.
David Kline, vice president of communications and research for the California Taxpayers Association, said the bill isn't expected to pass this year. Still, there have been other proposed bills that could impact high-earners' tax burdens, and Kline said it is "impossible to predict" what may or may not be approved by the legislature over the course of four years, and difficult to calculate a tax bill with no knowledge of how Lance's money and life might change.
"We always caution that there are a lot of variables that impact income taxes," Kline said. "It is important to let people know that it is impossible to determine the exact amount without knowing the taxpayer's filing status, number of dependents, total income from other sources, possible losses, whether a mortgage interest deduction applies, amount of charitable deductions and other details."
What do other rookies' taxes look like?
Many of the comments on the image posted on Instagram drew comparisons between Lance's taxes and those of others in the 2021 first-round draft, particularly Trevor Lawrence, the first overall pick in this year's draft who signed to the Jacksonville Jaguars with a $36.7 million deal.
The comments noted that California has the highest state income tax rate in the nation. Meanwhile, Florida does not have an income tax, so Lawrence would primarily be concerned with his federal taxes, which are estimated to be around $13.6 million. Ultimately, Auerbach and Kline said Lance will almost certainly end up paying more in taxes than Lawrence and most others in the first-round draft. 
"Athletes who play for California teams are going to pay higher taxes than they would if they played in any of the other 49 states," Kline said.
Still, that doesn't mean that Lawrence and other players in low-cost states get away scot-free. One complication surrounding NFL players' taxes is that they also have to pay income taxes whenever they travel for games and practices — a levy colloquially known as the "jock tax." 
It means every time Lance travels outside of California for a game, he's racking up bills in other states based on his annual salary and working days in that location, and every time a player from outside of California comes into the state for a game or practice, tax law stipulates that they need to pay for the "service days" they spend in California.
Because California has the highest top income tax rate in the country, Auerbach said most of the state and local taxes Lance needs to pay while traveling should be deductible against his California tax bill, meaning that they'll likely have no impact on the overall amount he pays in taxes.
They would, however, potentially impact his competitors outside of California. In the past, Kline said California has also taxed athletes endorsement income if they fulfill elements of their contracts while in the state.
"When a Florida resident like Tiger Woods played in a gold tournament in California wearing a Nike hat, California sought to tax a portion of the Nike endorsement contract on the grounds that some of the income was attributable to wearing the hat while in California," Kline said.
California's Franchise Tax Board, which collects and audits income taxes, writes in their Residency and Sourcing Technical Manual that endorsement cash can be taxed if an athlete is "wearing or using [a] sponsor's product," "making promotional appearances" or "participating in photo and filming days" on and off the field in California. That means that Lawrence and other players outside the state could pay a pretty penny for promoting Nike or Adidas on Lance's home turf.
Our ruling
An image posted on Instagram claimed that rookie quarterback Trey Lance, who recently signed to the San Francisco 49ers, will take home $16 million from his $34.1 million deal after paying California income taxes.
Given current tax rates, this seems to be a reasonable estimate of how much Lance might take home after paying federal and state income taxes on his contract with the NFL. He will pay significantly more in federal income taxes than in state income taxes — about $12.6 million compared to an estimated $4.5 million.
Additionally, tax experts caution that it is impossible to determine exactly how much Lance will pay in taxes because his tax burden will be impacted by when he earns his income, his filing status and his charitable contributions, among other personal factors.
Lance could also establish endorsement deals that increase his income, which would affect his taxes. Since his contract with the 49ers runs for four years, he could be impacted by changes to state and federal tax rates and laws surrounding tax breaks and deductions.
And while Lance will almost certainly pay more in state income taxes than some of his competitors in low-cost states, they'll be hit with the same high tax rates every time they travel to face off against the 49ers in Santa Clara.
In short, while the estimate is reasonable, it's also exactly that — a rough estimate that's missing a little context. Therefore, we rate this claim Half True.
HALF TRUE – The statement is partially accurate but leaves out important details or takes things out of context.
Instagram image, May 3, 2021
Email interview with Alan Auerbach, professor of economics and law at UC Berkeley and the director of the Burch Center for Tax Policy and Public Finance, May 10, 2021
Email interview with David Kline, vice president of research and communications for the California Taxpayers Association, May 10, 2021
Franchise Tax Board, 2020 California Tax Rate Schedules
Internal Revenue Service, IRS provides tax inflation adjustments for tax year 2020, Nov. 6, 2020
California Department of Health Care Services, Mental Health Services Act
CBS Sports, Agent's Take: 2021 NFL rookie contract projections for key Round 1 picks, plus a rookie wage scale explainer, May 7, 2021
Sportico, NFL Draft: No. 5 Pick Will Outearn No. 3 As State Tax Coffers Await, April 29, 2021
Forbes, California Taxpayers Can Check Out Any Time They Like, But Lawmakers Still Want To Tax Those Who Leave, Aug. 31, 2020
Franchise Tax Board, Residency and Sourcing Manual
Sports Illustrated, The Taxing World of NFL Players' Finances, April 17, 2018
Browse the Truth-O-Meter
More by Sasha Hupka
Support independent fact-checking.
Become a member!
In a world of wild talk and fake news, help us stand up for the facts.