Stand up for the facts!
Our only agenda is to publish the truth so you can be an informed participant in democracy.
We need your help.
I would like to contribute
"Republican state senators" who started an audit of 2020 election results in Maricopa County are "exposing this fraud."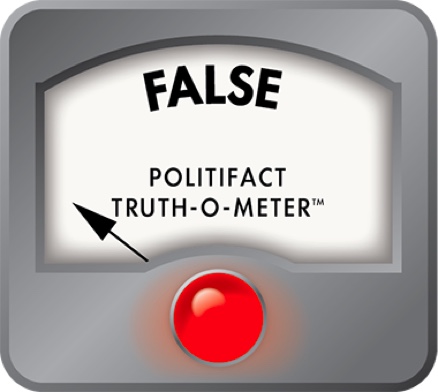 Trump falsely implies Arizona audit has exposed fraud
If Your Time is short
Trump praised Republican state senators in Arizona for "exposing this fraud" — a nod to an ongoing audit of ballots in Maricopa County.

The GOP-organized audit is expected to reach completion in June and then those involved will write a report and submit it to the state senate. No findings have been released.
Former President Donald Trump, continuing to air falsehoods about the 2020 election,  highlighted an ongoing partisan review of ballots underway in Maricopa County, Ariz., that he claimed had uncovered fraud. 
"The 2020 presidential election was by far the most corrupt election in the history of our country," Trump said June 5 at the North Carolina GOP convention, contradicting officials from his own administration who declared in November the election the "most secure in American history" and multiple state officials, court rulings and audits that affirmed the results.  
Trump then offered his congratulations to "Republican state senators in Arizona and other places for their great work that they are doing in exposing this fraud" — a reference to an ongoing audit organized by Arizona GOP state senators.
Trump's praise for the senators "exposing this fraud" gives the false impression that the GOP-led review of ballots in Arizona's largest county has uncovered signs or evidence of fraud. That's not the case. No findings have been released.
Trump also said, "I have nothing to do with the Arizona situation." That's misleading, too.
American Oversight, a watchdog group, used public records requests to obtain emails by Republican Senate President Karen Fann about the audit. In a Dec. 28 email, Fann wrote that she was doing everything legally possible to do a forensic audit and was suing Maricopa County. 
"I have been in numerous conversations with Rudy Giuliani over the past weeks trying to get this done," Fann wrote, referring to Trump's lawyer. "I have the full support of him and a personal call from President Trump thanking us for pushing to prove any fraud."
Audit in Maricopa County will continue through June
Joe Biden beat Trump in Arizona by about 10,500 votes, the first time a Democrat won there since 1996. Biden also won the vote in Maricopa County, home of the capital, Phoenix.
Maricopa County conducted its own hand count audit of a sample of ballots as required by state law and hired independent firms to conduct a forensic audit of tabulation equipment. The county found no abnormalities. Judges rejected lawsuits on behalf of Republicans seeking to halt certification of the vote or alleging wrongdoing. 
But Republican state senators ordered up their own full audit of Maricopa's 2.1 million ballots. They acknowledged that the audit would have no impact on the 2020 election outcome.
The state Senate Republicans hired a team that included Cyber Ninjas, a little-known group headed by Doug Logan, who promoted "stop the steal" conspiracy theories about the election that culminated in the Jan. 6 Capitol attack. 
The audit has faced widespread condemnation by election experts nationwide, including Republicans, for its partisanship and lack of objective standards. The Maricopa County Board of Supervisors — four of whose five members are Republicans — called the audit a "circus" in a May letter to Fann.
"Our state has become a laughingstock," they wrote. "Worse, this 'audit' is encouraging our citizens to distrust elections, which weakens our democratic republic."
The audit started in late April and is expected to be completed in June. Randy Pullen, a former state GOP party chairman who is a spokesperson for the audit, told PolitiFact that the organizers are not releasing partial results while the audit continues. Once it's done, the auditors will take a few weeks to write a report about their findings and hand it over to the state Senate. 
"Nothing is going to happen until the audit is done," Pullen told PolitiFact June 7. "The Arizona senate will review the report, and if there is something in there indicating potential fraud they will turn it over to the (state) attorney general for their review and determination if there was fraud."
We looked for voter fraud prosecutions for Arizona's 2020 election and could only find one. Attorney General Mark Brnovich announced in December that a state grand jury indicted two individuals for collecting four completed ballots during the August primary, a violation of state law that only allows for certain individuals such as family members to collect ballots from another person. The cases are still pending. The prosecution is unrelated to the audit. 
A spokesperson for the Maricopa County Attorney said their office did not have any voter fraud cases for the previous election.
Trump's office did not respond to our request for evidence to back his claim.
Our ruling 
Trump said "Republican state senators" are "exposing this fraud," through their audit of the 2020 election in Maricopa County, Ariz.
The comments are misleading and premature. The organizers of the audit say they aren't releasing partial findings and don't expect to complete the audit until later in June, after which they will take a few weeks to write a report. If the Republicans find indications of potential fraud, they would forward that information to the state attorney general for investigation.
We rate this statement False. 

RELATED: Fact-checking Donald Trump's tweet firing Christopher Krebs
RELATED: No truth to the claim that Arizona audit found Trump up by 250,000 votes
RELATED: No proof for Trump claim that a database for 2020 election in Ariz. was deleted
RELATED: 46 minutes of falsehoods: Trump rehashes baseless election claims in White House video
Rev.com, Donald Trump Speech Transcript at North Carolina GOP Convention Dinner, June 5, 2021
AP, State judge rejects bid to nullify Biden election in Nevada, Dec. 4, 2021
Nevada Native Vote Project, Facebook, Nov. 3, 2021
Nevada Native Vote Project, Statement, Nov. 19, 2021
Nevada Independent, Tribal leaders spearhead mobilization efforts for untapped Native voters dealing with tyranny of distance, Nov. 3, 2020
Nevada Independent, Organizers believe Nevada Native turnout was historic, despite gaps in exit poll data, Nov. 20, 2020
Nevada Public Radio, Trump Campaign Takes Aim At Nevada Native Vote Project, Nov. 23, 2020
Associated Press, Native American votes helped secure Biden's win in Arizona, Nov. 19, 2020
Democracy Docket, Law vs Whitmer (Nevada case), 2020
American Oversight, Arizona Senate releases emails related to election 'audit' to American Oversight, June 4, 2021
Washington Post, Trump called Arizona Senate president to thank her 'for pushing to prove any fraud' in election, emails show, June 4, 2021
Arizona Attorney General's Office - Fraud & Special Prosecutions Section, Prosecutions Related to Voting or Elections Since 2010, Accessed June 8, 2021
Arizona Attorney General press release, Two Individuals Accused of Ballot Harvesting in Yuma County, Dec. 23, 2020
Maricopa County Board of Supervisors, Letter to Senate President Karen Fann, May 17, 2021
Telephone interview, Randy Pullen, spokesperson for the Arizona audit, June 7, 2021
Email interview, Katie Conner, spokesperson for Arizona Attorney General Mark Brnovich, June 8, 2021
Email interview, Jennifer Liewer, Maricopa County Attorney's Office spokesperson, June 8, 2021
Email interview, Megan Gilbertson, Maricopa County Elections Department spokesperson, June 8, 2021
Browse the Truth-O-Meter
More by Amy Sherman
Support independent fact-checking.
Become a member!
In a world of wild talk and fake news, help us stand up for the facts.