Get PolitiFact in your inbox.
Cheri Beasley was "encouraging (riots) all across our state and all across our country in 2020."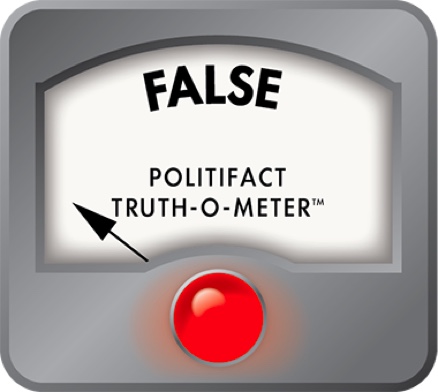 Budd takes Beasley's protest comments too far
If Your Time is short
The Budd campaign cited comments Beasley made in 2020 during a speech and, separately, during an interview.
Beasley said the protest violence was a distraction from the main issue of police brutality, and that telling protesters to "go home" wouldn't work.
We found no evidence that Beasley has ever explicitly encouraged rioting or violence.
The Republican candidate for North Carolina's open U.S. Senate seat says his Democratic opponent isn't just soft on crime — she has encouraged criminal behavior.
U.S. Rep. Ted Budd and Democrat Cheri Beasley, a former state Supreme Court chief justice, are running for the seat that will soon be vacated by retiring Republican Sen. Richard Burr.
In a debate hosted by Spectrum News on Oct. 7, Beasley pointed out that Budd voted against certifying the results of the 2020 presidential election, which she said was "dangerous for this country." Budd responded by suggesting that Beasley excused violence that occurred when people protested police brutality in 2020.
"I have denounced violence from Day One," Budd said, "whether it's at Washington, D.C., or whether it's the riots that my opponent was encouraging all across our state and all across our country in 2020." 
"So, I believe whether it's in Washington, D.C., at the Capitol, or whether it's in downtown Raleigh or downtown Charlotte, I'm going to denounce violence and I would encourage my opponent to do the same thing and denounce the rioting."
Did Beasley encourage riots in 2020? 
No. Protests erupted in the wake of George Floyd's death. Floyd was a Black man who was killed in Minneapolis in May 2020 by a police officer who pressed his knee on Floyd's neck for several minutes during an attempted arrest. His death sparked nationwide protests against police abuses and energized a movement for racial justice. The officer, Derek Chauvin, was convicted of murder in 2021. 
At the time, Beasley was among the first state Supreme Court chief justices to speak out about racial injustices perpetuated by the judicial system. Republican groups have accused her of downplaying violence that happened during some of those protests. But Beasley never endorsed violence and pushed back against Budd's claim on the debate stage.
"I have served as a judge in North Carolina for over 20 years and have upheld the rule of law. I would never encourage rioting and Congressman Budd knows that," she said. "So, it's also important that we have a senator that's going to be willing to tell the truth."
Beasley 2020 speech
The Budd campaign cited two video clips of Beasley that have been tweeted and criticized by the Republican National Committee. 
On June 2, 2020, about a week after Floyd's death, Beasley said she felt compelled to "speak today about the pain and grief our nation is experiencing over the deaths of Ahmaud Arbery, Breonna Taylor, George Floyd and far too many others," she said. Taylor was killed by police officers in Louisville, Kentucky, in 2020. Arbery was shot while jogging in a Georgia neighborhood in what the U.S. Justice Department described as a racially motivated hate crime. 
Video of Beasley's speech is available online and a transcript is preserved on the North Carolina Judicial Branch website. The RNC tweeted the part of the speech in which Beasley calls on people to acknowledge the reasons why many people were protesting.
"It is shocking to see our workplaces, businesses and community spaces damaged," Beasley said. "But we must recognize the legitimate pain and weight of years of disparate treatment that fuels these demonstrations.
"We must be willing to hear that message, even when we are saddened by the way it is delivered," she continued. "We must decry the failures of justice and equity just as forcefully as we decry violence. It is not enough to say to protesters 'go home and follow the rules.' It's not that simple."
The Budd campaign cited this portion of Beasley's speech as evidence the Democrat minimized the violence, her Senate campaign pointed to her call to forcefully "decry violence" as proof she discouraged it.
Beasley 2020 interview
The Budd campaign also cited an RNC tweet that features video from an interview that Beasley gave in September 2020 to a representative of The Mighty Sixth District of Omega Psi Phi Fraternity. Randall Eaton, chairman of the fraternity's voter-registration efforts, asked Beasley and other panelists to provide comments on the Black Lives Matter movement and violent unrest across the country. Beasley's answer comes around the 44-minute mark of the video.
Beasley tells Eaton that the protests had been "fruitful" because they created an opportunity for her to speak with high-powered attorneys about the need for diversity in their law firms.
"A lot of folks have been jolted into a very different reality," she said. "Even as I talk with large partners in law firms to talk about the lack of diversity and how it's been really important to make sure that you don't just have two associates there with no support, that it's really important that these associates have the same opportunities for partnership — just as those opportunities are available to Jim's son down the hall. Those conversations already, in a short period of time, have been very fruitful." 
The video clip in the RNC tweet omits the first part of Beasley's comments about promoting diversity in the legal community and starts playing when Beasley is in midthought: 
"So, the protesting has been helpful. I'm sorry that there's been an effort to be divisive around it, because I believe the protests have offered an opportunity to allow people to really think differently," she also said in the interview. 
She added: "I understand that folks are concerned about violence and all of that. But that's a (distraction) in my mind around what the real issues are. The folks who have been out there who have been peacefully protesting, which has really been the majority of folks, have every right to do that. They have the First Amendment right to do that and a Constitutional right to do that. And I believe that in so many ways those protests have been fruitful and have moved our nation forward. And I'm so proud especially of the young people who have used their voices in that way. What I am hopeful, though, is that they don't stop speaking in those protests, that they have to understand that in order to really leverage the power that they have: it takes protests plus voting."
Budd's campaign says Beasley's comments show she's unwilling to discourage violence that occurs during protests of police brutality.
"As N.C. law enforcement officers were being violently threatened and small business owners in downtown Raleigh were seeing their livelihoods destroyed by rioters, Cheri Beasley encouraged the rioters by dismissing criticisms of their actions as a petty 'distraction,'" Budd adviser Jonathan Felts said in an email.
"If you're rioting in the streets, and the chief justice of the state tells you any criticisms of your actions should be dismissed, that's a green light to keep on rioting."
Our ruling
Budd says Beasley was "encouraging (riots) all across our state and all across our country in 2020."
In speaking about protests of police brutality, Beasley referred to violence a "distraction" and called on people to focus on the protestors' reason for protesting. She said it's "not enough" to tell protestors to "go home and follow the rules."
She also said violence should be decried and never explicitly encouraged it or even suggested that violence would lead to a change in police behavior.
We rate this claim False.
Video of North Carolina's 2022 U.S. Senate debate, published on C-SPAN.org Oct. 7, 2022.
Email exchange with Kelci Hobson and Dory MacMillan, spokespeople for the Cheri Beasley for U.S. Senate campaign.
Email exchange with Jonathan Felts, spokesman for the Ted Budd for U.S. Senate campaign.
Wall Street Journal, "Breaking with tradition, some judges speak out on racial injustices," posted June 13, 2020.
Tweets by the Republican National Committee research account on Oct. 7, 2022 and Oct. 10, 2022.
Press release by the North Carolina Judicial Branch, Chief Justice Beasley addresses the intersection of justice and protests around the state," issued on June 2, 2020.
YouTube videos posted by Cheri Beasley for NC, "Recommitting to the work of justice," posted June 2, 2020; and by Mighty Sixth District of OPPF Inc., "Sixth District Town hall with Yvonne Holley, NC Chief Justice Cheri Beasley and Marcus Singleton," posted Sept. 28, 2020.
Browse the Truth-O-Meter
More by Paul Specht
Support independent fact-checking.
Become a member!
In a world of wild talk and fake news, help us stand up for the facts.