Get PolitiFact in your inbox.
Images of blue things that weren't burned in Hawaii are evidence directed energy weapons started the wildfires there.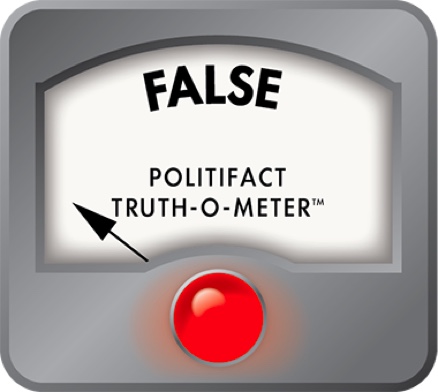 Fires can hop; directed energy weapons did not spare blue things in Hawaii
If Your Time is short
Fires can hop; directed energy weapons were not used to start wildfires in Hawaii and did not spare only blue things. 
 
Claims about directed energy weapons starting the fires in Hawaii are unfounded.
A recent Instagram post features a video proffering a "Maui fire mystery." 
"Why the blue car did not burn in flames?" reads grammatically incorrect text over an image of scorched cars. The image included a blue vehicle that retained its front window while others on the street did not. 
Another image of blue sun umbrellas says: "Same as the blue umbrella."
The video then shows a flame burning yellow, red, green and white fabric while leaving blue fabric unscathed.
"Laser weapons can be programmed for different wavelengths," text in the video says. "There was something blue they didn't want to burn." 
The Instagram post sharing the video suggests the recent wildfires in Maui, Hawaii, were started by a "directed energy weapon."
This post was flagged as part of Meta's efforts to combat false news and misinformation on its News Feed. (Read more about our partnership with Meta, which owns Facebook and Instagram.)
Directed energy weapons are real and use energy fired at light speed: Think high-energy lasers and high-powered microwave weapons that use concentrated electromagnetic energy. Countries including the United States have researched the use of these weapons, but we've already fact-checked and rated false claims that "Hawaii is being attacked by direct energy weapons." 
Scott Savitz, senior engineer at Rand Corp., a global policy think tank, told PolitiFact that "while differently colored items vary in the degree to which they absorb different wavelengths of light … shining a laser on an object will give it energy, regardless of the wavelength of the laser and the color of the object." 
More importantly: No one could start a wildfire with a plan to burn only specific colors, Savitz said. 
"If anyone did want to start a fire," he said, "pouring lighter fluid onto dead leaves would make a lot more sense than using a laser." 
It's common for some structures, trees or even umbrellas to not ignite when everything else around them does, said Michael Gollner, an associate professor of mechanical engineering at the University of California, Berkeley, who studies fire spread. Fires can "hop" from place to place via flying embers, also called firebrands. 
"In no cases were there directed energy weapons," Gollner said. "In fact, that seems monumentally less feasible than the reality that fires hopscotch through a community that's not well protected."
We rate claims that some blue items not burning during Maui's wildfires being evidence of directed energy weapons False.
Instagram post, Aug. 20, 2023
PolitiFact, Sometimes trees stay standing after wildfires. That's because of how the fire typically spreads, Aug. 15, 2023
PolitiFact, No evidence direct energy weapons caused Maui wildfires, Aug. 18, 2023
Email interview with Michael J. Gollner, Ph.D., Associate Professor and Deb Faculty Fellow, Department of Mechanical Engineering, University of California, Berkeley, Aug. 22, 2023
Email interview with Scott Savitz, Senior Engineer, RAND, Aug. 21, 2023
Browse the Truth-O-Meter
More by Ciara O'Rourke
Support independent fact-checking.
Become a member!
In a world of wild talk and fake news, help us stand up for the facts.