Get PolitiFact in your inbox.
30 tons of lost ammonium nitrate on a California-bound train suggest an orchestrated conspiracy.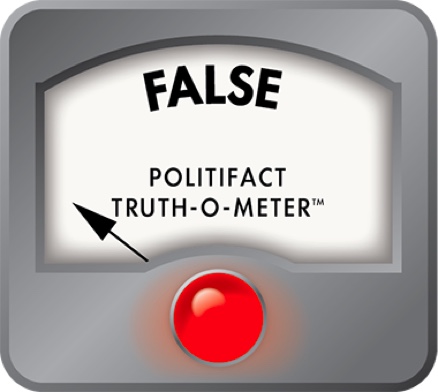 Investigators say 30 tons of lost ammonium nitrate likely caused by leak, not by a grand conspiracy
If Your Time is short
About 30 tons of ammonium nitrate disappeared from a rail car on a train traveling to California in April.

The chemical compound is used in fertilizers and explosives and can be dangerous to store. 

Dyno Nobel Ltd., an explosives company, and the Union Pacific Railroad are still investigating the incident, but each said foul play is not suspected and that a leak in the rail car was likely the cause.
The discovery that about 30 tons of ammonium nitrate — a chemical compound used in fertilizers and explosives — were lost from a train car has ignited plenty of conspiracy theories on social media.
Dyno Nobel Ltd., an explosives manufacturing company with U.S. headquarters in Utah, said about 60,000 pounds of ammonium nitrate were released from a rail car on a train that left Cheyenne, Wyoming, on April 12 and traveled to Saltdale, California. The cause was unknown, but it possibly occurred in transit, the company said in a May 10 report to the federal National Response Center.
A May 24 Facebook post played a segment of "The Pete Santilli Show," in which the host said that the CIA was behind the incident, tying it to a baseless conspiracy theory that the government is intentionally destroying food processing plants to create food shortages. 
Santilli, who pleaded guilty for his role in a 2014 federal standoff with Nevada rancher Cliven Bundy, said CIA operatives have been "attacking" food plants, a claim PolitiFact has debunked several times. 
We found numerous other social media posts that alleged the incident may foretell false flag attacks. Some posts have tied it to recent news that U.S. senators were recently issued satellite phones for emergency communications, a move CBS News described as coming "amid growing concerns of security risks to members of Congress."
Ammonium nitrate is commonly used in fertilizers as well as mining and construction explosives, and can be dangerous to store and transport, according to CAS, a division of the American Chemical Society. Storing the chemical in large quantities can cause a massive blast; the larger the quantity, the higher the risk it will detonate.
In 2020, hundreds of tons of ammonium nitrate stored at a port in Beirut detonated in a massive blast that killed more than 200 people and injured more than 6,000 others. 
The chemical has also been used in terror attacks, such as when Timothy McVeigh used it to bomb the Alfred P. Murrah Federal Building in Oklahoma City in 1995, killing 168 people.
But the companies investigating the ammonium nitrate's disappearance from the rail car suspect a much more mundane explanation than planned bombings.
Dyno Nobel did not return a request for comment, but was quoted in news reports saying the ammonium nitrate was in pellets and that a leak likely developed in the rail car's bottom gate. 
The company and the Union Pacific Railroad are still investigating the incident, but both have said there's no evidence the chemical was taken by someone for nefarious reasons.
Robynn Tysver, a Union Pacific Railroad spokesperson, told PolitiFact, "We do not believe there is any criminal or malicious activity involved." 
Tysver said if the loss resulted from a leak during the train's journey, it "should pose no risk to public health or the environment" because ammonium nitrate is often used for ground applications and is quickly absorbed into soil.
A Dyno Nobel spokesperson told the New York Post on May 20, "There's no indication the pellets were intentionally taken by anyone" and that they likely fell from the car in small quantities during the trip.
Union Pacific's initial findings suggest the missing chemical was likely a leak caused by a component of the rail car, a Federal Railroad Administration spokesperson said.
He added that rail shippers and railroads are responsible for securing rail cars and that the federal agency will continue investigating to determine whether either company breached federal rules.
Our ruling
Social media posts claimed that the CIA or unnamed entities plotting false flag events are behind the disappearance of 30 tons of ammonium nitrate from a rail car last month.
Investigations into the incident continue, but the explosives company and the railroad involved suspect no foul play and said a rail car leak may have allowed the chemical to escape. We rate the claims False.
PolitiFact Researcher Caryn Baird contributed to this report.
Facebook post, May 24, 2023
The Pete Santilli Show, "30 Ton Shipment of Explosive Chemical "Disappeared" En Route from WY to CA By Train," May 23, 2023
Federal Railroad Administration spokesperson, email exchange, May 30, 2023
Robynn Tysver, spokesperson for Union Pacific Railroad, email exchange, May 31, 2023
NBC News, "60,000 pounds of an explosive chemical lost during rail shipment, officials say," May 22, 2023
The New York Times, "30 tons of explosive chemicals lost during rail shipment," May 21, 2023
KQED, "California officials investigating loss of 30-ton shipment of explosive chemicals," May 16, 2023
New York Post, "60,000 pounds of explosive chemical ammonium nitrate lost in shipping: report," May 20, 2023
California Office of Emergency Services, "Hazardous Materials Spill Report," May 10, 2023
CBS News, "Senators issued satellite phones, offered demonstrations on upgraded security devices," May 24, 2023
FBI, "Oklahoma City bombing," accessed May 31, 2023
The Associated Press, "Ohio man sentenced to time served in Nevada ranch standoff," Sept. 13, 2018
CAS, "Ammonium nitrate: making it safer today for a better tomorrow," Nov. 23, 2022
Browse the Truth-O-Meter
More by Jeff Cercone
Support independent fact-checking.
Become a member!
In a world of wild talk and fake news, help us stand up for the facts.