Gov. Rick Scott makes misleading claim about record funding for HIV/AIDS prevention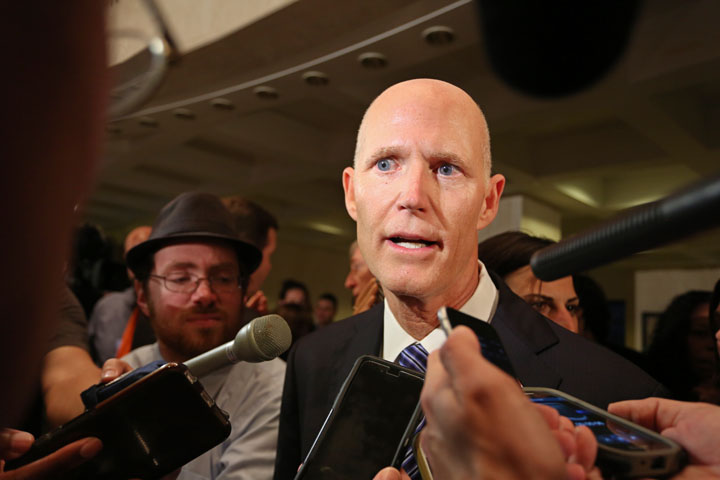 Asked to explain a discrepancy in the state's number of new HIV cases, Florida Gov. Rick Scott only crowed about how much is being spent on prevention programs.
Florida had the dubious distinction of leading the nation in new HIV cases a few months ago, even as the country's overall trend was declining. Then the Department of Health's division of disease control revised the numbers, which is a routine practice to get rid of duplicate entries and so forth.
But the Tampa Bay Times found that the adjusted total showed only a slight increase in the number of new cases reported since Scott took office in 2011, putting Florida behind California and Texas. The revisions erased one in four cases in 2014, an unprecedented drop that led experts to question the extent of the changes.
When the Times asked Scott's office why the figures were revised so drastically, spokesman John Tupps said only that Scott is "proud that Florida is investing record amounts of funding for HIV/AIDS prevention."
For this fact-check, we are putting Scott to the Truth-O-Meter, and not his spokesman, because this has become a talking point of his administration. Scott made a similar claim in a news release after he signed the 2016-17 budget, saying that "last year, Florida invested a record $34 million in HIV/AIDS prevention."
Leaving alone the health department's self-editing for a moment, could it be that the state has spent a record amount combatting HIV/AIDS?
Well, the state health department did get more funding for prevention programs in 2015 than ever before. But almost all of that money came from the federal government, not Florida.
Federal aid for AIDS prevention
Scott is pretty uneven in his distaste for using federal taxpayer money.
He has refused $2.4 billion to build a high-speed rail line between Tampa and Orlando and opposed Medicaid expansion under Obamacare because he thought it was too expensive for the state. Meanwhile, he has pleaded for federal disaster declarations and sued Washington for not renewing the Low Income Pool, a temporary pot of federal money used mostly to pay for indigent hospital patients.
That brings us to his boast of record prevention program spending. His office directed us to the health department, which cited the same amount.
The word choice is interesting, because "investing" makes it sound like the state of Florida is spending tens of millions of its own dollars to address a public health crisis. That $34 million, however, is all from the Centers for Disease Control and Prevention, not state coffers.
The money is part of an awards process that gives cash to state health departments and some cities that apply for help with curbing HIV/AIDS cases. The CDC awards are for programs like HIV testing, services for HIV-positive patients and their partners, condom distribution and more.
It's not unusual for Florida to be getting money from the federal government for this purpose. The CDC provides most of this funding because the agency is in charge of monitoring and fighting infectious diseases, according to Emily McCloskey, senior manager for policy and legislative affairs at the National Alliance of State and Territorial AIDS Directors. The CDC is the primary source of money to deal with HIV and AIDS, but also other STDs and conditions like hepatitis, tuberculosis, diabetes, arthritis and obesity.
Technically, the pot of money at issue is split between prevention programs and testing. Other awards for different programs not included in the total can be obtained in different ways, including directly through county health departments and community based organizations. But as you can see, the amount Scott is touting has indeed gone up:
| Year | Amount awarded by CDC |
| --- | --- |
| 2011 | $19.4 million |
| 2012 | $28.3 million |
| 2013 | $30.6 million |
| 2014 | $33 million |
| 2015 | $34 million |
| 2016 | $34.8 million |
Sources: CDC, Florida Department of Health, National Alliance of State and Territorial AIDS Directors
Florida does add some of its own money to assist with these services. Health department spokeswoman Mara Gambineri told us that an additional $1.4 million in state funding for 2015 was meant "for a prevention program that includes a public awareness campaign, to operate the HIV hotline and for four targeted outreach coordinators."
When Scott signed the 2016-17 budget just passed by the Legislature, he noted the state contribution for HIV/AIDS services was upped to $1.65 million — out of a total state budget of $82 billion.
Of course, a higher total from the CDC isn't necessarily because the state showed more commitment to HIV/AIDS prevention. As one of the most populous states, it received more CDC funding than any other state except New York and California in 2015. Florida also has a pronounced problem with HIV infections, as the controversy with the state health department's revisions shows.
McCloskey said the CDC overhauled how it awarded grants for the 2012 fiscal year. That accounted not only for the big jump between 2011 and 2012, but affected subsequent years as well. (This particular grant process is due to be revised for 2017.)
"CDC reviewed their funding allocations and formulas and redid the formulas to allocate more funding to states with the largest impact," she said. "That is why Florida has received more funding."
The cash Scott is talking about is awarded based on need, taking into account infection rates and patient population, among other factors. The state does have to apply, but the CDC calculates how much Florida gets.
In short, the state has been getting (and spending) more money from the federal government because Florida has needed the help.
Our ruling
Scott said, "Florida is investing record amounts of funding for HIV/AIDS prevention."
There is more money than ever being provided for HIV/AIDS prevention programs, but it's not because the state has been focused on appropriating millions. The funding to which he is referring is almost entirely coming from the CDC. The state kicks in a little cash, but it's less than 5 percent of what the federal government supplies. Scott also neglects to mention that the primary reason the amount has increased is because HIV infection rates have gone up in Florida.
There's a grain of truth in the soundbite, but Scott ignores context and obscures facts that would lead to a very different impression about an important public health issue. We rate his statement Mostly False.