Bill Nelson says Donald Trump intends to expand oil drilling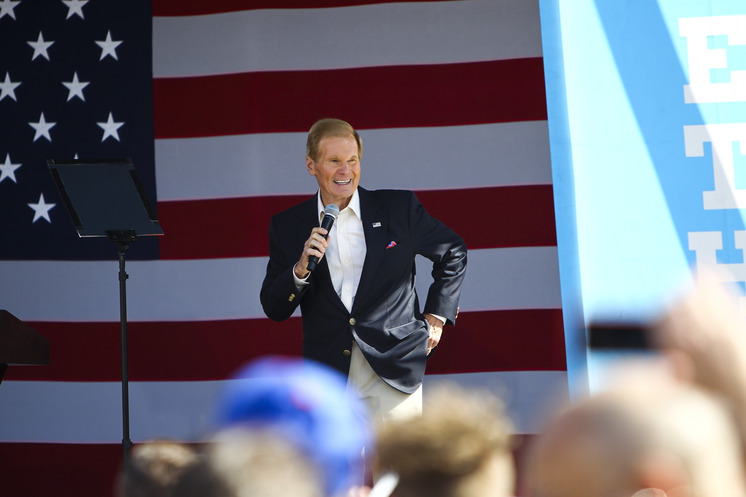 Democratic U.S. Sen. Bill Nelson spent the week after the 2016 election fighting against a bill that would have steered more royalties from oil drilling to some Gulf states.
Nelson's state of Florida already bans offshore oil drilling near its coasts. But Nelson feared that by dangling more royalties, state leaders would be more open to drilling near Florida in the future.
In a speech on the Senate floor Nov. 16, Nelson said President-elect Donald Trump's position on the issue is concerning to environmentalists.
"Ever since I was a young congressman, I've been fighting to keep oil rigs off of Florida's coast," he said, "and now it's especially important at this time as we have a new administration coming in that took a public position in the election declaring the president-elect's intent to open up additional areas off the coast to oil drilling."
The American Energy and Conservation Act of 2016, sponsored by Sen. Bill Cassidy, R-La., failed to get enough Senate votes to move forward on Nov. 17. But the future of oil drilling along coasts in Florida and the United States will remain a hot topic of conversation under Trump's administration and potentially in Nelson's re-election campaign in 2018.
Here we will look at Trump's position on opening up additional coastal areas to drill for oil. We heard back from Nelson's office but not from Trump's transition team.
Donald Trump's campaign position oil drilling
Trump generally spoke in favor of offshore oil drilling during the campaign, although his position wasn't always clear.
He sounded skeptical about a proposal in Congress to allow offshore drilling closer to Florida in an interview with the Tampa Bay Times in February.
"They've already got plenty in the Gulf," Trump said. "It would be a little bit of a shame (to expand drilling closer to Florida), because there's so much fracking, and there's so much oil that we have now that we never thought possible. That's an issue I'd absolutely study and do the right thing."
In 2006, Congress -- with input and support from Nelson -- passed a bill to ban oil drilling within 125 miles off much of Florida's coast and up to 235 miles at some points. The ban is set to expire in 2022.
In 2015, Cassidy introduced the Offshore Energy and Jobs Act, which would allow drilling 50 miles off Florida's Gulf shores. In response, Nelson filed a bill to extend the ban by five years. Neither bill reached a Senate vote.
Trump was more forceful about his support for drilling since that time in speeches and press releases that we found through our own research and in Trump's statements sent to us by Nelson's Senate spokesman.
During the campaign, Trump's America First Energy Plan called for opening up onshore and offshore leasing on federal lands, eliminating a moratorium on coal leasing, and opening shale energy deposits.
Trump called for unleashing "America's $50 trillion in untapped shale, oil, and natural gas reserves, plus hundreds of years in clean coal reserves."
In a May 2016 speech to the North Dakota Petroleum Council, Trump said that in his first 100 days in office, he would "lift moratoriums on energy production in federal area. We're going to revoke policies that impose unwarranted restrictions on new drilling technologies. These technologies create millions of jobs with a smaller footprint than ever before."
He reiterated those views during a September 2016 speech at the 2016 Shale Insight Conference.
Trump's position has remained the same since he won
After Trump won Nov. 8, his transition team posted an energy policy that stated the administration will open onshore and offshore leasing on federal lands and waters and streamline the permitting process for all energy projects.
A few days after Trump won, one of his economic advisers, Stephen Moore, told NPR that Trump's administration believes it can raise "hundreds of billions of dollars over the next 10 years" by opening up more federal lands for leases for oil and gas development and coal development.
On Nov. 18, the Obama administration took the opposite approach, banning offshore drilling in the Arctic as part of a new five-year plan for energy development in federal waters.
Trump won't be able to instantly toss Obama's ban. His administration will have to prepare a report which could take as long as two years, and then the federal government would have to organize a sale of leases for companies that want to drill there, the Washington Post reported.
Although Trump wants more drilling, he may have to wait years for it. CNBC reported that Trump's plan to expand oil drilling probably won't happen until his successor is in the White House. Reasons for delay include the years it takes to start projects, local and state governments sometimes oppose drilling, and market forces.
Our ruling
Nelson said that Trump said during the campaign he intends "to open up additional areas off the coast to oil drilling."
In official campaign and transition team statements, Trump repeatedly has called for making it easier to drill for oil. He called for opening offshore areas and reducing "unnecessary restrictions." Since he won, Trump's administration has reiterated its pro-drilling stance.
He hasn't been so clear about his specific plans for Florida. In one interview, he appeared skeptical about expanding offshore drilling closer to Florida. He is limited in the extent that he could expand drilling anywhere near Florida's coasts because current law bans it within at least 125 miles.
With that caveat, we rate Nelson's point Mostly True.
https://www.sharethefacts.co/share/5e60a6c4-1a0c-4d16-916c-7a861d04b26a