Susie Lee's wealth under fire in competitive Nevada congressional primary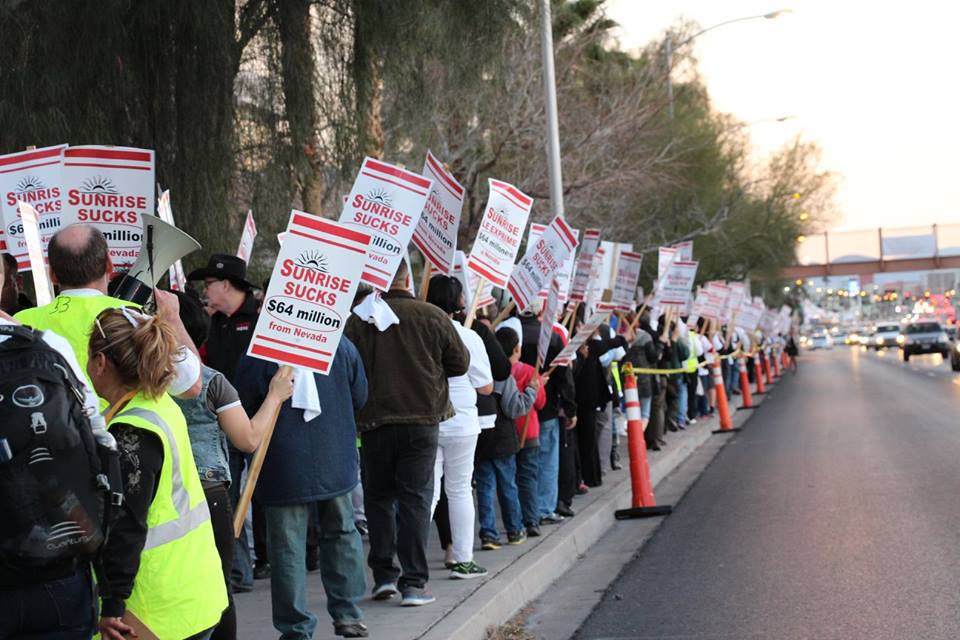 The powerful Las Vegas Culinary Workers Union may not have officially gotten involved in the Nevada presidential caucuses, but the 57,000-member union is starting to throw its weight around in down-ballot races.
The union endorsed state Sen. Ruben Kihuen in the crowded Democratic primary for Nevada's hotly contested Fourth Congressional District, and is going on the offensive against Kihuen's biggest challenger — education advocate and philanthropist Susie Lee. The primary election is June 14.
Union secretary-treasurer Geoconda Arguello-Kline asked union members in a letter sent March 9 to endorse Kihuen at the upcoming AFL-CIO state convention, and claimed that Lee is "trying to purchase this congressional seat."
"She has never run for office, never taken a tough vote, and frankly, doesn't represent our values," Arguello-Kline wrote. "She and her husband own 17 homes across the country and use their private jet to take vacations. She is an investor whose personal wealth comes from questionable investments in companies like Walmart, Halliburton and GEO Group (a for-profit prison company)."
Given the specificity of the those charges and the likelihood that Lee's opponents will use her wealth as a negative over the next three months of campaigning, we wanted to see just how accurate the union is.
A union spokeswoman forwarded a screenshot of an excel spreadsheet listing all of the properties owned by Lee and her husband Dan, a casino company CEO.
We found the union to be correct: The couple listed 14 rentable properties in multiple states on their 60-page financial disclosure report, with a total net value between $2.2 million and $4.8 million. They also own a five-bedroom home in Las Vegas worth around $2.1 million, a vacation home in Wilson, Wyo., and another house in Las Vegas where Lee's mother-in-law lives, according to county assessor records (personal and vacation homes aren't required to be disclosed). That adds up to 17 properties.
Lee does indeed list several investments in companies generally seen as liberal kryptonite, including Halliburton, for-profit prison company GEO Group and Walmart.
But those investments were made through a brokerage account that Lee's campaign says were made at the discretion of the account manager, not the candidate. Lee's campaign manager says she dropped the investments, which made up a tiny percentage of her overall investment portfolio, after filing her financial disclosure report in September 2015.
Lee's campaign confirmed that the couple owns a plane, but they said it's a small single-engine turboprop plane that Dan Lee uses to visit his casino properties in rural areas like Fallon, Nev., and Rising Sun, Ind.
The charge of trying to "buy this primary" is harder to fact-check, but Lee has loaned her campaign $150,000, which makes up around 17 percent of her total money raised. But even subtracting those loans, Lee leads her primary opponents in the fundraising race by a significant margin.
It's worth noting that Lee, Kihuen and their two other major opponents have relatively similar stances on raising the standard of living for working class families — all four support universal health care and want to raise the federal minimum wage to $15 an hour.
Our ruling
The Culinary Workers Union claims that Lee and her husband "own 17 homes across the country," a "private jet," and that she invests in Walmart, Haliburton and the for-profit prison company GEO Group.
There's no doubt that Lee and her husband are substantially well-off. The union letter is correct on many details about the Lee family's wealth, but it slightly fudged some of the particulars, like the couple's airplane and details in their investments.
We rate their statement as Mostly True.