Bob Menendez, Joe Kyrillos debate claims revisited on Truth-O-Meter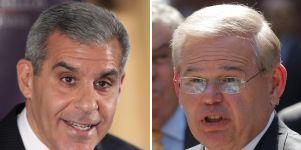 The two candidates vying to represent the Garden State in the U.S. Senate have spent recent weeks and months talking about topics that cut across all socioeconomic boundaries: taxes, health care, debt.

Incumbent Sen. Bob Menendez, a Democrat, is seeking his second six-year term to represent the state Jersey. Republican challenger Joe Kyrillos, of Monmouth County, has more than two decades in the New Jersey Legislature, having served as an assemblyman and senator. The two will face off in Tuesday's election.

Here, we recap some of the topics the candidates discussed in their first two debates, and which were fact-checked on PolitiFact New Jersey's Truth-O-Meter.

Montclair State University debate

Health care and taxes were among the topics covered during the Oct. 4 debate at the school.

Menendez touched on national health care, claiming that Republican vice presidential nominee Paul Ryan's proposed overhaul of Medicare amounts to making it a voucher system.

Menendez received a Mostly True – the same ruling we issued on a similar claim in September from state Assemblyman Upendra Chivukula, a Democrat challenging Leonard Lance (R-7th Dist.). It's worth noting that PolitiFact National issued the same ruling on a related statement by President Obama in August.

Ryan has proposed giving payments known as "premium support" to future Medicare beneficiaries, effective in 2023, to buy health insurance. People can then use that money to buy insurance or to offset a plan's costs. Although there are some distinctions between premium support and voucher, the word "voucher" generally describes Ryan's approach.

Menendez also talked about women's health care during the debate and pointed out a few times that Kyrillos has voted against funding for women's health care six times.

The Truth-O-Meter ruled the statement True after determining that from June 2010 to June 2012, Kyrillos voted six times against providing about $7.5 million for family planning services, which could include breast exams, pregnancy testing and treatment of sexually transmitted diseases. The money could not be used for abortions.
Kyrillos, for example, repeated a claim he first made in August that the United States has the highest corporate tax rate in the world.

Kyrillos earned a Mostly True for both claims. The United States pays a statutory tax rate of 39.2 percent, which is the highest in the world among industrialized nations. The statutory rate is a combination of federal, state and local tax rates before any tax breaks are considered. But the rate that businesses actually pay – called the effective tax rate – is among the highest in the world.

Kyrillos also discussed his concerns about jobs and debt. He claimed that unemployment and the national debt have doubled, and deficits have quadrupled during Menendez's time in the Senate.

Kyrillos' numbers are about right, the Truth-O-Meter determined, but one senator cannot be held responsible for those statistics, experts told us. As a result, Kyrillos earned a Half True. PolitiFact New Jersey has pointed out in numerous fact-checks that lawmakers at all levels cannot be blamed entirely for broad economic trends or catalysts.

New Jersey 101.5 debate

During their second debate on Oct. 10, Menendez and Kyrillos traded barbs on several topics, from support of women's health care to increasing minimum wage.

When it came to federal budget matters, Menendez denied a Kyrillos charge that the Senate hadn't passed a budget in three years. Menendez said the Senate passed a Budget Control Act that serves as the body's budget.

Experts told us that a Budget Control Act performs budgetary functions such as setting limits on certain types of future discretionary spending -- but the act is not considered a traditional budget. We rated Menendez's claim False.

At another point in the debate, Menendez accused Kyrillos of voting against attempts to raise New Jersey's minimum wage. Kyrillos said he supports raising the minimum wage and last voted against an increase in the 1980s.

Kyrillos' vote time frame was off by at least a decade, earning him a False ruling. We determined that Kyrillos voted against hiking the minimum wage in 2005, but two weeks later introduced a bill raising it, at a slower pace. That bill was sent to a committee, but no vote was ever taken. As a state assemblyman, Kyrillos in 1990 voted against a three-phase increase in the minimum wage.

More candidate claims

The debate claims aren't the only fact-checks for Menendez and Kyrillos. You can see all fact-checks for both candidates by reviewing their report cards at PolitiFactNJ.com. To see the Menendez report card, click here. For Kyrillos, click here.
To comment on this story, go to NJ.com.